mytest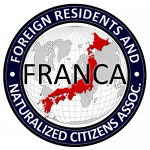 UPDATES ON TWITTER: arudoudebito
DEBITO.ORG PODCASTS now on iTunes, subscribe free
Hi Blog. Word broke out this month that Fukui City is now requiring Japanese language ability from NJ taxpayers before they can be allowed into public housing run by the government. Comment from me follows news articles.
A blogger writes, courtesy of PB:
////////////////////////////////////////////////
Nihongo needed
Last April the city of Fukui adopted a "guideline" in its municipal public housing regulations that stated non-Japanese who applied for low-income housing must be able to "communicate in Japanese." Applications for those who cannot will not be accepted. Since then various groups that work with foreigners in Japan have protested the guideline, but it still stands. Some of these groups have said that they are aware that some non-Japanese applicants, though they qualify for public housing otherwise, have been prevented from applying for housing due to the new guideline.
There are nine cities in Fukui Prefecture, but only Fukui City has such a rule. The city official in charge of public housing told a local newspaper that his office had received complaints from community associations (jichikai) of individual public housing complexes. These associations said that some non-Japanese residents were unable to communicate "very well" in Japanese, and thus it was difficult for them to understand and follow association rules regarding the "sorting of refuse" and "noise." For that reason, the city government adopted this new guideline.
The criteria for acceptance in public housing is that the applicant's income be below a certain level, that the applicant lives with "other family members," and that the applicant has not been remiss or delinquent in paying his or her local taxes. Until April the only rules regarding non-Japanese applicants are that they possess either permanent resident status, "special" resident status (tokubetsu eijusha, usually people of Korean or Chinese nationality who have lived in Japan since birth), or permission to reside in Japan for at least three years. Now they also must have "Japanese communication ability." However, there is nothing in the guideline that specifies how this ability to speak Japanese is to be assessed.
Japan's Public Housing Law does not stipulate Japanese language ability as a requirement, but an official with the Construction Ministry told the newspaper that "individual regions can adopt their own criteria" and "local governments should make their own judgments" regarding how the law should be applied, so there is nothing legally wrong with the Fukui guideline…
Rest at http://catforehead.wordpress.com/2010/12/19/nihongo-needed/
Source:
市営住宅会話できぬ外国人除外 共生プラン逆行批判の声、福井
(2010年12月17日午前8時27分)
http://www.fukuishimbun.co.jp/modules/news0/index.php?page=article&storyid=25362&storytopic=2
福井市は今春から、外国人が市営住宅に入居する際、日本語によるコミュニケーション能力を欠く場合は申し込みを受け付けないとの規定を設けていることが、16日までに分かった。県内では県と9市のうち、こうした規定を設けているのは福井市のみ。実際、この規定を知り入居をあきらめた外国人もいた。国際交流関係者や専門家からは「言葉の問題だけをとらえ、入居できないのは行政としておかしい。外国人を排除する口実ではないか」などと批判の声が上がっている。
久保信夫・市住宅政策課長は「団地の自治会から、日本語をうまく話せない外国人と住人との間で、ごみ分別や騒音など生活ルールをめぐってトラブルがあると聞き、規定に盛り込んだ」と説明している。
同市は、本年度から多文化共生推進プランに基づく外国人と市民が安心して暮らせるための施策を展開しており、プランの趣旨に反するとの指摘も出ている。
市営住宅の入居は国籍を問わず、同居する親族がおり、市税滞納がなく、収入が一定額未満であることなどが条件。今年4月新たに「市営住宅入居事務取扱要綱」を施行、外国人の場合は▽永住者▽特別永住者▽外国人登録者で3年以上、日本に居住できると市長が認める者-のいずれかに該当し、「隣人とのコミュニケーションがとれる程度の日常会話ができる者」と規定した。
市市民協働・国際室によると、市営住宅入居を希望する外国人が6月に市役所を訪問。行政通訳員を通してこの規定を知り、「日本語を話せない知人はすでに入居しているのに、なぜ私はだめなのか」などと話していたという。
同プラン検討会の副座長を務めた県国際交流協会の高嶋起代子相談員は「プランでは外国人であっても行政サービスを受ける権利があると規定している。日本人と同じ条件で入居できないのなら分かるが、言葉を理由に排除するのは問題。団地住人との間でトラブルが生じていることは承知しているが、相互理解を深めるための支援を行うのが行政の役割ではないか」と話している。
公営住宅法は日本語能力を入居基準にしておらず、国土交通省の担当者は「ある程度、地域の実情に応じた入居基準の設定は可能だが、自治体には適切な判断が求められる」としている。
市住宅政策課によると、市営住宅は計1957戸(今年4月1日現在)あり、このうち75戸が外国人世帯。要綱施行後は外国人3世帯が入居した。福井市内の外国人登録者数は県内の自治体で最も多い3917人(12月1日現在)。
ends
//////////////////////////////////////////////////
AH adds:
December 20, 2010
Debito, I've just seen this in the Spanish language press. It's the first time I've heard of a local council putting a language condition on getting public housing. NJ also have to be Zainichi, permanent residents or at least registered in Fukui for more than three years. According to the council, three foreigners have got into public housing since this was introduced in April this year. I expect there's something out there in English or Japanese, but it was news to me.
Cheers, keep up the good work! AH
Source:
Fukui prohibe ingreso de extranjeros que no hablen japonés en sus viviendas municipales
El municipio de la ciudad expuso como razones para tomar la discriminatoria decisión "problemas como el ruido y la manera de tirar la basura".
International Press Publicado en 20/12/2010 17:31
http://www.ipcdigital.com/es/Noticias/Comunidades/Comunidad-General/Fukui-prohibe-ingreso-de-extranjeros-que-no-hablen-japones-en-sus-viviendas-municipales_20-diciembre-2010
El municipio de Fukui de la provincia de Fukui impide que extranjeros que no hablen japonés alquilen una vivienda municipal, informó el diario Fukui Shimbun. El controvertido requisito que rechaza la entrada de extranjeros comenzó a aplicarse desde abril del 2010 aduciendo "problemas como el ruido y la manera de tirar la basura".
La ciudad de Fukui es el único lugar de la provincia que tiene este requisito y el diario local confirmó que existían personas extranjeras que no pudieron optar a una vivienda municipal por no cumplir este requisito.
Nobuo Kubo, jefe de la Sección de la Política de Vivienda Municipal del Municipio de Fukui, dijo: "El requisito se aplica después de haber tenido conocimiento de problemas entre residentes japoneses y extranjeros que no hablan bien el japonés, a causa del ruido, la manera de tirar la basura y el incumplimiento de los modales".
Actualmente, para entrar en una vivienda municipal de la ciudad de Fukui se requiere vivir con familiares, tener un ingreso menor a una determinada cantidad (según el número o la composición de la familia) y estar al día en el pago del impuesto municipal.
Además, desde abril del 2010 ha entrado en vigor la "Línea Básica de Tratamiento Administrativo para el Ingreso a la Vivienda Municipal", de acuerdo a ella, los extranjeros tienen que cumplir uno de estos tres requisitos: "tener la visa permanente", "tener la visa permanente especial" o "llevar más de tres años registrado en el Registro de Extranjería del Municipio".
Además de cumplir uno de ellos, hay que ser "capaz de tener una comunicación básica con los vecinos". Fukui tiene 1.957 departamentos municipales, en 75 de estas viviendas moran familias extranjeras. Después de estar disponible la nueva regla, han entrado tres familias extranjeras, según el municipio.
Según el Ministerio de Justicia, en la ciudad de Fukui viven 4.214 extranjeros: 1.699 chinos, 1.174 coreanos, 364 filipinos, 356 brasileños, 69 estadounidenses, 53 peruanos y otros.
ends
/////////////////////////////////////////////
COMMENT:  I've heard of this sort of thing happening before.  Shiga Prefecture also banned NJ who do not "speak Japanese" from its public housing back in 2002.  However, the Shiga Governor directly intervened literally hours after this was made public by the Mainichi Shinbun and rescinded this, as public facilities (and that includes housing, of course) cannot ban taxpayers (and that includes NJ, of course).  Whether or not the Fukui Governor will show the same degree of enlightenment remains to be seen.  Maybe some media exposure might help this time too.  Arudou Debito