mytest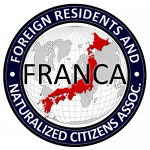 UPDATES ON TWITTER: arudoudebito
DEBITO.ORG PODCASTS on iTunes, subscribe free
Hi Blog. To commemorate today, Debito.org's 2000th blog post since 2006 (yes, it's been almost five years since Debito.org went daily as a blog), I would like to devote the next day or two to an important discussion regarding assimilation.
I got together with some old friends for beers some time ago (we do this whenever I'm in town), who all together have a combined tenure of more than a century of experiences living in Japan. We're all English-native Caucasian males, for what it's worth.
Our conversation suddenly took an interesting turn when one of our group asked a poignant question:
"How many of us have any Japanese friends with whom we can get together like this and talk as much in depth?"
There was a long pause, and we all realized, when it came to Japanese males, the answer was zero. Yes, zero.
We all said we had made Japanese female friends (we are guys, after all), finding J-women more curious and open-minded than their male counterparts (and that included relationships that weren't all physical).
But not Japanese men.
Several theories abounded. One was that Japanese men in general make their friends in school, and view other males as rivals and competitors from that point on in life, as they climb the social and corporate ladder. Japanese men are thus some of the loneliest people in the world.
Another was that Japanese men just weren't all that interesting. Not only are they completely work-oriented (as opposed to women, who also had social lives outside of mere drinks after work), they seemed to keep their personalities closely locked up inside, only showing a professional or socially-attuned mask to the public no matter what. So conversations inevitably went boring (notwithstanding the incipient language barriers), basically boiling down to the food and chopsticks questions if not the occasional comparative culture stuff, but nothing that would make for an interesting conversation about life in Japan or in general.
Yet another was that people did initially make male friends, but months or years later, realized that their "friend" was basically out for the "gaijin experience" (kinda like the Jimi Hendrix Experience).  Felt like they had a curious cultural succubus (in male form) voyeuristically leeching off them as a gaijin, instead of a true friend out to share life with them. So they toned it down or broke it off.
Whatever the reason, the fact that ALL six of us despite an extended period felt that we had made NO particularly long-lasting friendships with our Japanese male counterparts was shocking. I thought I'd ask Debito.org Readers if they have similar or different experiences, and your theories why.  People who also can speak to the female-female side of the experience are of course welcome to comment.
Keep it nice and constructive, please. It's an essential question when it comes to issues of immigration and assimilation. Arudou Debito