Posted by Dr. ARUDOU, Debito on December 24th, 2011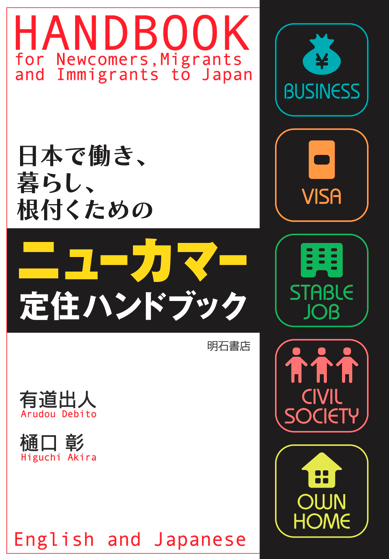 UPDATES ON TWITTER: arudoudebito
DEBITO.ORG PODCASTS on iTunes, subscribe free
Hi Blog.  Merry Xmas to those celebrating.  As a special treat, allow me to connect some dots between terms of public discourse:  How Japan gets kid-gloved in international debate because it gets treated, consciously or unconsciously, with religious reverence.
It's a theory I've been developing in my mind for several years now:  How Japan has no religion except "Japaneseness" itself, and how adherence (or irreverence) towards it produces zealots and heretics who influence the shape and scope of Japan-connected debate.
So let me type in two works — one journalistic, the other polemic — and let you connect the dots as I did when I discovered them last November.  I hope you find the juxtaposition as insightful as I did.
I'll do a couple more of these thinking pieces for the holidays as Debito.org enters 2012, its fifteenth year of operation.  Thanks for reading, everyone.  Arudou Debito
////////////////////////////////////////////////
Excerpted from "Rice, the Essential Harvest", from NATIONAL GEOGRAPHIC (USA) Vol. 185, No. 5, May 1994, pp. 66-72.  By Freelancer Robb Kendrick of Austin, Texas.
NB: This section comes after the author takes us on a journey of other rice-centered countries.  Watch the subcontextual treatment:  First photos from 1) India, where its caption portrays rice as a means of avoiding starvation; 2) Japan, whose caption immediately resorts to religious subtext: "Colossal strands of rice straw entwine over an entrance to the Izumo Shinto shrine, one of Japan's oldest.  Denoting a sacred place, the rice-straw rope, — or shimenawa — is the world's largest at six metric tons.  Grown in Japan for more than 2000 years [sic], rice is woven through culture, diet, even politics.  Small shimenawa often hang over doorways to ward off evil.  One evil the nation cannot stop:  skimpy harvests, which in 1993 forced Japan to ease its sacrosanct restrictions on rice imports."; 3) Madagascar, seen as staving off hunger in the face of a dearth of harvesting technology; 4) The Philippines, where rice technology is supported under the International Rice Research Institute; and 5) China, where peasant children eat rice for breakfast in rice-growing Zhejiang Province.
Then we get two paragraphs of text talking about the religious symbolism of rice in Bali.  Then the intercontinental versatility of rice growing and usage (as it's even used in Budweiser beer), plus the research being done in The Philippines to make it even more so.  Then mentions of low-tech production in The Philippines, with photos of rice being used in a Hindu wedding in India and in religious ceremonies in India and Bali.  Further paragraphs depict how the Balinese meld both ritual and routine in perpetual harvests.  Then we get into the history of rice's migration from India through to China, and how China has been working on rice hybrids at the Chinese National Rice Research Institute.  Thus the focus of this article has so far been more on the history and ubiquitousness of rice as a staple in many societies.
Then we get to Japan, and the tone of the article shifts perceptibly:
=================================
Next stop, Japan.  At the Grand Shrines of Ise, 190 miles southwest of Tokyo, the most revered precinct of Japan's Shinto religion, white-robed priests cook rice twice daily and present it to the sun goddess, Amaterasu, who, they say, is the ancestor of the imperial family.
"The goddess brought a handful of rice from the heavens," a senior priest tells me, "so that we may grow it and prosper."  He adds that in the first ceremony performed by each new emperor, he steps behind a screen to meet the goddess and emerges as the embodiment of Ninigi no Mikoto, the god of the ripened rice plant.  Then every autumn the emperor sends to Ise the first stalks harvested from the rice field he himself has planted on the imperial palace gorunds.  All Japanese, says the priest, owe their kokoro — their spiritual essence, their Japaneseness — to the goddess, "and they maintain it by eating rice, rice grown in Japan."
Japanese law, in fact, long restricted the importation of rice.  "Rice is a very special case," explained Koji Futada, then parliamentary vice minister for agriculture, forestry, and fisheries.  "It is our staple food, and so we must have a reliable supply as a matter of national security.  That is why we politicians favor sulf-sufficiency, the domestic growing of all the rice we eat."
And also because the farmers exert disproportionate influence in elections?
"Yes," he said, "that is also true."
And so the government buys the rice from the farmers at about ten times international market prices. It also subsidizes part of the cost to consumers.  Still, Japanese consumers pay about four times as much as they would if they could buy rice in a California supermarket.  All this cost the government about 2.5 billion dollars in 1992.  One result is that land will stay in rice production that might otherwise be available for housing, which is in short supply.  About 5 percent of the city of Tokyo is classified as farmland, worked by 13,000 families.  That would be space enough for tens of thousands of new homes.  Does all this mean that Japanese rice farmers are rolling in money?
Thirty miles north of the capital, in the Kanto Plain, I visit the Kimura family in the town of Kisai — typical of most of Japan's 3.5 million rice-farming households:  Rice is not a major part of their working life.  Grandfather Shouichi, 83, along with his son Take and Take's wife, Iwako, both in their 50s, look after a prosperous gardening-supply business; grandson Masao, 25, commutes to an office in central Tokyo.  Three out of four rice-growing families hereabouts have become "Sunday farmers," relying on income from other sources, mainly jobs in factories that sprang up nearby in the past ten years.
The Kimuras farm two and a half acres — this modest size is typical too — and they tell me the work is not arduous:  Excerpt for planting seeds in boxes in a shed, they do it all with machines — transplanter, tractor — in about ten working days for one person, plus a few hours for spraying fertilizer, insecticide, and herbicide.  "Harvesting is no work at all.  We hire a combine."  What do the Kimuras get out of it?
"Enough rice for us to eat for a year," says Shoichi.  "But no profit.  Zero."  Expenses go up, rice prices don't.  It's the same for most farmers around here.  "We do this only because we inherited the land."
But nature and international politics are forcing a change.  An unusually cold and rainy summer reduced Japan's 1993 harvest by some 25 percent, so more than two million tons of rice will have to be imported before the end of this year.  And after that, a newly revised global treaty — the General Agreement on  Tariffs and Trade, or GATT — will oblige to allow annual imports of 4 to 8 percent of its rice requirement.  But will the domestic rice price drop?  Hardly.  The government still sets the wholesale price, and that's likely to stay high.
=================================
That's it.  The rest of the article deals with a) liberalization of the rice markets in Vietnam, b) rice economies in Europe, c) in Africa, d) in the United States, and finally e) the future of rice technology and how production will have to accommodate growing populations.
////////////////////////////////////////////////
Here's my point:  No other country is treated in this National Geographic article with such reverence and deference as Japan.  Look:  A parroted religious introduction citing an obscure deity is channeled into a discourse on national identity, and an alleged political need for self preservation by excluding outside influences (everyplace else mentioned is seen as increasingly cooperative in developing a reliable food supply).  If anything, many other countries are seen as somehow less able to cope with their future because of their technological or economic insularity.  Not Japan.  It gets a free pass on cultural grounds, with a deference being accorded to "Japaneseness" as a religion.  (There is, by the way, one more picture of Japan in the article — that of sumo wrestlers doing "ritual shiko exercise", with attention paid to the dohyo rice ring in this "honored Japanese sport".  Cue the banging of gongs and the occasional shakuhachi flute…)
Granted, the article does offer up the hope of Japan's rice market being liberalized, thanks to the disastrous 1993 rice harvest and pressure from GATT.  But now nearly twenty years later, how are those rice imports coming along?  Not so hot: According to the USDA in 2003, "Japan agreed to a quota on rice imports that now brings 682,000 tons of rice into the country annually. However, most of this rice is not released directly into Japan's market. Instead, imported rice often remains in government stocks until it is released as food aid to developing countries or sold as an input to food processors."  Meaning it didn't work.  See a historical article I wrote on the misplaced propagandistic reverence (and GOJ dirty tricks) regarding rice imports here (and also apple imports, while I'm at it), so you can see how the discourse helps keep things closed.
Why does this keep happening?  My theory is that it is due to the politics of religiosity.  For when you treat Japanese culture as a religion, the terms of debate change, putting rationality, logic, and overall fairness on their back foot.
Consider this excerpt from Richard Dawkins, "The God Delusion", between pp. 20 and 23:
////////////////////////////////////////////////
A widespread assumption, which nearly everybody in our society accepts — the non-religious included — is that religious faith is especially vulnerable to offence and should be protected by an abnormally thick wall of respect, in a different class from the respect that any human being should pay to any other.  Douglas Adams put it so well, in an impromptu speech made in Cambridge shortly before his death, that I never tire of sharing his words:
"Religion… has certain ideas at the heart of it which we call sacred or holy or whatever.  What it means is, 'Here is an idea or a notion that you're not allowed to say anything bad about; you're just not.  Why not?  — because you're not!'  If somebody votes for a party that you don't agree with, you're free to argue about it as much as you like; everybody will have an argument but nobody feels aggrieved by it.  If somebody think taxes should go up or down you are free to have an argument about it.  But on the other hand if somebody says 'I mustn't move a light switch on a Saturday', you say, 'I respect that'.
"Why should it be that it's perfectly legitimate to support the Labour party or the Conservative prty, Republicans or Democrats, this model of economics versus that, Macintosh instead of Windows — but to have an opinion about how the Universe… no, that's holy? … We are used to not challenging religious ideas but it's very interesting how much of a furore Richard creates when he does it!  Everybody gets absolutely frantic about it because you're not allowed to say these things.  Yet when you look at it rationally there is no reason why those ideas shouldn't be as open to debate as any other, except that we have agreed somehow between us that they shouldn't be."…
[Dawkins continues further down:]  If the advocates of apartheid had their wits about them they would claim — for all I know truthfully — that allowing mixed races is against their religion.  A good part of the opposition would respectfully tiptoe away.  And it is no use claiming that this is an unfair parallel because apartheid has no rational justification.  The whole point of religious faith, its strength and chief glory, is that it does not depend on rational justification.  The rest of us are expected to defend our prejudices.  But ask a religious person to justify their faith and you infringe "religious liberty".
////////////////////////////////////////////////
This is why appeals to "Japaneseness" so many times take on a religious overtone.  Why does the National Geographic feel the need to interview a priest as some sort of source about world rice?  Allegedly, "because Japanese rice is as essential fundamental to the Japanese people as their kokoro".  Presto!  It's off the subject table for rational debate.  Because once you criticize Japan's rice policy, apparently Japanese are hard-wired to take it as a personal affront.  After all, there IS so much pressure to somehow, somewhere, say something "nice" about Japan — especially if you're being any way critical.  For balance, some might say, but I would say it is because we feel the pressure to treat Japan more kid-glovey than we would, say, China, Russia, or any other nation, really.  Why?  Out of reverence for how somehow "special" Japan is.
I believe Japan is neither exceptional nor special (no more special than any other society), and it should be exposed to the same terms of critique and debate as anyone else.  Yet it gets a free pass, as I saw during the Otaru Onsens Case, where for example many bought into the "foreigners must be excluded" thanks in part in reverence to some arguments being made, in paraphrase, were "Japanese baths are a very special place for Japanese people, and if they want those kept pristine and exclusive only for those who really understand Japanese bathing culture, then so be it."  No need to treat people equally just because they're people anymore.  Only those born with the sacerdotal kokoro need apply to bathe in these now holy waters.
This is my Xmas present to Debito.org Readers:  Look at Japan-related discourse now through the lens of religious discourse.  Watch the kid gloves come on.  It is a very careful and deliberate means to defang political debate and stymie change in this society which badly needs it.
Again, "Japaneseness" as a religion with all the trappings — an analytical thought process in progress on Debito.org.  Arudou Debito