Posted by Dr. ARUDOU, Debito on January 18th, 2012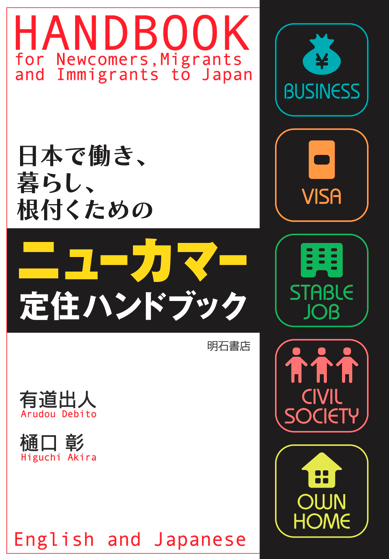 UPDATES ON TWITTER: arudoudebito
DEBITO.ORG PODCASTS on iTunes, subscribe free
Hi Blog.  Last month I had an extensive interview with Victor Fic of the Asia Times on me, the Otaru Onsens Case, human rights in Japan, and the future.  It went up last week.  While long-term readers of Debito.org might not find much they haven't heard before, it's a good "catch-up" and summary of the issues for interested newbies.  Excerpt follows.  Arudou Debito
//////////////////////////////////////////////////////////
INTERVIEW
Overcoming the 'Japanese only' factor
By Victor Fic.  Asia Times, January 12, 2012, courtesy http://www.atimes.com/atimes/Japan/NA12Dh01.html
When US-born Dave Aldwinckle became a Japanese citizen named Arudou Debito in 2000, two Japanese officials told him that only now did he have human rights in Japan. Such prejudice galvanized him into becoming a crusader against anti-gaijin(foreigner) discrimination after braving death threats to him and his family. Is Arudou throwing the egg of morality and legality against the rock of ancient bias? In this exclusive interview with Asia Times Online contributor Victor Fic, he sees Japan turning inward. 
[…]
TO  David "foolish" Aldwinkle [sic]
GET OUT OF JAPAN
YOU ARE A FUCKING GAIJIN
NOT A JAPANESE
FUCK YOU!!
GAIJIN LIKE YOU ARE RUINING THIS COUNTRY
WE WILL KILL YOUR KIDS
YOU CALL THIS DISCRIMINATION?
YOU WANT MONEY THAT MUCH?
GO HOME YANKEE CUNT!
— Death threat in English and Japanese, postmarked February 5, 2001, from Asahikawa, Hokkaido, with a fake name that literally means "full of sperm", and a fake organization called "Friends of Onsen Local 2".  Reproduced in "Japanese Only: The Otaru Hot Springs Case and Racial Discrimination in Japan" (Akashi Shoten, Inc. 2006), page 305. [NB: This was the original opening to the interview that Mr. Fic filed with the Asia Times.  It was removed by the editors, which is a pity.  Racial discrimination is an ugly thing, and the content and tone of this death threat is but one symptom.]
Victor Fic: Did you ever think that you would become a Japanese citizen? 
Arudou Debito: Hell no! I wasn't even interested in foreign languages as a child. But I moved from my birthplace, California, to upstate New York at age five and traveled much overseas, learning early to communicate with non-native English speakers. I'd lived a lot of my life outside the US before I graduated from high school and wasn't afraid to leave home. But changing my citizenship and my name, however, was completely off the radar screen. I didn't originally go to Japan to emigrate – just to explore. But the longer I stayed, the more reasonable it seemed to become a permanent resident, then a citizen. Buying a house and land was the chief reason that I naturalized – a mortgage means I can't leave. More on me and all this on my blog [1].
VF: The contrast with your earlier life is dramatic because you started life as an above average American guy in the northeast …
AD: How do you define "average?" I certainly had opportunities. I grew up in a good educational district and had high enough grades to get into Cornell University, where I earned a degree in government. I springboarded into a quality graduate program at the Graduate School of International Relations and Pacific Studies at the UC San Diego, and availed myself of excellent Japanese studies programs, including a mentor relationship with the late East Asia expert Chalmers Johnson. I then did the hard slog of learning the language and culture and it set me up my life as an academic, writer, commentator, and educator about issues Japanese.
VF: Why do you insist that prejudice towards foreigners in Japan is severe? 
AD: It's systematic. In my latest Japan Times column [2] I discuss the lack of "fairness" as a latent cultural value in Japan. Japanese tend to see foreigners as unquestionably different from them, therefore it follows that their treatment will be different. Everything else stems from that. My column gives more details, but for now let me note that a 2007 Cabinet survey asked Japanese, "Should foreigners have the same human-rights protections as Japanese?" The total who agreed was 59.3%. This is a decline from 1995 at 68.3%, 1999 at 65.5% and 2003 at 54%. Ichikawa Hiroshi, who was a Saga Prefecture public prosecutor, said on May 23, 2011, that people in his position "were taught that … foreigners have no human rights " [3]. Coming from law enforcement, that is an indicative and incriminating statement.
VF: When immigrants to the West naturalize, they hear "congratulations!" But when you became Japanese, you were greeted with another statement … what was it? 
AD: On October 11, 2000, I naturalized. And yes, I heard "congratulations". But I was also visited at home by two representatives of Japan's Public Safety Commission to tell me that they would now take action against the threats and harassment I had been getting during the Otaru Onsens case. They said clearly, "Now that you are a Japanese citizen, we want to protect your human rights." Meaning rights to protect when I became a citizen – not before.
VF: Can you cite practical examples from daily life? 
AD: Sure…
Interview continues at
http://www.atimes.com/atimes/Japan/NA12Dh01.html