mytest
Books, eBooks, and more from Dr. Debito Arudou (click on icon):



UPDATES ON TWITTER: arudoudebito
DEBITO.ORG PODCASTS on iTunes, subscribe free
"LIKE" US on Facebook at http://www.facebook.com/debitoorg
https://www.facebook.com/embeddedrcsmJapan
http://www.facebook.com/handbookimmigrants
https://www.facebook.com/JapaneseOnlyTheBook
https://www.facebook.com/BookInAppropriate
If you like what you read and discuss on Debito.org, please consider helping us stop hackers and defray maintenance costs with a little donation via my webhoster:


All donations go towards website costs only. Thanks for your support!
Hi Blog.  On Japan's National Foundation Day, a time where Japan's patriots often come out and make statements on what it means to be a "Japanese", fabled feminist Sociology Professor at Tokyo University Ueno Chizuko wrote something for the Chuunichi Shinbun. As the headline proclaims, "Let's become equally poor together".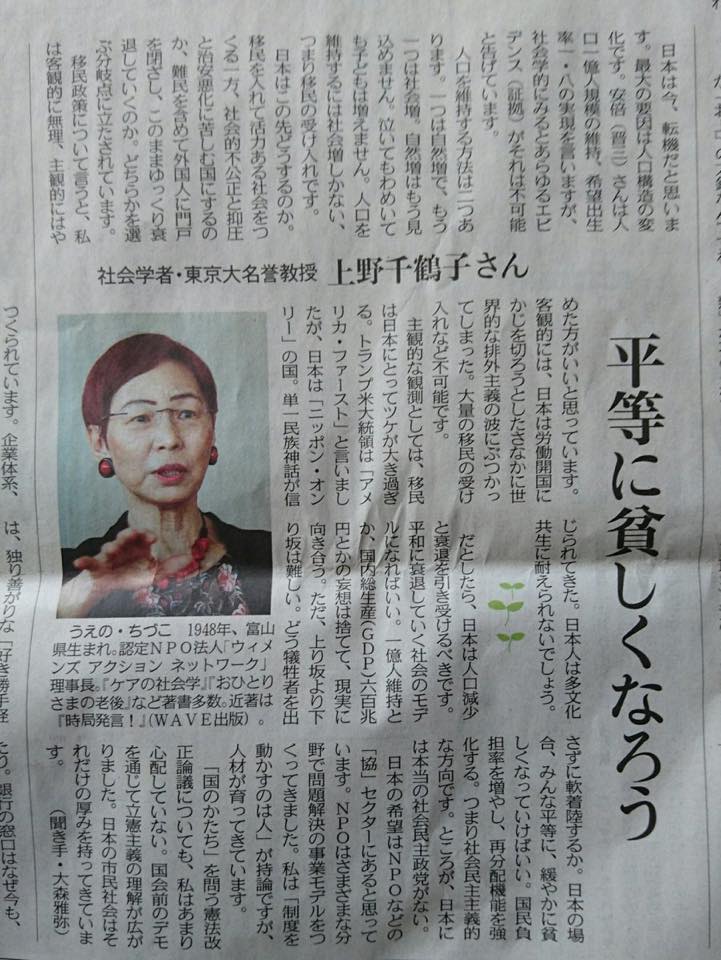 Here's a bit more about her in an interview with the Japan Times (2006).
As TG, the person who tipped me off to this article writes, "Chizuko Ueno, Japan's most famous academic feminist, says there is no chance of reversing the decline in the birthrate; that at the same time Japanese society is inherently incapable of inter-cultural understanding; that therefore she opposes any move to liberalize immigration policy; and that the Japanese people should accept that they are going to gradually decline into poverty over the years to come.
"Hmm. I wonder what Hidenori Sakanaka, Arudou Debito and other FB friends think about this. She is a gadfly who likes to provoke, and you could read this as an attempt at satirical pessimism possibly. Or has she just lost the plot?"
Provoke indeed.  It's caused a stir on Japanese debate fora (it took more time than usual to find where this article appeared — people were too busy debating this on online fora to even disclose that). And on FB, where I was fortunately tagged, we had some interesting comments:
AB: "I read this yesterday and wondered about 平等に貧しくなろう。She also talks about a soft crash landing, if I recall correctly. Resigned pessimism of the wartime 「まだ焼き出されていないのか」type was my interpretation, but I don't suppose I'm right."
CD: >こういう「もう経済成長しなくていい」「一緒に衰退していこう」みたいなことを言う似非リベジジババ結構いるんだけど「アンタの人生の終焉に国を巻き込むな」と言いたい。老いて衰退してくのはアンタ自身だ、若い子には「アンタらにはない」可能性がある。世の中の若いヒト全てに対して失礼だ。
"Boom. Couldn't say it better myself in either language. The myopic narcissistic "L'etat, c'est moi" conflation of self and cultural space in this woman's train of thought are simply staggering in someone who dares to parade her ideas in the media as a purported "public intellectual"."
CD(2): "Note that while I am suspicious of her psychological motivations for framing the situation thusly, that does NOT mean that I don't think it may very well go down the way she lays it out. Unfortunately, there are a lot of people this age and older whose symbolic immortality is so tied up with the idea of "Japan for Japanese only and only the kind of Japan I've known" that they would rather "die than switch", so to speak. Young people had better light a political fire under their butts here, or the whole shebang will slide down in a long, slow geriatric national/cultural kamikaze dive. The event horizon for this is coming up fast."
EF: "Setting aside the point about having children, many of our students counter her comments regarding the inability of Japanese to gain multi-cultural understandings."
GH: "I still remember her 'feminist' paper given years ago at SOAS, it was premised on two points: western feminism was not a perfect fit to Japan (fair enough, other non-white feminists make similar points), but then everything she said about being a feminist in Japan seemed to contradict her own very existence as a single female academic: it seemed to be about being a better housewife or being happy with different work conditions because of the fragility of the female body (menstrual leave days for example). It only made some sense to me years later, when I saw her speak at a big feminist history conference in Tokyo: her position is against the old hardcore Marxist feminist ideology of the generation just before her (and dating back to before the war). So she's fighting an ideological battle that pushes her to say the most incredibly bizarre things sometimes: we are not all equal, but equivalent, this was her mantra. Of course equivalences can be very arbitrary…"
And GH is where I came in:
DEBITO: I very much agree with [GH's] insight, and I think it sheds light into the mentality behind this article. I have often noticed that feminism in Japan is not "equality between the sexes" but "separate but equal" status between the sexes, inherently accepting that inequality is inevitable due to purported physical and emotional differences between men and women. Some things are "women's work", for example, and some things are men's, and you'd better respect that order or else woe betide you for intruding.
Once you accept this kind of natural status quo, it becomes just as easy to accept that there should be "separate for foreigners in Japan" too, however "a foreigner" is defined. The problem is that most people accept without much question the "necessarily separate but unequal" mantra as well, since foreigners are not Japanese, by definition, and Japanese are told on a daily basis (no exaggeration) about the inherent differences between them. And therein lies the slow-drip mindset that over the years will eventually affect even the most intellectually-rigorous, as they get older and fossilized in their beliefs.
You even find it in many very long-term foreigners in Japan, who will even argue that they deserve their own unequal status. Rigor becomes rigid.
So to me, Ueno's pontificating on the natural order of separation is a natural outcome of living in a society as hierarchical and segregated as Japan's.  I think with this article, she'd have a more comfortable cup of tea with the likes of Sankei columnist Sono Ayako, who on National Foundation Day exactly two years ago expressly praised South African Apartheid and advocated a similar system for Japan's foreigners.  –Dr. Debito Arudou
=====================================
Do you like what you read on Debito.org?  Want to help keep the archive active and support Debito.org's activities?  Please consider donating a little something (More details here.). Or visit one of our advertisers