mytest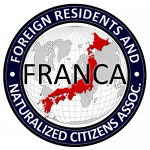 Hi Blog.  Wrapping up this long-running series on the G8 Summit, here's a blog entry on last night's Sapporo speech by Japan Times Deputy Editor Eric Johnston, sponsored by the Hokkaido International Business Association (HIBA).  Photos and links to his powerpoint and an audio recording of the event below.
Brief:  On July 10, 2008, Eric spoke for an hour and change on the state of newspaper media (versus the bloggers, who at times were better connected to Summiteers than the mainstream journalists), the inefficiencies of Summit reporting and how it blocked true journalism (including a press center far away from the Summit site, and a GOJ stranglehold over press schedules–one example given was four hours' travel and wait time for a sixty-second press conference with PM Fukuda), the incredible economic and ecological waste that goes on at these Summits (including, he says, a ton of lamb meat left uneaten due to journalist time constraints), and the flat-out lying to the local governments by the Ministry of Foreign Affairs re getting the local economies involved in Summit events (this was apparently Tokyo's show all the way–shutting out local pensions for "Ministry-certified hotels", which gouged the journalists with JPY 60,000 hotel rooms, and not allowing local businesses to take much advantage of the world's attention).  Thus sequestered and sealed off from the stories they had come a long way to report, the journalists at the media center could have been anywhere in the world, and all that any journalist (working 16 to 18 hour days), who didn't have the gumption to leave the site and go searching for his or her own stories, saw of Japan was the center's sushi bar.
Oh yes, and Eric talked about the goal of the Summit and appraises whether or not it was successful.  Most people don't think so.  And despite the relative boosterism by GOJ-influenced press like NHK, the world media is now beginning to see these summits for what they are–basically highly wasteful and expensive parties for politicians, with only one real working day to consider a few major issues and, for the most part, agree that something is "a good idea", rather than hammer out any specific policy or agreement.  All with us taxpayers footing the bill (particularly us Japanese taxpayers, paying ten or more times more, as usual, than last year's Summit).
As one of the attendees of tonight's speech commented, it was like the circus had come to town, set up their tent on a vacant lot, then shut the locals out from their show.  Then they departed, leaving nothing behind but a vacant lot.  
Good riddance to the Summit.  What a scam.  Arudou Debito in Sapporo
Link to sound file of the speech here (mp3):
https://www.debito.org/ericjohnston071008.mp3

Eric Johnston's Powerpoint Presentation here (English):
https://www.debito.org/ericjohnston071008.ppt
Photos of the event and afterwards (courtesy Tom Goetz):