mytest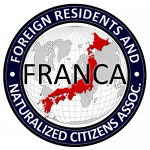 Hi Blog. Some amusing anecdotes on what bennies were on offer for G8 Summit attendees. Some people get all the breaks, it seems.  Not the local businesspeople, however. Debito
=====================================
TOKYO CONFIDENTIAL:  Japan Times Sunday, July 13, 2008
G8 goes 'B-class' as smokers fume
After devoting seven pages of punchy news items about the G8 Summit at Toyako in Hokkaido — including a full page concerning the latest gossip about France's President Nicholas Sarkozy and his wife, Carla — Shukan Shincho (July 10) provides readers with three pages of amusing tidbits of the kind in which the weekly revels, which is headed "B-class News."
One concerns the special souvenir gifts distributed to the foreign-press corps attending the summit.
It seems at the previous summit in Nago, Okinawa Prefecture eight years ago, the government was lambasted for shelling out over ¥60 million on expensive gifts, which included deluxe business bags, IC recorders, stationery, and a limited-edition "Licca-chan" doll dressed as a Ryukyuan folk dancer.
So this time they're cutting back, with expenditures only about one-fourth that of the Okinawa Summit. Participants will receive a bag embroidered in the style of Hokkaido's indigenous Ainu. In keeping with the conference's ecological message, press kits handed out to reporters in "eco bags" were made from recycled materials. Other commemorative souvenirs such as furoshiki (a wrapping cloth used for carrying items) and chopsticks were also made from recycled materials.
Perhaps, the magazine remarks, foreign newsmen who recall Japan's magnanimous generosity at the previous Nago Summit were a bit disappointed this year.
Among the local delicacies the foreign visitors could partake, Shukan Shincho continues, was Mame no Bunshiro Kazuno Natto, a gourmet variety of fermented soybeans, which are typically disdained by many foreigners due to their unfamiliar odor and texture, from Donan Hiratsuka Shokuhin Co. The beans also contain reishi (Ganodermalucidum), an edible fungus that boasts medicinal properties.
"We usually sell it in 50-gram packs, but since that's too big a portion for the breakfast buffet, we supplied an order for 500 25-gram packs," says Masao Hiratsuka, the company's president. "This natto doesn't smell bad, so foreigners can eat it too.
"We'd be honored if the president and first lady of France, where food culture is highly developed, would deign eat some," says Hiratsuka.Alors, pourquoi non?
While some local businesses benefited from the onslaught of visitors, rigorous police security appears to have heavily cut into turnover at the area's love hotels.
"Usually, toward the end of the month our business picks up, but in June, it declined," the owner of an establishment in the vicinity of Toya Spa tells Shukan Shincho. "On Saturdays and Sundays we're often fully booked, but customers didn't materialize then either. Business is off by more than 30 percent."
"With so many security checkpoints, no wonder people are staying away," sighs a second hotelier. "When they stop you and ask, 'Where are you going?' what can you tell them?"
A detachment of riot police took over an entire no-tell hotel for use as their billet. Up to June 28, the hotel had accepted regular customers in its vacant rooms, but the presence of cops lurking on the premises was a major turnoff.
"Would you go in a love hotel crawling with cops?" one sarcastic blogger posted.
Rest of article at: