mytest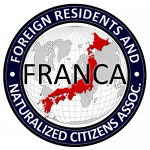 Hi Blog.  Off to the California Bay Area for a month from tomorrow on business.  Not sure what my Internet access will be like, and it's summertime anyway, so let's all take it easy.  My next JUST BE CAUSE column comes out in the Japan Times on Tues, August 5, anyway.  Topic:  Making the case that "Gaijin" is a racist word.
And a personal confession to make:  I'm actually not looking forward to going to The States.  It's not just that San Francisco is pretty cold (think Kushiro cold) and grey during August.  There's something I call the "Christmas Syndrome", in that whenever you try to celebrate Christmas (especially when everyone around you doesn't understand what the fuss is about), you feel all that much more pressure to be happy, and wonder why you're so glum.  The seasonal expectation of being happy actually makes it worse.
Same thing with a trip to the US.  Yes, I was born and raised there.  But going there I feel inchoate pressure to feel some kind of link with the place, some feeling of "at home". I don't.  I'm afraid twenty one years in Japan (and eight years of a failed and arrogant US presidential administration) have made me unable to feel any real affinity.  So I'd much rather stay in Hokkaido and enjoy the summer, or go to some other country (Canada would be nice) than head back and be a foreigner in contemporary America.  Ah well.  As they say, it's my made bed to sleep in.
Anyway, enjoy your summer, everyone! I'll still be writing Debito.org, only probably not every day. Check back in from time to time! Debito in Sapporo