mytest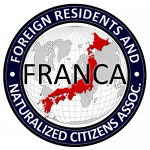 Hi Blog. In lieu of writing something more substantial today (got a speech for lawyers in Osaka and Tokyo in a few hours. See my powerpoint presentation for this event here:  https://www.debito.org/CLEosaka090408.ppt ), let me give the keyboard over to Jon Dujmovich, who sponsored one of my recent speeches.  
Disclaimer:  This is Jon's opinion and only Jon's opinion, not mine or anyone's affiliated with Debito.org.  I make a subsidiary comment at the end.  Have a read.  
======================================
Broadcast media silent on Fukuda, but not about foreigners.
A keen observation of two Japanese media sources over the past few days that has me scratching my head and thinking "Hmmm…"
24 hours after Japanese prime minister Fukuda announced his resignation to the nation (September 1), BS 1 news had nothing to say about the story. Nothing. I watched 4 consecutive broadcasts of the news at the top of each hour from 10:00 p.m. to 2:00 am (September 2/3) and there was nothing. Oh sure, there was a story about a car slamming into a ramen shop in Nagoya, and even stories from the American G.O.P. convention, but no Japanese politics. In fact, the lead story was about two Russian sumo wrestlers, Roho and Hakurozan testing positive for marijuana in their urine.
Again, 2:00 p.m., 3:00 p.m., Wednesday September 3rd nothing regarding Japanese politics, plenty on the U.S. elections and lead off story Roho and Haurozan. "Hmmmm…"
Compare this to the Japan Times Online (September 3) for which I subscribe and receive daily, and we see Aso's bid to follow Fukuda as Prime Minister is the lead story, followed by a story on the G 8 summit, and one on Okinawa. To find the story on the sumo wrestlers one has to scroll down past the TOP STORIES section, NATIONAL NEWS, OTHER NEWS, BUSINESS, OPINION, FEATURES, and finally to SPORTS, where you will find the sumo story just before tennis, second to last. "Hmmm…"
Now comes the most interesting part. In the Japan Times article (Wednesday, Sept. 3, 2008, "Aso gets set for run at LDP presidency: Party election slated for Sept. 22" by Jun Hongo and Setsuko Kamiya) there is a line that reads "…senior members of the LDP scrambled from early Tuesday to control the damage in the wake of Fukuda's hasty departure."
http://search.japantimes.co.jp/mail/nn20080903a1.html
Is this coincidence? Does "control damage" include media censorship? Hmmm…I wonder.
Now I am not qualified enough to speak officially on the subject, nor do suggest this is good social science, I am merely pointing out a very suspicious coincidence where smoke and mirrors seem to be employed to deflect media attention from the LDP and government woes, to an easy minority group target. For heaven's sakes why does a story about two foreigners who may or may not have smoked pot trump a story (that is less than 48 hours cold I might add) about the nation's prime minister resigning!?!
TBS 11:00 pm news (September 3) top story sumo wrestlers testing positive for THC, Fukuda's resignation second. "Hmmm…"
Is back room coercion of broadcast media by politicians taking place? Something is very fishy, and I suggest we all keep a particularly close eye on media coverage of these events in the days to come.
Jon Dujmovich
==========================
SUBSIDIARY COMMENT:  I have been watching how the Sumo marijuana story has been covered by the media, and so far I'm very pleased to report that I found the court of public opinion to be quite fair.  Commentators have been very careful to note that there is no physical evidence of the wrestlers toking.  There is a presumption of innocence first.  Good.
And it has not been made into an issue of "foreigners", either.  On this morning's TV Asahi Super Morning Wide Show at 9:23AM, one of the younger male commentators tried to make a point about the rikishi being foreign, using the word "kokuminsei" (national/ethnic character) etc., but the anchor, Torisei Shuntaro, immediately cut him off, told him not to make it a "gaikokujin" issue, and bowed in apology to the camera.
Bravo.  That's progress indeed (especially compared to the errant media speculation last year re the Sasebo gym murders). Thank you.  Arudou Debito in Osaka