mytest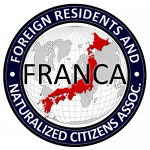 DEBITO.ORG NEWSLETTER MAY 23, 2006
Subject: REPORT: UN's Doudou Diene's Tokyo and Osaka trip
Hi all. Tokyo Trip report:
///////////////////////////////////////////////
1) MEETING WITH UN SPECIAL RAPPORTEUR DIENE IN OSAKA AND TOKYO
2) LINKS TO RELATED ARTICLES
3) ATTENDING UN SECRETARY GENERAL KOFI ANNAN PRESS CONFERENCE
///////////////////////////////////////////////
May 23, 2006
1) MEETING WITH UN SPECIAL RAPPORTEUR DIENE, OSAKA AND TOKYO
I met M. Doudou Diene for the fifth, sixth, seventh, and eighth times over two days (May 17 and 18) in Osaka and Tokyo respectively. In Osaka, he attended a hearing of human rights groups and a dinner. In Tokyo, he gave a press conference at the Foreign Correspondents' Club of Japan (FCCJ), and attended a hearing for Dietmembers in an Upper House conference room (BLL rep Matsuoka Tohru and Shamintou Party Leader Fukushima Mizuho attended, while several other Dietmember offices sent their meishi with regrets; no contact whatsoever, sadly, from Tsurunen Marutei's office). There were also several other meetings I could not attend in his very busy six-day schedule, available at https://www.debito.org/rapporteur.html#May2006
M. Diene listened attentively to all speakers, then comments about his role in the fight against racial discrimination worldwide. As Special Rapporteur, although he does represent the UN in name and ideal, Diene does not receive a salary from the UN or any interest group. He thus is not beholden to anyone and has the freedom to pick his sites of investigation. His procedure is to talk to both the members of civil society and the government (he formally requests to speak to the highest echelons of any local and national government; they can and do refuse), then give his recommendations based upon his findings. His reports to the UN, by the way, do not focus exclusively on Japan; his backlog of articles and movements elsewhere may be found on the United Nations website by typing "Special Rapporteur Doudou Diene" on their search engine, at
http://www.un.org/search/
I did not audio record Diene's speeches, but to paraphrase his points from memory:
————————————————-
1) Racism, xenophobia, and related intolerance is not something you deal with just once–it is something you keep combatting, as it is a mutating phenomenon. Which is one reason he returned to Japan this time on the invitation of rights group IMADR (www.imadr.org), to follow up on his July 2005 initial visit and January 2006 report.
2) Racism etc. is on the increase worldwide. More governments are using the new mutation of intolerance–i.e. the fear of terrorism–as a means of justifying increased discrimination and decreased civil liberties for peoples within their borders. Meanwhile, more politicians are bringing xenophobia out of the political fringes and using them for populist purposes during election campaigns. Even prominent intellectuals are using increasingly sophisticated arguments to justify what amounts to racist practices and increased intolerance (he cited Samuel Huntington's book "Who Are We?", an extension of Huntington's earlier thesis that cultures inevitably clash, as an intellectual's view of foreigners threatening an "American Creed').
3) To combat racism, one needs the rule of law and policy measures at the highest levels of government to expose and deal with it (which is where Japan is particularly culpable, as it lacks a law forbidding racial discrimination). There must be a means to address, redress, and punish.
4) However, racism is merely the tip of the iceberg–one must also have an intellectual and ethical strategy. The expression of underlying attitudes and values in a society is what encourages negative reactions towards peoples on a grand scale. Education is essential to change those attitudes, along with a complete rewrite of history to remove bones of contention: problematic interpretations of the past along nationalistic lines. He proposed that UNESCO convene an assembly of the best historians from all countries within a region, and write an agreed-upon historical account to resolve future disputes and ameliorate potential frictions between countries and peoples. (UNESCO, he notes, has already done this on the genesis of Africa, Central America, and Central Asia.) Unless you deal with the deeper root causes of intolerance, there is little hope for a lasting resolution of it, he concludes.
5) Until then, Diene intends to file his reports with the UN in the considerations of the promises Japan has made to the international community, gauging how closely Japan is following the international instruments it has signed.
6) Now that Japan has been elected to the newly-formed UN Human Rights Council, with 46 other member states (see Kyodo brief at http://www.crisscross.com/jp/news/372161), Diene welcomes Japan's increased responsibility and international scrutiny of its own internal human rights issues.
(More on this new Human Rights Council at:
http://www.un.org/News/Press/docs/2006/ga10449.doc.htm
http://www.un.org/ga/60/elect/hrc/ )
————————————-
COMMENT FROM DEBITO: Frankly, I found M. Diene's breadth, depth, and accomplishment of thought–on both the concept of discrimination and the strategy for securing human rights–to be breathtakingly inspiring. Now here is a man I am happy to have in a position of spokesman for our cause, not only because he knows what he's talking about, but also because he actually *CARES* about the outcome for people around the world (and must be tirelessly processing an enormous amount of information during his travels!). He shows a tenacity of belief and action that I can only hope to emulate somehow. Although I don't share (yet) his faith that Japan will actually feel any more compunction to create an anti-discrimination law by mere dint of being on the Human Rights Council, I am willing to adopt a wait-and-see attitude, and gear up to make the case later before the Council myself that Japan's legislative, administrative, and judicial branches have little to no intention to follow the treaties it signs.
To that end, in addition to the folder and video of referential materials I gave him
(see https://www.debito.org/rapporteur.html#may2006 for contents),
I also included a second folder with reports regarding, inter alia, Japan's awful record vis-a-vis international divorce (and its status as extralegal haven for child abductions, see http://www.crnjapan.com), the potential further targeting of foreigners in specific under the proposed Conspiracy Law ("Kyoubozai Houan", citing the al-Qaeda witch hunt of 2004 and the Himu Case, see https://www.debito.org/japantimes102305detentions.html ), and issues involving foreign educators and the parochial house renting "guarantor system". Let's hope it all means something in the end.
(For those who wish to contact M. Diene with a concern (he said several times that he is emailable), his email address care of the UN is sr-racism AT ohchr.org. Address it specifically to Doudou Diene. Mention my name if you want.)
///////////////////////////////////////////////
2) RELATED ARTICLES COVERING DIENE'S VISIT
Eric also attended the May 17 Osaka Meeting (although the Japan Times was sadly absent from the Tokyo venues). This is what how he portrayed the event:
————————————–
ANTIDISCRIMINATION LAW NEEDED
Racism rapporteur repeats criticism
By ERIC JOHNSTON, Staff writer
http://search.japantimes.co.jp/cgi-bin/nn20060518a6.html
The Japan Times: Thursday, May 18, 2006
OSAKA — The U.N. rapporteur on racism repeated Wednesday his strong criticism of the Japanese government's attitude toward combating the problem, saying the country needs an antidiscrimination law.
"Japanese human rights groups and others, in linkage with the international community, can move toward creating an antidiscrimination law which will hopefully lead to addressing the deeper causes of racism and xenophobia," said Doudou Diene, the U.N. Special Rapporteur on Contemporary Forms of Racism, Racial Discrimination, Xenophobia and Related Intolerance.
Meeting in the afternoon with nearly three dozen human rights representatives, including foreigners' rights activists, Diene heard about the discrimination faced by the Korean, Okinawan, and Japanese-Brazilian communities, as well as descendants of the former "buraku" outcast class, and about specific incidents of government and corporate discrimination against foreigners.
In a scathing report released in January, Diene said racism in Japan is deep and profound.
At Wednesday's meeting, he repeated the call in his report for the government to protect its ethnic and cultural minorities through legislation outlawing racism.
Diene's report pointed out that Japan is party to the U.N. Convention on the Elimination of All Forms of Racial Discrimination, but has not yet ratified a U.N. convention to protect migrant workers.
The January report came nearly six months after Diene, at the invitation the International Movement Against all Forms of Discrimination and Racism Japan Committee, traveled around the country meeting with representatives of the Ainu, "buraku" descendants, and Korean communities as well as foreign migrant workers.
On this current unofficial visit, also arranged by IMADR, Diene came to Okinawa on Saturday and met local government officials and residents opposed to the U.S. bases.
After speaking Monday to people living near U.S. Kadena Air Base who have filed a lawsuit about the noise near, Diene told reporters he heard the noise from F-15s taking off from Kadena and better understood the situation after talking to them.
Diene also met people living beside the U.S. Marine Corps Air Station Futenma and later toured the waters off the marines' Camp Schwab near Nago, where a replacement facility will be built.
Diene was to have meetings with Foreign Ministry officials and human rights lawyers in Tokyo on Thursday.
The Diene report and his visits — last July and this week — have drawn a mixed reaction here.
Human rights activists have welcomed it for detailing the economic, social and political discrimination that various ethnic and cultural minorities face and for urging the government to adopt national antidiscrimination legislation.
Critics, however, have said the report is flawed because Diene is in Japan at the behest of a group with a political agenda.
They have charged that the Japan portrayed in his report reflects only the views of IMADR and its allies, and the paper is not an objective analysis of the situation for minority groups. As of this week, the Diene report and his recommendations have been endorsed by 77 groups in Japan, including human rights organizations, religious groups and unions.
"My report does reflect certain limitations. I am only in a given country for about 10 days, and I have not been able to meet everybody I would have liked to meet," Diene said.
————————————-
JAPAN TIMES ARTICLE ENDS
Kyodo's take in English here:
https://www.debito.org/rapporteur.html#kyodo051806
Voice of America's take, with a photo of Diene (and, ahem, yours truly):
http://www.voanews.com/english/2006-05-18-voa6.cfm
The Okinawa Times and Ryukyu Shinbun (Japanese), with headlines reading "The concentration of US bases, noise, and environmental destruction is discrimination towards Okinawa":
https://www.debito.org/rapporteur.html#ryukyu051706
(Finally, someone goes down there to survey the situation! Even former President Bill Clinton irresponsibly refused to accept former Okinawa Governor Ota's invitation to visit in the late 1990's.)
Final word on Diene for the moment: His trips have been an enormous boost for the human rights groups in Japan, and his statements have legitimized for the whole world to see the issues that Japan's emerging civil society have been taking up for years. The government (there was AFAIK no Diene meeting with PM Koizumi or with Tokyo Gov. Ishihara. Again) and the Japanese media again generally turned a blind eye. But I have a feeling that with M. Diene, there will be more follow-ups. I hope to see him again, next time in Geneva, very soon.
///////////////////////////////////////////////
3) UN SECRETARY GENERAL KOFI ANNAN PRESS CONFERENCE
Another highlight of this trip was meeting up with a reporter from the Italian press at the FCCJ, who had actually read my book JAPANESE ONLY (I want to hug anyone who does!), and who invited me to join him as a guest at the Japan Press Club for Kofi Annan's hourlong press conference on May 18.
More on Annan's trip to Japan and South Korea at:
http://search.japantimes.co.jp/cgi-bin/nn20060513b7.html
http://search.japantimes.co.jp/cgi-bin/nn20060518a5.html
http://search.japantimes.co.jp/cgi-bin/nn20060519a8.html
Attended by all the major press, Annan gave a masterful presentation (would not expect anything less of a world leader of his calibre) with the appropriate gravitas, wit, and sincerity. He was excellent at avoiding pointing fingers at specific countries, explaining earnestly why he would not broach certain topics, and giving you the feeling that he was not dodging questions while necessarily doing so. I was aglow at how well he did it. Learned a lot.
Three examples (paraphrased from memory, not quotes; all rendering errors mine):
1) How to dodge a question effectively:
When asked about what was talked about with that day's meeting with the Emperor, Annan said:
"If I were to disclose what is talked about every time I meet a monarch or emperor, it will get around. And the next time we meet, we will only talk about the weather or their grandchildren. I do not want this to happen. So I don't want to go into details on this. I will say, however, that we did talk about important world issues of the day and that we had a very constructive conversation."
2) How to rebuke criticism:
When asked about the illegality of the Iraq war and the irrelevance of the UN regarding unilateral action by "coalitions of the willing" led by the US:
"People are tending to see the UN as irrelevant. However, you must realize that it is not just something out in space like a satellite. The UN is made up of those countries, it IS those countries, even those critical of the UN, and they make the UN what they put into it. We are not a pacifist organization–we understand the use of force at the appropriate, agreed-upon juncture, and have used it from time to time as the record shows. We do not see coalitional action like this as constructive. The UN is doing the best job it can, but for it to work people have to be willing to work within it. Going outside of it when you do not get your way is not in my view the best path." [or something to that effect–grand paraphrasing here]
3) Asking the question:
You know I was tempted to raise my hand–it's not every day you could ask a question to the leader of the United Nations! However, only authorized journalists are allowed to raise their hand at these functions. Fortunately, my reporter friend did it for me:
Question: "Japan yesterday passed a law reinstating fingerprinting for foreigners (http://search.japantimes.co.jp/cgi-bin/nn20060518a2.html). Special Rapporteur Doudou Diene is also here investigating the situation of racism and xenophobia within Japan. Do you have any comment concerning Japan's election to the Human Rights Council and its domestic situation vis-a-vis xenophobia?"
Annan's answer: "I was unaware that Japan had passed this law. I am aware that Diene is here but we have not met to discuss his trip or findings. I am distressed that many countries worldwide are increasingly legislating xenophobic tendencies in the name of fighting terrorism, and I would hope that people will understand that legislating away civil liberties for peoples within its borders is not the proper path to take."
Best we could have hoped for in this situation. A seed is planted.
Arudou Debito in Sapporo
debito@debito.org
www.debito.org
DEBITO.ORG NEWSLETTER MAY 23, 2006 ENDS