mytest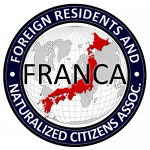 Hi Blog. Finally got done with my marvelous class (a joy from start to finish, we went several hours overtime just discussing the issues), and been too busy to revise my blog every night revising my powerpoints to reflect the threads of our conversation. So let me forward this germane email and open a discussion about issues regarding Softbank and the JPLT.
Arudou Debito in Nagoya, tomorrow Saitama, then Nagano, Sendai, and Iwate on successive days…
==============================
Dear Mr. Debito Arudou,
Hello. My name is AS. Currently, I am living in Gifu Prefecture. I am long time reader of your blog and a great admirer of you and your work for the foreign community in Japan. I have two concerns that I would like to dicuss with you. If you want, you have my consent to publish these comments on your blog for an open discussion.
1) Questioning the request of the Japanese Proficiency Test to show a passport or a gaikokujin card as an ID. When a person applies for the JLPT, they recieve a manual regarding the way of applying for the test, how to take the test, and other various guidelines and rules that may apply to taking the test. One of these guidelines is that you must show either a passport or an alien registration card as a form of I.D. To quote the manual, under the topic of what to bring to the test.

1. Test voucher

2. Writing Instruments

3. Lunch.

4. Identification (passport or alien registration card)

I have no problems with numbers 1 to 3, but with number 4, I have a major problem. Why do they ask only for either a passport or an alien registration card? Why do I have to show either one of these to prove my identification? Isn't either a Japanese driver's license or a Japanese insurance card a form of valid I.D.? Also under Japanese law, isn't illegal for someone to ask you for a alien registration card or a passport that isn't a police officer or an immigration officer? I am just wondering about these questions because the JPLT is targeted to towards foreigners who want to measure their Japanese comprehension in form of a test. In my mind, it looks the NPA deputized another group of people (first one being hotels and their front desk) to gather information about foreigners. I am wondering what is your take on this and any advice to an individual that is more willing to show their insurance card instead of their passport or their alien registration card to the proctors of the test.
2) Questioning the policy at Softbank requiring long term foreign residents to pay a lump-sum payment for a cell phone if their period of stay in Japan is less then 27 months. Here is my story: Yesterday I want to a Softbank shop in order to get a new plan and cell phone. I wanted a new plan and cell phone for a while and current 2 year contract was about to expire. I want to shop and was looking at various cell phones. A sales associate came over to help with decide in choosing a new model. I choose a cell phone that I wanted to get and the sales assoicate with very helpful with decribing the current price structure for the phones. If I wanted a new phone, I would have a pay a x amount for over 24 months, the lenght of the contract. I said that was fine with me. She continued to laid out the cost of the phone over the 24 month period and the cost of the monthly phone bill in relation to my new plan with cost of the mobile phone. Up to this point, I was happy and pleased with the service of Softbank. When processing my order, the sales associate asked my lenght of my visa. I was surprised by this because I have been a customer with Softbank for over the lenght of stay in Japan ( a little over 4 years now) and I have never been asked once the length of my visa. So, I told here that my visa is going to expire next July. I have a currently a three year instructor visa that is going to expire next year in July. I am planning on renewing my visa next year and continue to live in Japan. At this point, I was surprised and little bit frustrated and angry at the sales associate. However, this is where things become surprising and frustrating for me. Before when discussing my the cost of my phone and the plan that I was going get, the sales associate informed that my cost cell phone is zero. It will cost me nothing. Howver now with the information of the current lenght of my visa, she informs that I will have to buy my cell phone for 40,000 yen. I was completely shocked and gobsmacked by this. She informed that since my visa is less then the lenght of my contract I will have to provide a lump sum payment of 40,000 payment in order to recieve my phone. I have never paid for my cell phones (currently 2 different models within 4 years and the last change happening about 2 years ago). I was not happy to put down 40,000 yen for a cell phone. It is a lot of money. At the end of the experience, I did not get a new cell phone but I got my plan.
My question to you: What can be done to make Softbank realize that their policies are downright racist and bias against foreigners that do not have a visa of 3 years or more? Of course I am assuming that marriage visas of any length are fine. Many of my friends and acquaintances have a visa of one year. My one friend who has been living in Japan for 3 years but is always getting a one year visa from immigration. What can my friend and I do in a situation in that we have to pay a lump sum payment for a cell phone now but in the past we could get a cell phone with no questions asked or paying for a cell phone? And also, when did Softbank (a company that has large long term foreign residents as customers) entacted a policy of asking the term of one's visa lenght and requesting a lump sum payment for a cell phone if the customer a lenght of Japan under 27 months. Why 27 months and not 24 months (the lenght of the contract)? Why they have contract lenght of 24 months and not 12 months (the lenght of lot of visas issued by immigration)? What can be done about this?
Thank you for reading this lengthy e-mail.
Sincerely, AS, a 4 year long term foreign resident of Japan
ENDS