mytest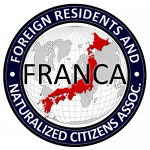 DEBITO.ORG NEWSLETTER JUNE 6, 2006
Hi All. Arudou Debito here. Yet another set of updates:
/////////////////////////////////////////////////////
1) FOREIGN POPULATION TOPS 2 MILLION FOR FIRST TIME
2) PM CANDIDATE KOUNO TARO WANTS TO LIMIT FOREIGN POPULATION TO 3%
3) PUNDIT SORIMACHI KATSUO BLAMES FOREIGN CRIME ON A LENIENT JUDICIARY
4) EXCERPTS OF "DANGER! HUMAN RIGHTS BILL" BOOK ONLINE
5) NEW ALIEN REGISTRATION DETAILS
6) UPDATE ON TRAVEL AGENCIES: ESTIMATES NOW COST MONEY?
7) UPDATE ON POLICE HOME VISITS: ANSWERING QUESTIONS IS OPTIONAL
/////////////////////////////////////////////////////
June 6, 2006
1) FOREIGN POPULATION TOPS 2 MILLION FOR FIRST TIME
Well, guess what, it happened: Registered foreigners last year passed a benchmark. Pre-2000, this would have been heralded with media fireworks and ruminations on how international Japanese society is becoming. Nowadays however, since foreigners are constantly being portrayed as a source of social discord by the media and the profiting police forces, well… we'll instead whisper the inevitable:
—————————————————————-
Mainichi Shinbun, Tokyo morning edition, May 27, 2006
(translation by Arudou Debito, not reported in English)
http://www.mainichi-msn.co.jp/shakai/wadai/news/20060527ddm012040087000c.html
According to Immigration statistics released on May 26, as of the end of 2005 the number of registered foreigners was 2,011,555 (a 1.9% rise over 2004), the first time it has broken 2 million. This was a rise of 0.02%, to 1.57% of the total Japanese population. By nationality, North and South Koreans were at the top, with 598,687 people. There are also 519,561 Chinese, 302,080 Brazilians, 187,261 Filipinos, 57,728 Peruvians, and 49,390 Americans.
—————————————————————-
COMMENT: Notice that the largest growth in the foreign community is Brazilian. Rising from 286,557 souls last year to break 300,000, this means close to half of last year's net increase of foreigners (15,523 of the 37,808) were Brazilians. As this is largest increase of Brazilians since 2001, the trend is accelerating.
And I don't see it stopping on its own. Reported a friend on another list, who heralds from near Nagoya:
—————————————————————-
[The foreign population] is already over 3% in at least 6 cities in Aichi, and Toyohashi (until the recent mergers,usually the 2nd largest city in Aichi) is pushing close to 5%. Okazaki's population is growing at about 300 a month, very little of it from natural increase, and 20% of the growth from new foreign arrivals.
http://www.declan.tv/okazaki_notes/kokusekibetsu.html
The % of foreigners dropped below 3% due to a merger, but should be reached again well within 12 months. At least 4% by 2012.
Brazilian (and other foreign born) factory workers in Okazaki, Toyota and Toyohashi cities usually earn 33-380,000 a month including overtime, lower tier manufacturers simply cannot find native born workers willing to do these jobs in sufficient numbers.
—————————————————————-
Which makes a recent statement by one of the allegedly "more left-wing LDP members", Kouno Taro, who is currently in the running to be then next Prime Minister, all the more ironic:
/////////////////////////////////////////////////////
2) PM CANDIDATE KOUNO TARO WANTS TO LIMIT FOREIGN POPULATION TO 3%
—————————————————————-
Mainichi Daily News, May 31, 2006 (English original)
http://mdn.mainichi-msn.co.jp/national/news/20060531p2a00m0na009000c.html
A Justice Ministry panel studying an overhaul of Japan's immigration administration is set to propose that the proportion of foreign residents to the nation's population should be kept at 3 pct or below, Senior Vice Justice Minister Taro Kono said Tuesday.
The proposal will be included in a draft package of immigration policy reform measures to be drawn up shortly, Kono, who heads the panel, told a press conference.
According to the ministry, foreign residents accounted for 1.2 pct of Japan's population at the end of 2005.
By contrast, the proportion stood at 8.9 pct in Germany in 2001, at 11.1 pct in the United States in the same year and at 5.6 pct in France in 1999.
The panel is also considering requiring foreign nationals of Japanese ancestry to be fluent in Japanese and have regular jobs as conditions for their residency in Japan, Kono said.
Such people are currently allowed to live in Japan if they have relatives in the country.
The panel now believes it necessary to toughen the criteria because the number of problems caused by such residents has been increasing. (Jiji Press)
—————————————————————-
I see. So I guess it begs the question how this is going to be enforced. Compulsory birth control for the increasing number of foreign worker couples who decide to have children? Just kidding. I'm sure Mr Kouno just wants to man the barricades, for whatever reason (though I would like to know what these "increasing problems by such residents" are).
Pity he (and his ministry, which should know better) gets the figure for the percentage of the foreign population wrong. It hasn't been 1.2 percent since around 1998! Worse yet is that the Mainichi Shinbun (which should also know better, as it reported the accurate figures not four days before), just parrots the incorrect information all over again. Shame on them. I've already sent a scolding through my Japanese mailing lists.
You can make your feelings known to Dietmember Kouno in four languages (see how "progressive" he is?) through his flash website at http://www.taro.org . One would hope, though, that somebody aspiring for international leadership would at least make policy pronouncements grounded on accurate information.
Still, I wonder how Toyota, Suzuki, Yamaha, Nissan, et al would feel about this proposed labor force cap. Close to two decades of "Foreign Trainee" workers, working for less than less than half wages, no social benefits, and no job security, are what's keeping Japan's labor costs down, stopping many of Japan's major industries from relocating overseas. How about Toyota? In its national-pride push to finally overtake GM as the word's leading carmaker, it'll need even more cheap labor for the foreseeable future…
Anyway, back to the "increasing problems" chestnut:
/////////////////////////////////////////////////////
3) PUNDIT SORIMACHI KATSUO BLAMES FOREIGN CRIME ON A LENIENT JUDICIARY
Forwarded to me by a reporter friend, here is one of the most laughably fatheaded pieces on foreign crime I've ever read. Entitled "Sorimachi Speaks: Japan's Criminal Justice System and Crimes Committed by Foreigners", Sorimachi writes some pretty amazing social science (and in English too, perfect for forwarding to the UN). Some choice excerpts:
—————————————————————-
"The substantive and procedural laws of Japanese criminal justice presuppose a monolingual nation. It is axiomatic that this kind of nation will be very lenient towards offenders… However, Japan's criminal justice system is on the verge of a crisis, faced with the internationalisation of crime and the underworld activities of foreign criminals resident in Japan brought about by globalisation…
"Examining the crime of theft, bold methods hitherto unimagined by Japanese offenders and not out of place in an action movie stand out. These include the widespread and systematic use of lock picking tools in theft following breaking and entering (so that access is gained in seconds), the use of cranes to steal automatic vending machines…"
[I guess that means the newly-imaginative Japanese also committing these crimes have been inspired by the more creative foreigners. How a rote-memorization education hitherto pacified an entire society!]
"It is not possible to get a grip on these cases using the investigative methods based on presumptions about fellow Japanese. New legislation has become necessary. It is desirable that the Wiretapping Law passed in August 1999 be made particular use of in the investigation of crimes committed by foreigners in Japan…"
[Yes, you read that right.]
"Japanese justice is said to be precise justice… It is doubtful whether this kind of process is entirely appropriate for the crimes of foreigners in Japan whose culture, code of conduct and standard of living are completely different… It is impossible to avoid the impression that, whilst in Japanese justice we see a model with a deep and rare lenient tinge, it is more and more the case that this precise justice is far removed from the prevention of recidivism in and rehabilitation of foreign offenders in Japan… Japan's penalties are amongst the lightest in the world. This is because we have assumed offenders in Japan will be fellow Japanese.
"…The reality of crime committed by foreigners in Japan, which incurs waste in terms of time and money of Japan's human and material capital is precisely that, activity interfering with the enjoyment of the nation. To put it in the extreme, it may be appropriate to classify all crime committed by foreigners in Japan as crime relating to the national legal interest."
—————————————————————-
Grab a coffee and read the rest at:
http://www.lec-jp.com/speaks/info_013.html
Who is this guy? Some pundit in a policy thinktank/private-sector quasi-university, who according to a Google search seems to have the ear of quite a few people. Sorimachi's profile in English:
http://www.lec-jp.com/corporation/english/greetings.html
http://www.lec-jp.com/corporation/english/profile/index.html
Giving Sorimachi's thesis its due, he essentially maintains that Japan's "precise" justice system is not suited to dealing with foreigners. He then proposes that the policing and incarceration of them be toughened up, and that repatriation for trial back in their home countries be required as an adequate deterrent (as Japan's jails are too sweet on their inmates).
Yow. Where to start. Okay, here: The major blind spot of these types of people people who wish to single out foreign crime for special attention is, well, what do you also say about the corresponding (and far higher numerically) rises in Japanese crime? Are foreigners to blame for that too? Alas, Sorimachi offers no insight or comparison, except to say that Japanese can be rehabilitated (it's axiomatic, remember), while foreigners are incorrigible, and thus a threat to the "enjoyment of the nation" at large.
I've seen to it that the UN's Dr Diene gets a copy of this screed, of course.
/////////////////////////////////////////////////////
4) EXCERPTS OF "DANGER! HUMAN RIGHTS BILL" BOOK ONLINE
Last update I wrote about the "emergency publication" (kinkyuu shuppan) of a book on why Japan should have no human rights law, or a human rights committee to enforce it. Well, I had a better look at it. The authors' thesis is one of garden-variety alarmism, that giving foreigners and general malcontents any power would lead to abuse.
For example, according to a quite well-rendered manga within, if you create any means for people to enforce their constitutional rights, you will get:
a) foreigners getting kicked out for picking fights in bars and then siccing the Human Rights Committee on the barkeeps,

b) colored foreigners forcing companies to hire them, then lying down on the job and getting away with it because of the HRC,

c) yakuza forcing their way into bathhouses, extorting money in the name of the HRC,

d) bigoted landlords being forced to rent their apartments to Chinese [yes, you read that right],

e) politicians (quoting another PM hopeful Abe Shinzou) unable to criticize Kim Jong-Il anymore…
It even compares the UN Diene Report (pg 154-155) to Iris Chang's RAPE OF NANKING, and calls upon the Ministry of Foreign Affairs to buck up and combat this insult to "our country" and "our people".
I should have a translation of the pertinent bits (maybe even a parody of the manga, a la Chibi Kuro Sanbo) out relatively soon. But for now, for you Japanese readers, scanned pages with comments at:
https://www.debito.org/abunaijinkenyougohouan.html
I've already passed the information on to my Japanese lists, with a list of books they can present policymakers as a counterweight to this propaganda.
/////////////////////////////////////////////////////
5) NEW ALIEN REGISTRATION REGULATIONS
I've written a number of articles in the past about the new proposed regulations for fingerprinting and registering foreigners (in the name of terrorism and disease prevention, natch). For example:
https://www.debito.org/japantimes062904.html
https://www.debito.org/japantimes052405.html
https://www.debito.org/japantimes112205.html
There'll also be a pro-and-con article on this in today's (Tuesday) Japan Times Community Page.
Well, now that the proposal has become law as of three weeks ago, here's how things are starting to shape up. Forwarding from a friend who has Permanent Residency:
—————————————————————-
Check out these overviews of recently passed amendments to the Immigration Control and Refugee Recognition Act. Apparently people like me and other registered aliens will be able to pass through automated gates on the basis of having complied with specific prior to departure. This is related to introduction of smart alien reg cards. Such automated gate passing has already been initiated in some other countries for nationals who apply and qualify.
第164回国会において成立した「出入国管理及び難民認定法の一部を改正する法
律(平成18年5月24日法律第43号)」について (Japanese)
http://www.immi-moj.go.jp/keiziban/happyou/20060524_law43.pdf
2006-06-01
Law for Partial Amendment of the Immigration Control and Refugee
Recognition Act (Law No. 43 of May 24, 2006) Enacted at the 164th Diet
Session
http://www.immi-moj.go.jp/english/keiziban/happyou/law43_20060524.pdf
2006-06-01
—————————————————————-
I haven't given these documents a thorough going-over yet, but there's the information out there for those who need it.
/////////////////////////////////////////////////////
6) UPDATE ON TRAVEL AGENCIES: ESTIMATES NOW CHARGED?
Through March and April, friends exposed domestic travel agents (such as No.1 Travel and HIS) and their "Japanese Only" tickets and different pricing structures based upon nationality.
https://www.debito.org/HISpricing.html
One thing suggested by some Internet BBSes was to make reservations with them, then cancel out of protest of this policy.
I'm wondering if this hasn't caused some sort of reaction within the industry. I just tried to get an official travel estimate from Twinkle Plaza in Sapporo Station (I think it's a member of the JTB group). And they tried to charge me 2000 yen just to put something on paper. I took my business elsewhere, of course, but is this happening to anyone else?
/////////////////////////////////////////////////////
7) UPDATE ON POLICE HOME VISITS: IT'S OPTIONAL
I wrote last time about the "Police Patrol Card" (junkai renraku caado), where cops visit your home and ask detailed questions about the occupants, their work and legal status, etc.
https://www.debito.org/junkairenrakucard.jpg
I got quite a few answers back from people who had experienced the same thing. Most, however, said they cooperated with the survey, seeing it as a valuable service (in case of emergency), or the mere expression of Japan as a "benign police state". It tended to happen most often in the Kantou Area around Tokyo, less in the provinces. It's never happened to me or any of my friends AFAIK up here in Sapporo.
However, the Japanese who responded, if they had been asked, refused to cooperate. Now, given my audience (mostly socially-conscious people) this is not a representative sample. Still, they found this procedure just as intrusive as I would, and said many of the details they would and should not be bound to divulge.
I talked to a lawyer. Responding to this police request for information is in fact optional. Which means: If the police show up at your door and you don't feel like divulging this information, just take the card and say you'll get back to them someday. Rinse and repeat. That's what my Japanese respondents did, FYI.
/////////////////////////////////////////////////////
All for today. Thanks for reading!
Arudou Debito in Sapporo
debito@debito.org
www.debito.org
DEBITO.ORG NEWSLETTER JUNE 6, 2006
ENDS
/////////////////////////////////////////////////////