mytest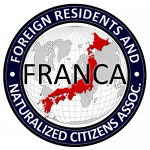 Hi Blog. The JUST BE CAUSE Columns I wrote these past two months on the word "Gaijin" have inspired a lot of debate. Again, good. Thanks everybody. Here's another salvo from The Community Page yesterday. I'll have a Part Three on this issue out in The Japan Times on October 7, talking about how the strict "insider-outsider" system here (of which "Gaijin" is but a subset of) also affects Japanese, and hurts Japanese society as a whole. Thanks for reading and commenting. And I love the illustration below.  Arudou Debito in Sapporo
=================================
Readers get last word on 'gaijin' tag 
The Community Page received another large batch of e-mails in response to Debito Arudou's followup Sept. 2 (Sept. 3 in some areas) Just Be Cause column on the use of the word "gaijin." Following is a selection of the responses.
Don't live in denial like U.S.
Here in America, we hear about the word "gaijin," but its significance is not clear to us. However, when your writer connects it to the N-word . . . well, that is, as Frank Baum would say, "a horse of a different color" — we get the impact immediately.
Hence, as an African-hyphen-American, and one that has living relatives of three other ethnicities, I say, "Well done." I hope your Japanese readers will not live in denial like their American counterparts. Slavery has now been dead some 200 years and its cousin, segregation, over 40. But the stench from both of them lingers like unventilated raw sewage.
I am hoping to live and work in Japan one day. I hope to find a land far more tolerant than the one in which I now reside.
A distant but regular reader
Can't defuse this bombshell
"Once a 'gaijin,' always a 'gaijin' " definitely raised some eyebrows. That said, I'm going to comment on one particular aspect — the N-word (I'm going to actually spell the word out, so don't be too shocked when you see it). In full disclosure, I'm a black American.
OK, so the use of "nigger" and "gaijin" to Mr. Debito Arudou seem to be one and the same. I have to disagree. The reality is that "nigger" is a far more loaded word than "gaijin" will ever hope to be, and that is societal fact. Anyone can joke with "gaijin" — Americans, Europeans, Africans, even other Asians. The term can be defused quite easily. Of course we can also infuse the word with hatred and xenophobic overtones. That said, I think it is used largely in the defused sense.
Now, go to east Los Angeles or Southside Chicago and try using "nigger" jokingly — see what kind of response you get. Go to the Deep South, and say the word in whatever crowd — you might become "strange fruit" overnight.
People talk about defusing the word, but it never seems to stick. You simply can't defuse that kind of bombshell. History has given "nigger" a weight to bear and it must be respected. Hip-hop and rap artists from the United States have talked about "owning" the word, and yet it still causes uproar throughout the community.
The word is heavier than any one person, or group of people, can bear. It takes a certain sensitivity, cultural understanding, and a host of other variables that I can't even describe before being able to say, "Let's approach the word." If you can say that about "gaijin" then I stand corrected. But somehow I doubt it.
The article by Mr. Debito Arudou definitely raises some issues with regards to Japan and how Japanese people deal with foreigners, all of which need to be tackled by Japanese and gaijin alike, but to equate the use of "gaijin" to "nigger" is, as another respondent said, "hyperbolic," and, I would say, 180 degrees off target.
Wayne Malcolm, Akita City
Both bad, but one's worse
From the Merriam Webster's Online Dictionary's "gaijin" entry: "a foreigner in Japan." From the N-word's entry: ". . .now ranks as perhaps the most offensive and inflammatory racial slur in English."
No one alive today who has been called the N-word has ever been beaten as a slave in a state-supported system. No one alive today who has been called the G-word has ever been beaten, nor stolen from their homelands in a state-sponsored system of oppression.
That being said, let's take a look at the definition of "discriminate": "recognize or perceive the difference." Right there is the rub: It denotes a difference between "this kind of people" and "that kind of people." As such, it has no place in the polite lexicon.
Another important point of the modern discussion of the N- vs. G-words is, in my opinion, the fact that their roots are almost exactly the same. The French word for "black" has been mispronounced by Americans for years, leading to the commonly vulgar "n—er," or the modern,"embraced" term "n—a." It is a mispronunciation of a word. Similarly, the shortening of "gaikokujin" could be looked at as a mispronunciation, albeit of a native word. In short, "you people aren't worth my time" is the subtext; "I'll just call you all this" is the action.
One word has its roots in slavery (and mispronounced French), the other has its roots in wanting to save time when discriminating against others. One's worse, but they're both pretty bad.
As a student of Japanese, I also understand that often words are "shortened," such as "rajiokase" for "radio/cassette player." However, each of our languages is rich enough to use positive terms to describe everyone, even if we must point out our differences in these descriptions.
I hope we can move forward to a more positive, kindhearted world by no longer relying on such catch-all terms for "us" and "them."
Michael Giaimo, El Cerrito, Calif.
You don't speak for us
With all due respect, Mr. Arudou, your assertion that there is any sort of comparison between the word used to address the slaves and children and grandchildren of your former compatriots and "gaijin" are strained and, at best, ill-informed.
Your stated desired outcome is to have your Japanese status acknowledged. And what would that look like? At a social event, would a recent acquaintance mistakenly call you Taro Arudou instead of Debito? The nation of Japan has issued you your passport, you have your health care card, and you are entitled to all the benefits the nation offers. Clearly the state has given you what you want. What is it you want from me and from the readers of this newspaper, then?
I appreciate that you play at fighting the good fight, but in this instance, sir, you have seriously offended me. Because, let's face it, you don't speak for the "n—ers" living in Japan. When you make such lazy comparisons, you're not a champion of the rights of the Filipina sex workers that are brutalized here in Okinawa. You're not the defender of the Chinese or third-generation Koreans that still aren't Japanese. You've simply appropriated a term whose mere presence in this debate serves only to sell advertising space on the (Japan Times) Web site and does not further the prospects of the people you claim to be defending.
You want to champion the rights of newcomers to Japan, but what we need, Mr. Arudou, are not your ham-fisted and ugly similes; we need words that can nourish the imagination of the reader — words that speak to every human being's basic need to be a part of a community predicated on mutual benefit. In your own, American tradition we can look to the poet Robert Frost for the kinds of words we need. In his poem "The Mending Wall," we read that good fences make good neighbors. It is in these supposed boundaries — our cultural differences, which at once seem to cut us off from each other — that we find the very source of our mutual strength. That we are different and the inheritors of rich cultural traditions mean that we are better able to meet and surpass the needs of our communities, because within these vast repositories of cultural knowledge we find the stories of those who have been as bridges between cultures and communities.
Paul Boshears, Uruma City, Okinawa
Glad Arudou is out there
Since he is a controversial figure, I imagine Debito Arudou's latest piece has produced more disagreement than agreement. I want to be onboard as saying that I think his point about differentiating different types of Japanese people with a "hyphenated term" (e.g., "Amerika-kei Nihonjin") is a well-received one, at least by this reader.
Until a term exists which allows those who do not obviously appear to be Japanese to be referred to as Japanese citizens, a mentality that accepts that you can look "non-Japanese" but still be Japanese will not develop. The language has to be present first in order to give citizens a way in which to express a way of thinking which is currently alien to them. If they start to hear the hyphenated terms on television or read them in newspapers, a new pattern of thinking will develop.
While I don't always agree with everything Debito Arudou says, I'm very glad that he's out there saying it. He's the first bona fide activist for foreigners in Japan and as such he sometimes is extreme because it's the only way he can shake people's thinking and wake them up to the problems in Japan. Activists who are attempting to get equal rights have always been criticized for bucking the status quo by people who are sufficiently satisfied that they would rather passively accept inequality and prejudicial treatment than "rock the boat." They're also often treated as objects of hate or scorn by the very people they're laboring to help.
I applaud The Japan Times for giving him a platform from which to speak and hope that it will continue to give him a more public and widely read voice.
Shari Custer, Tokyo
Gaijin, and proud of it
Those of us who are "gaijins" don't all agree with the opinion of Mr. Arudou. The word "gaijin" is not the same as the English word "n–ger" in meaning, and there is no common effect on diversity.
Gaijin is a Japanese word meaning "foreigner" or "outsider." The word is composed of "gai" ("outside") and "jin" ("person"), so the word can be translated literally as "outside (foreign) person." The word can refer to nationality, race or ethnicity.
The word "gaijin" does not have the same effect as "n–ger," and nor will it ever. Mr. Arudou may be a Japanese in the legal sense, but neither Mr. Arudou nor I will ever be true Japanese. To be a true Japanese you must be born and raised as a Japanese. Anyone else is just not genuinely Japanese, regardless of what your passport says.
I'm sorry, Mr. Arudou, but you do not think like a Japanese and, judging by your writings, you will never assimilate into the Japanese way of life. You are like so many other Americans, who want everyone to change and accept you instead of you changing and accepting them.
Let's all agree that "gaijin" is just a word. Making it into a bad word is just wrong. I am a gaijin and damn proud to be one, and the Japanese accept me for what I am, not what I want to be called.
Denny Pollard, San Francisco
Equality of censorship
Thanks for both of these columns, which I fully identify with. I agree that "gaijin" is a painful word, and the fact that the word engages debate proves it.
I have one comment, though. If you write "n–ger," why not use "g–jin"? Let's find some "katakana" transcription. If someone could start the trend, this has to be you, Debito! This may bring awareness about the deeply unpleasant undertones.
Michel Vidal-Naquet, Tokyo
No one said Japan was easy
Poor Debito Arudou, arguing the cause of foreigners in Japan about the term "gaijin." Every generation of long-term residents in Japan has faced the insular nature of "us versus them" living in Japan. I did during my 8 1/2 years in Japan (1985-92).
Some of us choose to feel slighted by the word and make mountains out of mole hills, trying in futility to change Japanese thinking by writing books and verbose essays in English, appealing to those of a similar mind set, while others choose to get on with their lives and recognize that you can't be accepted by all those in Japanese society. It is far easier to make peace with yourself and the close circle of friends and family that you have than it is to tear apart the psychology of the Japanese group and individual identity.
People who live in Japan for a long period of time do gradually lose sight of the reality in their home countries as well, on how immigrants are often treated at home.
There are some good and negative points to all countries. Some people might be a bit more accepting of immigrants than others when they have taken the time to learn the language. There are a quite a few Westerners who have become legal Japanese citizens, even local politicians. The fact is, if you who have chosen to live in Japan but cannot come to grips with the fact that you are not going to be considered "Japanese" even if you naturalize, then maybe it is better for you to move on before this becomes a psychosis.
No one ever said that living in Japan would be easy. You would probably find the insularity in some other Asian countries like China and Korea even more disconcerting, carrying that chip on your shoulder all the time.
Kerry M. Berger, Bangkok
Chip on your shoulder
Racial and ethnic prejudice is present globally, not just in Japan. My parents were Americans of Japanese ancestry. Dad served in the segregated U.S. Army during World War II in Italy fighting Germans. He couldn't get a job in America because "japs" weren't hired. He served in 442nd RCT/100th Battalion, themost decorated unit in the history of the U.S. Army.
If you don't like living in Japan, move. People like you walk around with a chip on your shoulder.
Norman Matsumura, Tucson, Ariz.
'Sorry, gaijin'
People in the US use the term "foreigner" to describe people not from America in pretty much the same way Japanese use "gaijin" to describe people not from Japan. Some people use that term to hurt others. Some people are hurt by it. But if there are a handful of foreigners in the U.S. who feel offended by its usage, does that mean that it is suddenly a bad word?
About 99 percent of the citizens of Japan would say that Mr. A. does not look like a native of this country. If that is a priority for him, I would recommend moving to the U.S. or Canada. I have immense respect for the fact that Mr. A became a Japanese, but it is silly to think that just by becoming Japanese suddenly 125 million native Japanese citizens will start to think of a white person as a Japanese. How would the average Japanese know that Mr. A. (a) has citizenship here and (b) is of "American descent" and therefore should be addressed as "amerika-kei nihonjin" instead of "gaijin," which applies to the vast majority of white people here?
Even the suggestion that gaijin are stripped of their ancestral identity in the way Africans were when they were forcibly taken from their homes and sent to America is an enormous affront to peoples who lost their ancestral identity in the process, least of all due to language. It is particularly absurd to think that happens to gaijin who freely emigrate to Japan. Quite the contrary. No one seems to forget the ancestry of Korean-Japanese (who often did not freely emigrate), and I am often asked, "Are you German? American?" Japanese are sensitive to these distinctions despite the label. In any event, how is "gaijin" any more culture-erasing than "gaikokujin"?
Regarding the broadcasters, using the more formal "gaikokujin" keeps things nice and diplomatic, and awkward. I would encourage anyone who considers Japanese broadcasters to be the moral standard for this fine country to watch a little late night TV (any night, any station). Is this the moral compass of the Japanese people? Sorry ace, try looking somewhere else.
No matter how much I adapt to Japanese ways, I'll always be a gaijin here, and the better I understand this the more easily I will be able to live in my adopted country. When I hear a noisy foreigner complaining about how things here should be more like they are back home, all I really can say is, "Sorry, gaijin."
JG, Zushi, Kanagawa Pref.
When natives are the outsiders
I for one don't think "gaijin" is as bad a term as people make it out to be. For instance, what about Americans calling their native peoples "Indian?" We are not Indian, and yet we are referred to as such. Why?
Indians are outsiders (from another country) — who does that mean the natives are?
I know Columbus thought he landed in/near India, but that was in the 1400s. I think some people take the term "gaijin" too seriously.
Eledore Massis, Long Branch, N.J.
Like trying to grasp water
As a 31-year resident of Japan, it seems to me that the intonation of the speaker who utters this word matters a great deal, as does the situation in which its use takes place. It still irritates me to hear "gaijin," but then language is a living thing, so attempts to control it are largely futile — it's rather like trying to grasp water.
Jeff Jones, Tokyo
Singled out, lumped together
Just wanted to say thanks for a stellar read. I've spent the better part of the last six months trying to tie words with emotions on what it's like to be singled out, then lumped together, all at the hand of one little word.
Would love to see more of this debate continuing in the future.
Zach P, Okayama
Author is discriminating
I like how the author complains of discrimination when his article does the exact same thing back to the Japanese. He makes broad generalizations about how Japanese perceive foreigners, with absolutely no evidence to back his obviously biased observations. In addition,his comparison to term "n–ger" is ludicrous considering all the perks and opportunities foreigners often enjoy in Japan. My heart breaks for poor, suffering foreigners such as Howard Stringer, the CEO of Sony. And by the way, if you don't have to guts to print the full word, you shouldn't put it in your article.
My experience living as a foreigner in Japan has always been pleasant, and I have found that Japanese people, while often not very knowledgeable of other cultures, are genuinely interested in hearing about other countries, and the U.S. in particular. So I wonder what the author's complaint is? Is it the often unfair career advantages foreigners enjoy here or the extra attention and curiosity you receive as someone who looks different? In either case, I can imagine things far worse to complain about.
And I wonder what the author's position is on the large number of ethnic Koreans who were born in Japan and are virtually indistinguishable from ethnic Japanese? Or how he feels about labeling foreigners as "aliens" in the U.S., and its strict immigration policies.
If anything, an article highlighting the very real problem of prostitution and exploitation of foreign women would have been far more informative and worthy of attention. But I hardly think Debito has much to personally complain about in that regard. Overall, this was a very poorly thought-out article with the same biases and prejudices it complains about. I give it a -1 on a 1-to-10 scale.
Tae Kim, Seattle
Be known as the best gaijin
I always like to read what Debito Arudou has to say. The word "gaijin" may seem strange or misused.
Despite the fact I was born here, I've heard it all my life. If you are called by a name all your life it becomes your identity. It would feel strange to change what I'm called mid-stream.
Even a funny name on a good person changes the feeling of the name to a good name for that person. I don't worry about it at all. Just be known as the best "gaijin" with a Japanese passport around. Enjoy life, know who you are, people who really know you will know you for who you really are. No worries.
Loyd, Kobe
'Gaijin-san' proves point
I always try to avoid using the word "gaijin," but it's not because I think the word may sound more offensive than "gaikokujin" or other terms that are used to refer to non-Japanese people. I just do so because it would be preferable to call them Americans, Russians, Brazilians, etc, if possible.
Whatever historical study suggests, "gaijin" has no more a negative implication than "gaikokujin." In fact, some Japanese use the term "gaijin-san" to make it sound polite. This single fact shows that "gaijin" has no discriminatory connotation.
Satoru Yoshikura, Tokyo