mytest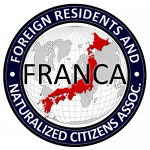 Hi Blog. As everyone no doubt knows by now, we have a new PM, Aso Taro. And it was with great interest I watched his inaugural press conference last night (I thought he came off looking very presidential and organized).
But the good news as far as Debito.org is concerned is how he sketched his new administration's goals and cabinet profiles. Full text here (Japanese).
I was pleased how he approached items such as "terrorism" and "crime", often portrayed as something that NJ (within and without) get up to. That's not how Aso portrayed it at all yesterday: Excerpts:
 防衛大臣、浜田靖一。もともと防衛関係はいろいろやってこられたこともありますが、テロの戦いというものは、世界中がテロと戦っているところでもありますので、我々としてはこのテロとの問題は、我々とは全然関係ないという話では全くないと思っております。少なくとも地下鉄サリン事件などなど、忘れられつつありますけれども、あれはテロであります。そういったことを考えますと、いろんな意味でこのテロとの戦いというのは大事なところだと思っておりますので、浜田先生にお願いをさせていただきました。

(my translation) "As for Minister of Defense, Hamada Yasukazu. People connected to our defense departments have done quite a bit fighting against terrorism already, as has the rest of the world, but I don't think that we can say that we're completely disconnected from this problem. We had the Sarin Subway Gas Attacks, etc, and although that seems to be slowly forgotten, that's an act of terrorism. With that in mind, in many ways I consider fighting against terrorism important, and that's why I chose Hamada-sensei."

国家公安委員長・沖縄及び北方対策担当・防災担当大臣、佐藤勉。凶悪犯罪防止、日本というのはかなり少ない、先進国の中では少ないと言われますけれども、明らかに異常なものが起きてきていることも事実だと思いますので、そういった意味においては、国家公安委員長の責務は大きいと思いますし、同時に災害も台風の代わりに局地的な豪雨などなど、我々は今までとは違ったもので1時間に100ミリも140ミリも降るという前提で我々の防災ができ上がっているわけではありませんし、また沖縄の振興の問題も含めて担当していただかなければならぬところだと思っております。

(my translation) "Head of National Public Safety Commission, Okinawa, the Northern Territories Issues, and Disaster Prevention [too busy right now to find out official English translations of these offices] Satou Tsutomu. Regarding prevention of heinous crimes: It is said that amongst the developed countries Japan has a very low crime rate. But I believe it's a fact that these are times where clearly unusual things happen, so in that regard the responsibilties of the head of the NPSC are heavy. Not to mention that at the same time we have natural disasters, if not typhoons, then heavy rains in many quarters etc… [digression about the weather and the importance of Okinawan issues]
There was one more mention of terrorism during the Q&A and its connection with Afghanistan and imports of oil through the Indian Ocean. But nowhere was there an express interest in linking terrorism to foreigners.
Contrast that with the 2003 PM Koizumi Cabinet, where stomping on foreign crime was explicitly stated as a national goal (and its alarmism even played down in the English-language media).
And that included Aso making statements about foreign crime as Public Management Minister in that cabinet. See "Time to come clean on Foreign Crime", The Japan Times October 7, 2003, authorship unbilled.
Perhaps Aso read the JT article? He does read English. In any case, this is progress — at least compared to Koizumi's cabinet statements.  Wait and see what comes next, shall we?  Arudou Debito in Sapporo