mytest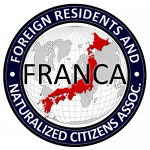 ———————————————————————–
Public gathering marking the 1-year anniversary of the new fingerprinting program
NGOs raise concerns about the government's new plan to abolish the 'Gaikokujin
Torokusho (alien registration card) 'and to introduce a 'Zairyu Kaado (resident card)'
and 'Gaikokujin Daicho Seido (alien register system)
———————————————————————–
Date: Thursday, 20 November 2008
Time: 12:45 – 14:15
Venue: Conference room No.1,
Diet Members' No. 2 Office Building of the Lower House
3 minutes walk from Kokkai Gijido Mae station or Nagatacho station of
Tokyo Metro
http://www.shugiin.go.jp/index.nsf/html/index_kokkaimap.htm
* Please collect a pass on 1st floor of the building
Admission: Free
Language: Japanese (If you wish to make a speech in English, we will interpret into
Japanese for you)
[Program]
– From the abolition of fingerprinting in 2002 to its re-introdution in 2007
– Review plan of the Immigration Control Law in 2009: Abolish the 'Gaikokujin
Torokusho'and introduce a 'Zairyu Kaado' and 'Gaikokujin Daicho Seido'
– Concerns raised by civil society: What would happen to those who are unable to
apply for a 'Zairyu Kaado (resident card)', such as overstayers, including asylum
seekers and children? We will examine issues of education and medical provision, etc..
Comments or appeals from participants are welcomed.
Organized by: Amnesty International Japan, Solidarity Network with Migrants Japan,
Network for Human Rights Legislation for Foreigners and Ethnic Minorities, National
Christian Liaison Conference to struggle with Issues of Alien Registration Law,
******************
The Ministry of Justice is currently pressing forward measures aiming at integrating
personal information of foreign residents in Japan. It is anticipated that a revised bill of
the Immigration Control and Refugee Recognition Act will be discussed during the
ordinary diet session in 2009 to abolish the current 'Gaikokujin Torokusho (alien
registration card)' and introduce a 'Zairyu Kaado (resident card)' which will be issued
directly from the Ministry of Justice. However, we NGOs are concerned about that
once a 'Zairyu Kaado' is introduced, control over foreigners would be more tightened.
We particularly fear that the certain foreign residents such as overstayers may lose
access to most of basic public service including education and medical care by
excluding them from registering for the 'Gaikokujin Daicho Seido'. Thus would make
these people more socially invisible.
At the public meeting, we will discuss the framework of the plan (abolishing the
'Gaikokujin Torokusho'and introducing a 'Zairyu Kaado') and issues that might occur
when the new system is introduced. Also we again express our strong opposition
toward the obligation to provide the biological information.
******************
For further information:
Sonoko Kawakami
Amnesty International Japan
2-2-4F Kanda-NIshiki-cho, Chiyoda-ku Tokyo 101-0054 JAPAN
TEL:+81-3-3518-6777 FAX:+81-3-3518-6778
http://www.amnesty.or.jp/
* The US government launched 'the United States Visitor and Immigration Status
Indicator Technology (US-VISIT) in 2004. Japan was the second country that
introduced the similar program.
Sonoko Kawakami
Campaign Coordinator
Amnesty International Japan
2-2-4F Kanda-NIshiki-cho, Chiyoda-ku
Tokyo 101-0054 JAPAN
TEL:+81-3-3518-6777 FAX:+81-3-3518-6778
E-mail:ksonoko AT amnesty.or.jp