mytest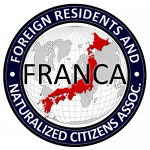 Hi Blog.  I haven't really gotten into the whaling issue on this blog (my take in essence is that regardless of numbers it's not a farmable species, so don't treat it as one).  But let me bring up this article as an example of how Japan can treat activists it wants to make an example of:  the GOJ sics the NPA on them and lets them "prosecute" (or, rather, interrogate and incriminate) them to the fullest extent of the law.  Such as it is.  Have a read.  Courtesy of TK.  Arudou Debito in Sapporo
=============================
Greenpeace launches major anti-whaling campaign in Japan
Two activists who face years in prison say their arrests were politically motivated
By Justin McCurry in Tokyo
The Manchester Guardian, Tuesday December 9 2008 00.01 GMT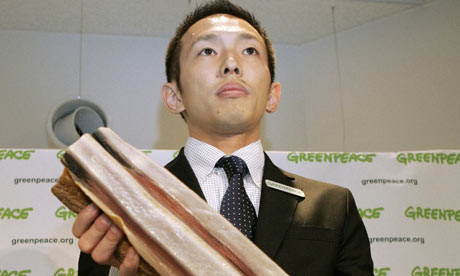 Two Greenpeace activists who face years in prison for investigating corruption in Japan's whaling industry have condemned their arrests as politically motivated on the eve of an unprecedented campaign to end the country's whale hunts.
Junichi Sato and Toru Suzuki were arrested in June, two months after intercepting 23kg of whale meat at a warehouse in northern Japan that they said had been stolen by crew members from the Japanese whaling fleet's mother ship for sale on the black market.
They are now waiting to stand trial early next year, and if convicted face up to 10 years in prison.
"At the time I was arrested I wasn't too concerned as I was focusing on our investigation," Sato, 31, told the Guardian yesterday at the Tokyo offices of his legal team.
"But if we are convicted, then of course I will be worried about my wife and child. It would also raise serious questions about Japan's commitment to human rights. We have already been detained for 26 days, which is very unusual for someone facing first-time charges of theft."
The ferocity with which prosecutors have made their case against Sato and Suzuki has astonished Greenpeace officials and human rights activists.
During their time in police custody, the men say they were strapped to chairs and interrogated for up to 12 hours a day. No lawyers were present and the interviews were not recorded.
Under their bail terms they are not allowed to be in the same room and can only talk to fellow activists in the presence of their lawyers. One of the men says that he and his family were watched by plain-clothes police officers while dining out at a restaurant.
In May, after a four-month undercover investigation dubbed Operation Silver Bullet, Greenpeace said it had evidence to prove that at least 23 Nisshin Maru crew members had smuggled more than 90 boxes of salted whale meat from the vessel, disguising its as "personal baggage".
The intercepted consignment, they said, was proof that the whaling crew was defrauding the Japanese taxpayer with the full knowledge of Kyodo Senpaku, which operates the fleet.
Kyodo Senpaku, however, insisted that the packages were simply "gifts" for crewmen who had spent months at sea in freezing conditions.
When Sato displayed the meat, worth up to 350,000 yen, at a press conference in June he was convinced he had delivered a decisive blow to Japan's whaling industry, which receives at least 5 billion yen a year in government subsidies.
Instead, he and Suzuki were arrested in early-morning raids on their homes on the same day that prosecutors decided not to pursue their embezzlement claims.
In a separate interview yesterday, Suzuki recalled his ordeal at the hands of police in Aomori prefecture, northern Japan, where his alleged crime took place.
He said: "They asked me the same questions over and over again and even compared me with the Aum Supreme Truth," the doomsday cult that carried out a deadly gas attack on the Tokyo subway in 1995.
"I was expecting the police to investigate our embezzlement allegations, but looking back I was being optimistic. I was so angry when I heard the case against the whalers had been dropped."
Suzuki, 41, whose wife is expecting their second child in May, responded by going on hunger strike for nine days and refusing to talk to his interrogators for four more. "By the end I could see that they were worried I might die," he said.
Sato describes himself as a "political prisoner", the victim of authorities who he says routinely denounce Greenpeace and the more radical marine conservation group, Sea Shepherd, as terrorists.
"By exaggerating the danger we pose they will get support from the Japanese public, who don't know the truth about whaling but support so-called anti-terrorist measures," he said.
Senior Greenpeace officials now suspect the Tokyo metropolitan government, led by rightwing governor Shintaro Ishihara, will attempt to remove its non-profit status, effectively closing down its Japan operations.
Both men support Greenpeace's decision not to pursue Japan's whaling fleet across the freezing waters of the Southern ocean this year as it attempts to cull around 1,000 whales in the name of scientific research.
"We need international pressure, but that's not enough," Sato said. "We also need people inside Japan to speak out against whaling.
"The media here doesn't report the truth, so the Japanese people have no idea about the negative impact it's having on our diplomatic relations with countries like Australia and New Zealand."
Japan is permitted to catch whales for "lethal research" into their breeding, migratory and other habits, thanks to a contentious provision in the International Whaling Commission's 1986 ban on commercial whaling.
During its recent scientific hunt, which ended in April, Japan's fleet had hoped to catch 850 minke whales but returned with only 551 after being frustrated by activists from Greenpeace and Sea Shepherd.
Greenpeace's new campaign comes as pressure mounts on Japan to drop the charges against Suzuki and Sato.
Amnesty International has condemned the arrests, the pair's case has been raised in the House of Commons and almost 300,000 people have signed an online petition demanding that the charges against them be dropped.
Today, senior Greenpeace officials will present a protest letter to Taro Aso, the Japanese prime minister, before protesting in front of parliament. In the coming days demonstrations will be held outside Japanese embassies in 20 countries.
Sato and Suzuki are forbidden from playing any part in the protests, but despite the growing uncertainty about their future, they are unrepentant.
"Since my arrest I have not lied once about what I did," Suzuki said. "But the whalers have had to make up one story after another. Their lies will come back to haunt them soon."
ENDS