mytest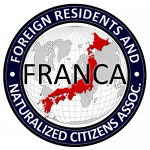 Hi Blog.  Good news.  After dallying with thoughts of excluding NJ taxpayers, then allowing only those NJ with Permanent Residency and Japanese spouses, the GOJ has just announced that all registered NJ will get the 12,000 yen-plus economic stimulus bribe.  Seasons Greetings.  
This is probably the first time NJ have ever been treated equally positively with citizens (save for, perhaps, access to Hello Work unemployment agency) with a voter stimulus package.  See, it pays to complain.  Articles courtesy of Wes and Sendaiben.  Debito in Sapporo
///////////////////////////////////////////
Gov't to extend cash handouts to 2 mil registered foreign residents
Kyodo News Sunday 21st December, 07:00 AM JST
http://www.japantoday.com/category/national/view/govt-to-extend-cash-handouts-to-2-mil-registered-foreign-residents
TOKYO — The government said Saturday it has decided to recognize 2 million foreigners registered as residents with local governments as of next Feb 1 as eligible for cash benefits it will hand out next year as a fiscal measure to spur private consumption.
The government will recognize foreigners registered as residents on the foreign registry as of Feb 1, 2009 as qualified recipients of the cash handout under the 2 trillion yen program, according to the Ministry of Internal Affairs and Communications.
Among the 2 million recipients are permanent foreign residents, such as North and South Korean residents in Japan, as well as foreign workers of Japanese ancestry who have residential permits as migrant workers, the ministry said.
Foreigners studying at Japanese schools as well as foreigners accepted as trainees by Japanese companies are also recognized as qualified recipients.
Foreign tourists, foreigners overstaying their visas and other illegal aliens will not be recognized as legitimate recipients, the ministry said.
The administration of Prime Minister Taro Aso approved on Saturday a second supplementary budget that includes the handouts as its main pillar.
The ministry said Feb 1 is the set date for deciding on eligibility for the handouts for both Japanese citizens and registered foreigners. The number of recipients, including foreigners, will total 129 million.
Japanese citizens and foreigners will basically be given 12,000 yen per person, but an extra 8,000 yen will be given to recipients up to and including 18 years old as of the standard date, as well as to recipients 65 years old or older.
Local government officials will check on such recipients' ages when the cash handouts are disbursed. This means that those receiving additional payouts must be young people born on Feb 2, 1990, or later and elderly people born on Feb 2, 1944, or before.
Feb 2 became the defining date because Japanese law adds one more year to a person's legal age at midnight on the day before he or she is born, the ministry said.
Consequently, people whose 65th birthday falls on next Feb 2 are counted among qualified recipients of the cash.
The older qualified recipients will total 28 million, while young recipients up to and including 18 years old will number 22 million persons.
But babies who will be born exactly on next Feb 2 or after will not be recognized as qualified recipients, because the government is designating Feb 1 as the defining date for eligibility, it said.
The cash will be handed out through the offices of the local governments at which Japanese citizens or foreigners are registered as residents.
The payments assume that the second extra budget and other relevant bills will pass the Diet. They also assume that local assemblies will pass budgetary bills to cover expenses for administering the payments.
It is not yet known, therefore, whether the government will be able to hand out the cash benefits prior to next March 31 because deliberations on these bills may drag on.
ENDS
//////////////////////////////////////////////////
定額給付金:支給基準日は来年2月1日 総務省
毎日新聞 2008年12月20日 18時39分(最終更新 12月21日 1時53分)
http://mainichi.jp/select/seiji/news/20081221k0000m010020000c.html

 総務省は20日、定額給付金の支給基準日を来年2月1日にすると発表した。市区町村は2月1日時点の住民基本台帳を支給の基礎とする。基準日は来年1月1日か2月1日のいずれかで調整していたが、引っ越したにもかかわらず転居を市区町村に届けていない場合などを想定し、混乱を避けるには一定の期間が必要と判断した。
 定額給付金は1人1万2000円で、65歳以上の高齢者と18歳以下の子供に対しては8000円加算される。
 2月1日が基準日になったことにより、2月1日までに生まれた子供は支給対象になるが、2日以降では受け取れない。出生届の提出は2日以降であっても、受け取りに問題は生じない。支給をめぐっては、基準日に死亡するケースなども考えられるが、詳細な扱いはさらに検討する。
 加算に関しては、年齢計算に関する法律などの関係から「65歳以上」には1944(昭和19)年2月2日以前生まれの人が該当し、「18歳以下」は90年2月2日以降に生まれた人が対象になる。
 また外国人は、観光などの短期滞在や不法滞在者を除き、原則全員(約2000万人)が支給対象になる。永住外国人や日本人の配偶者に加え、就労や留学目的で滞在する在留資格を持つ外国人なども受け取れる。外国人登録原票に基づき支給され、世帯主ではなくそれぞれが申請することになる。
 政府は08年度第2次補正予算案として、給付金関係として事務経費825億円を含む総額2兆395億円を計上した。【石川貴教】
 ■基準日にかかわるポイント
 ▽支給窓口は来年2月1日現在で住民登録している市区町村
 ▽支給対象に含まれるのは来年2月1日生まれまで
 ▽8000円加算の対象は(1)1944年2月2日以前生まれの高齢者(65歳以上)(2)90年2月2日以降生まれの子供(18歳未満)
ends