mytest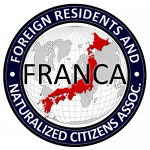 Hi Blog.  Here is a good poll to round out the end of the year.  
What do you think is the most significant human rights advancement in Japan in 2008? (all issues on this blog)

 
Vote at the blue right-hand corner of this blog page (i.e. not directly above–the click bubbles are purely cosmetic).  Do a keyword search within the Debito.org Blog if you want to know more about each issue (they're all discussed).  
If you think I've left something out, please add something in the Comments Section below…
Finally, check out my next Japan Times JUST BE CAUSE column due out January 6 (Jan 7 outside the metropolises) when I rank them in order of importance.  
Yoi otoshi o, everyone, and thanks for reading and supporting Debito.org in 2008.  Arudou Debito in Sapporo