mytest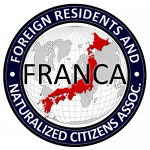 Hi Blog. Here's an excellent Japan Times roundup of the debate which came out of nowhere last year regarding Japan's loopy nationality laws, which were once based on what I would call a "culture of no", as in rather arbitrary ways to disqualify people (as in babies not getting J citizenship if the J father didn't recognize patrimony before birth). A Supreme Court decision last year called that unconstitutional, and forced rare legislation from the bench to rectify that late in 2008.  Now the scope of inclusivity has widened as Dietmember Kouno Taro (drawing on the shock of a former Japanese citizen getting a Nobel Prize, and a confused Japanese media trying to claim him as ours) advocates allowing Japanese to hold more than one citizenship. Bravo. About time.
The article below sets out the discussions and goalposts for this year regarding this proposal (using arguments that have appeared on Debito.org for years now). In a year when there will apparently be a record-number of candidates running in the general election (which MUST happen this year, despite PM Aso's best efforts to keep leadership for himself), there is a good possibility it might come to pass, especially if the opposition DPJ party actually takes power.
2009 looks to be an interesting year indeed, as one more cornerstone of legal exclusionism in Japan looks set to crack. Arudou Debito
/////////////////////////////////////
Diet battle lines being drawn in wake of law change and amid Kono effort to rectify dual citizenship situation
By MINORU MATSUTANI, Staff writer
The Japan Times: Thursday, Jan. 1, 2009
First in a series
The issue of nationality had never been discussed more seriously than it was in 2008.
Big decision ahead: Students of an international school in Tokyo gather for an event. Some will have to choose their nationality in some 10 years if the current Nationality Law prevails. THE JAPAN TIMES PHOTO
In a specific legal challenge in June, the Supreme Court ruled it was unconstitutional to deny Japanese citizenship to children of unwed Filipino mothers whose Japanese fathers had not acknowledged paternity before their birth. Lawmakers quickly went to work to pass a revised Nationality Law in December.
Now, Taro Kono, a Lower House member of the Liberal Democratic Party, the larger of the two-party ruling coalition, is trying to iron out another wrinkle in the law that became apparent in October when it was learned that Tokyo-born Nobel Prize winner Yoichiro Nambu had given up his Japanese nationality to obtain U.S. citizenship.
People like Nambu follow the letter of the law with respect to the Constitution's Article 14, which requires that Japanese renounce other nationalities by the age of 22 if they wish to keep Japanese citizenship. Yet, according to Kono, there are 600,000 to 700,000 Japanese 22 or older with two nationalities, if not more. In other words, fewer than 10 percent of Japanese with more than one nationality make that choice by the time they turn 22, Kono said.
"The current system puts honest people and those who appear in the media at a disadvantage," Kono said. In November, he submitted a proposal to an LDP panel he heads calling for the Nationality Law to be revised to allow Japanese to hold other nationalities.
The Justice Ministry acknowledges there are Japanese with other nationalities but does not press them to choose only one.
"Technically, the justice minister can order us to crack down on multiple-nationality holders. But none of the past ministers has," said Katsuyoshi Otani, who is in charge of nationality affairs at the ministry. By law, someone ordered by the minister to choose a single nationality has a month to do so before Japanese citizenship is automatically revoked.
Lawmakers are divided on Kono's proposal, which also requires that royalty, Diet members, Cabinet ministers, diplomats, certain members of the Self-Defense Forces and judges hold only Japanese nationality. Liberals stress the need for Japan to globalize, while conservatives express concern that opening up too much will diminish the country's sense of unity.
Shinkun Haku, a member of the Democratic Party of Japan, the largest opposition party, supports the proposal.
Born to a Japanese mother and a South Korean father, Haku became a naturalized Japanese citizen in January 2003 and won a seat in the Upper House the following year.
Kono's multiple citizenship plan
• The government allows Japanese nationals to be citizens of other countries.
• Japanese holding other nationalities must declare this to the local authorities where their Japanese residency is registered. Those who fail to do so may be fined or lose their Japanese citizenship.
• Japanese can obtain citizenship elsewhere, except for locations Japan does not recognize, and continue to hold Japanese nationality as long as the other countries allow multiple nationalities.
• People from countries other than North Korea or other areas lacking Japanese diplomatic recognition can obtain Japanese nationality without losing their original citizenship as long as their home countries allow multiple nationalities.
• The Imperial family, Diet members, Cabinet ministers, diplomats, certain members of the Self-Defense Forces or court judges can only hold Japanese nationality.
• Japanese who become presidents, lawmakers, Cabinet ministers, diplomats, soldiers, court judges or members of royalty of other countries will lose their Japanese nationality.
• Japanese who have a Japanese parent and hold multiple nationalities will lose their Japanese citizenship if they have not lived in Japan for 365 days or more by the time they turn 22.
• If Japan goes to war against a country, Japanese public servants cannot hold citizenship in that country.
• Japanese holding other nationalities will lose their Japanese citizenship if they apply for and join the military of other countries.
He was not allowed to have Japanese nationality at birth because the children of a foreign father and Japanese mother were barred from having Japanese nationality until the Nationality Law was revised in 1985.
Multiple-nationality holders were also then required to choose one nationality before their 22nd birthday. Before then, Japanese could be citizens of other countries as well.
Those with multiple nationalities who were 20 or older as of Jan. 1, 1985, were supposed to declare a single choice to local authorities by the end of 1986, and if they had not, it would be assumed they had chosen Japanese citizenship and abandoned any others. Those with a Japanese mother and foreign father who were under age 20 as of Jan. 1, 1985, had until the end of 1987 to settle on a nationality.
Japan is the only developed country that does not automatically grant citizenship to babies born within its territory, allow its nationals to have multiple citizenship or let foreigners vote in local-level elections, Haku said.
"I am not criticizing Japan for that, but now we have 2 million registered foreigners, and one in every 30 babies born here has at least one foreign parent. We are in the midst of globalization whether we like it or not," Haku said. "We have to discuss very seriously how we should involve foreign residents in building our society."
He is urging Japanese to change their outlook. "For example, we shouldn't think we ought to give foreigners local government voting rights out of pity. We should think Japan can become a better country by doing so," Haku said.
Other lawmakers oppose Kono's proposal, especially those troubled by the revised Article 3 of the Nationality Law. It previously only granted citizenship to a child born out of wedlock to a foreign mother and a Japanese father if the man admitted paternity before birth, but not after.
LDP lawmaker Hideki Makihara fears that granting nationality easily will bring more problems than benefits.
"I think the immigration policy of many European countries has failed as they have had some serious problems" regarding foreign residents, Makihara said. "We need to be very prudent."
Makihara also noted that citizens who gave up their non-Japanese nationality will feel cheated if Japan allows multiple nationalities, because "there is no guarantee they will regain their renounced citizenships."
The proposed revision has also stirred nationalists to action. During Diet deliberations on the bill in November and early December, anonymous bloggers posted messages expressing their concern that foreigners may approach Japanese men to falsely claim paternity in illicit bids to gain citizenship.
Although the bill cleared the Diet on Dec. 5, LDP lawmaker Takeo Hiranuma established a lawmaker group scrutinizing the Nationality Law to prevent bogus claims.
While the LDP is divided on the revision of Article 3, the party is also busy dealing with other important issues. This could mean Kono's proposal will not be deliberated seriously anytime soon, political scientist Hirotada Asakawa said.
With Prime Minister Taro Aso's approval rate declining and the global economy in serious recession, Aso wants to impress voters by swiftly passing bills on the supplementary budget for the current fiscal year that would finance a ¥2 trillion cash handout program during the Diet session starting later this month, Asakawa said. The LDP then has to pass the budget for the next fiscal year during the same Diet session.
"These issues are enough of a handful. The LDP will also have to prepare for an anticipated Lower House election, which could happen who knows when," he said. "In such a crucial time, the LDP will not want to discuss Kono's proposal, which is likely to divide the LDP."
Nevertheless, many lawmakers seem to agree that the current situation, in which many Japanese unlawfully hold multiple nationalities, needs to be fixed.
The case of former Peruvian President Alberto Fujimori, born to a Japanese couple who emigrated to Peru early last century, is an extreme but forceful example. Kokumin Shinto (People's New Party) asked Fujimori, who holds Peruvian and Japanese nationalities, in June 2007 to run for the Upper House election when he was detained in Chile. He ran in and lost. After Fujimori fled to Japan in exile, Tokyo declared he has Japanese citizenship, because of his parental roots.
What if he had won a Diet seat?
"Japan escaped by a hair's breadth as Fujimori lost the election," Kono said. "I have no idea what lawmakers would have done (if Fujimori had won). Legislation was a step behind the reality."
To be sure, the proposal has a long way to go to be legalized. A typical process would be that the panel deliberates, finalizes and submits it to LDP executives, who would then decide whether to create a bill to be submitted to the Diet. However, it is unknown if Kono can sway his party.
"I have created a draft for everybody, not just lawmakers, to discuss the nationality issue," Kono said. "I want to tell Japanese nationals, 'Let's discuss it.' "