mytest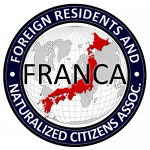 Hi Blog. Mark in Yayoi sends me his translation of an article (entitled below via Google Search as 「不法滞在者向け職質逃れマニュアル出回る」) regarding some mail-in manual regarding "illegal overstaying" NJ evading police inquisition. I include his report in full below and the original Japanese article at the very bottom.
MY QUICK COMMENT: This kind of guidebook is inevitable. We already have manuals for all manner of screwing over other people (most notably in my researches I found manuals for exploiting the very nasty divorce system in Japan so that ex-wives can squeeze the most money out of their ex-husbands).  Not much mention, however, about how the police have created the market for this manual thanks to their Instant Police ID Checkpoints and self-indulgent Bicycle Checks.
It's also annoying that the Sankei has this persistent habit of whipping up fear of NJ (such as exaggerating crime statistics on their front pages; the Sankei exclusively publishes Tokyo Gov. Ishihara's inflammatory "Nihon Yo" column, after all, which had two segments talking about "ethnic DNA" and the Chinese propensity to commit crime) and taking unprofessional and cheap ethnic shots at them as well. They are, after all, in my view farther-right than even the Yomiuri in terms of daily papers, so that's par for the course.  It's sad, however, that this newspaper is encouraging police to view even "polite" NJ as suspicious. Can't win, can we?
Thanks for the translation, Mark. Arudou Debito in Sapporo
===============================
From: Mark in Yayoi. Subject: Sankei article, 1/13, "Fuhou Taizaisha ni 'Yami no Shinan' (A 'Secret Orientation' for Illegal Aliens)" Date: January 14, 2009 11:33:19 PM JST To: debito@debito.org
Finished the translation! I added the original Japanese in brackets wherever I thought it might be useful.
Interestingly, the word "gaikokujin" isn't used at all (except in one imagining of a police officer's thoughts). The illegal aliens are called "fuhou taizaisha". Feel free to change this to "illegal overstayers" if you like; I wasn't sure which to use, since someone who came to Japan with no visa at all isn't actually 'over'-staying; but then on the other hand, 'fuhou taizaisha' doesn't actually specifically state the the "stayer" is foreign.
I also like how they call the streetside police interrogations "voluntary"; we all know what happens when you express a disinclination to talk with a police officer!
***
"Carry a bag, don't stint on hairstyling, and report your alien card as 'lost'!"
— A Secret Orientation for Illegal Aliens —
[the word for 'secret orientation' is 'yami no shinan', where 'shinan' is an old Chinese device that would show people which direction was south. Ninety degrees away from the eastern direction to which English speakers "orient" themselves.]
SANKEI SHINBUN January 13, 2009. Original Japanese at very bottom
Translation by Mark in Yayoi
"We'll teach you how to get away when the police stop you on the street!"
This is the catch copy for a manual that is now circulating, instructing illegal aliens on how to escape from police questioning. Supposedly it was sold through newspapers and free magazines aimed at Chinese and Koreans in Japan. Organized Crime Bureau No. 1 of the National Police Agency has obtained this manual, and is sending warnings to each police station. The police are strengthening their vigilance as these newspapers, carrying illegal advertisements, are becoming breeding grounds for crime [hanzai no onshou].
—– [Sidebar text:] Police questioning: Voluntary questioning [nin'i no shitsumon] carried out by police officers, calling out to and stopping people who have the possibility of being connected with a crime. In many cases, this leads to sudden arrests of suspects, and early resolutions and deterrence of crime. [Response is] not mandatory [kyouseiryoku wa naku], and [the person being questioned] can maintain silence. —–
* Making use of psychology
The manual obtained by the bureau is entitled "Techniques to Preserve Your Safety: Keep Yourself Safe!" ["jibun no anzen o mamoru technique: jibun no anzen wa jibun de mamorou!"]. Buyers send e-mail to an address listed in the newspaper advertisement and transfer Y3800 to a specific bank account, and the manual is e-mailed back.
The return e-mail advertised "methods derived from loopholes in the law [hou no fubi no sukima] and human psychology".
"It's important to always carry a bag. If you're going to play the part of a salaryman, play it completely. Have you ever seen a Japanese salaryman without a bag?"
"Next is your hairstyle. Japanese salons are expensive, but this is an investment in yourself. You should spend the money and not skimp."
The manual begins with one's outward appearance, and continues on to how to escape when a police officer asks to 'see your Alien Registration Card'.
"Go to the police box in an area you pass through frequently and file a 'lost item report' [funshitsu todoke], saying, 'I lost my entire wallet. I've also filed a report at that [other] police box.' This will make it look not like you have no visa, but that you've merely lost [your papers]."
"Here is another interesting technique. File a 'lost item report' at all the police boxes in the area. Then, on the same day, go to one of them and get the report erased, saying that 'the person who found my wallet got in touch with me'. In the evening, when you pass that police box, greet them [aisatsu] yourself and say 'my wallet has been returned'. By saying hello to them three times a day, they'll think of you as one of the area's 'polite foreigners [reigi tadashii gaikokujin da na]', and you'll be able to walk by without fear."
The Bureau has circulated an internal memo to police stations warning that illegal aliens are using these methods to escape detection, and have advised the police to take care in questioning people [shokumu shitsumon jou no chuui o yobikaketa]. There is no applicable law, however, making sale of this manual a crime.
***
That's the end of the part about overstayers/illegal aliens. The article then goes on to discuss an advertisement for non-approved drugs appearing in one of these papers, with the drugs being sold without permission, and how two Chinese people (one man and one woman) were arrested. Managers at this and six other papers were later questioned, and saying that they didn't know that this was against the law. The papers were forced to write letters of apology. A spokesman for the bureau then goes on to say that 'there must be other no-good advertisements [akushitsu na koukoku] in these papers', and that he would like to proactively [sekkyokuteki ni] find the illegal cases.
I don't normally read the Sankei and just stumbled upon this one coincidentally. Does this paper have a consistent position on the police, their approaches to foreigners, or on foreigners in general?
[Answer: Yes it does, See my comment preceding this article.]
Mark in Yayoi
ENDS
Original Japanese:
不法滞在者向け職質逃れマニュアル出回る
産經新聞 2009.1.13 01:01
http://sankei.jp.msn.com/affairs/crime/090113/crm0901130102001-n1.htm
「歩いていて警察に止められたとき、うまく逃げられる方法を教えます」−。そんなうたい文句で、警察の職務質問を逃れる方法を指南する不法滞在者向けマニュアルが出回っている。在日中国人、在日韓国人向けの新聞やフリーペーパーに広告を出して販売されていたという。警視庁組織犯罪対策1課はマニュアルを入手、各警察署に注意を呼びかける一方、これらの新聞に違法広告が掲載されるなど犯罪の温床になっているケースもあり、警戒を強めている。
「心理利用」
同課が入手したのは「自分の安全を守るテクニック〜自分の安全は自分で守ろう!!」と題されたマニュアル。新聞広告に掲載された連絡先にメールを送り、専用口座に購入代金3800円を振り込むと、マニュアルが添付されたメールが返送される仕組みだ。
返送メールには「法の不備のすき間と人間の心理を利用して考え出した方法」と宣伝されていた。
《大事なのはカバンを持つこと。サラリーマンを演じるのなら、完璧(かんぺき)に演じたほうが良いです。カバン持たない日本人サラリーマンを見かけたことありますか?》
《次は髪形です。日本の美容院は高いですが、自分への投資ですから節約せずにパンと使ったほうがいいでしょう》
マニュアルは、こうした"外見上"の注意に始まり、実際に警察に「外国人登録証を見せてほしい」と職務質問された際の逃れ方に至る。
《自分がよく通る場所の交番に行って「紛失届」を出しておき、「この前、財布ごとなくしました。あっちの交番に紛失届も出しています」と答えます。ビザがないのではなく、なくしただけの状況になります》
《もうひとつ面白いテクニックもあります。地域の全部の交番に「紛失届」を出します。出したその日にまた交番に行って「すみません、財布を拾った人から連絡がありました」と「紛失届」を消します。夜その交番を通るときに、必ず「財布戻ってきたのです」と自分からあいさつします。1日3回あいさつをすることによって、貴方は住んでいる地域の警察に「礼儀正しい外国人だな」と覚えられ、そのあとからは普通に歩いても何の心配もありません》
同課は、こうした方法で摘発を逃れようとする不法滞在者がいることを各警察署に内部文書で伝え、職務質問上の注意を呼びかけた。しかし、マニュアル販売の行為を処罰するには適用法令がないという。
積極摘発も
ただ、こうした新聞には違法な広告も掲載され、摘発につながった例もある。
同課は昨年8月、在日中国人向けの新聞やフリーペーパーに未承認の医薬品の広告を載せ、無許可で販売したとして、薬事法違反の疑いで在日中国人の男女を逮捕した。
同10、11月にはこの広告を載せた新聞社など7社の中国人幹部から事情を聴いた。幹部らは「違法とは知らなかった」などと答えたため、薬事法違反の共犯や幇助(ほうじよ)での立件は見送ったが、始末書を出させ警告した。
同課は「ほかにも悪質な広告はあるだろう。警戒していきたい」と話し、違法なケースでは積極的に摘発する方針だ。
ENDS