mytest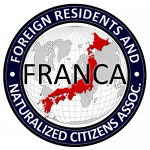 Hi Blog. As another template about "what to do if…" (or rather, a model for what the GOJ should be more proactive about) when you get a restaurant refusing customers on the basis of race, ethnicity, national background, etc., here's an article on what would happen in New Zealand.  Here's a Human Rights Commission and a media that actually does some follow-up, unlike the Japanese example.  Then again, I guess Old Bigoted Gregory would rail against this as some sort of violation of locals' "rights to discriminate".  Or that it isn't Japan, therefore not special enough to warrant exceptionalism.  But I beg to disagree, and point to this as an example of how to handle this sort of situation. Anyway, courtesy of JL. Arudou Debito in Sapporo
////////////////////////////////////////////////////////
Cafe owner 'breached 'human rights' kicking out Israelis
By EVAN HARDING – The Southland Times (New Zealand) | Thursday, 15 January 2009
http://www.stuff.co.nz/4818871a11.html
An Invercargill cafe owner's refusal to serve Israelis on the basis of their nationality is a clear human rights breach, Race Relations Commissioner Joris de Bres says.
Sisters Natalie Bennie and Tamara Shefa were upset after being booted out of the Mevlana Cafe in Esk St yesterday by owner Mustafa Tekinkaya.
They chose to eat at Mevlana Cafe because it had a play area for Mrs Bennie's two children, but they were told to leave before they had ordered any food, Mrs Bennie said.
"He heard us speaking Hebrew and he asked us where we were from. I said Israel and he said 'get out, I am not serving you'. It was shocking."
Mr Tekinkaya, who is Muslim and from Turkey, said he was making his own protest against Israel because it was killing innocent babies and women in the Gaza Strip.
"I have decided as a protest not to serve Israelis until the war stops."
He said he had nothing against Israeli people but if any more came into his shop they would also be told to leave, and he was not concerned if he lost business.
Mr de Bres said the Human Rights Act prohibited discrimination in the provision of goods and services on the grounds of ethnic or national origin, or of political opinion.
"Whatever the rights and wrongs of the situation in Palestine, it is simply against the law for providers of goods and services in New Zealand to discriminate in this way," he said.
Mr Tekinkaya's stance was supported by neighbouring Turkish Kebabs shop owner Ali Uzun, who said he was also refusing to serve Israelis.
Mrs Bennie said she did not disagree that Israel was committing crimes against children.
"I just don't think I should be declined service because I am from Israel."
She had rung the Human Rights Commission and was told the cafe owner's actions were against the law because he was discriminating on the basis of ethnicity.
"I wouldn't mind having a chat to him. Someone has to put him in his place," Mrs Bennie said.
Ms Shefa is visiting Mrs Bennie at her Makarewa home, on the outskirts of Invercargill, where she lives with her New Zealand husband and two children.
Both women said they had travelled widely, and to places much more hostile than New Zealand, but had never been treated in such a way.
Invercargill Mayor Tim Shadbolt was shocked when told of the incident.
"Oh my god, the Gaza Strip has come to Invercargill. Hell's bells."
He said he was bewildered.
"Generally speaking I am against all wars and I suppose people have got a right to protest. I couldn't really deny that. It would have been upsetting for the women and I feel sympathy for them."
PHOTOS
JOHN HAWKINS/Southland Times
JOHN HAWKINS/Southland Times