mytest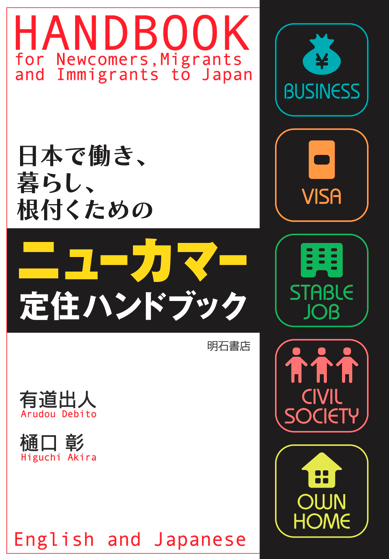 ———————————————————————
Public gathering against the government's new plan
to introduce "Zairyu Kaado (resident card)" system
We want a system for a multi-ethnic, multi-cultural society, but not for control!
———————————————————————
Date: Saturday, 24 January 2009
Time: 14:00 – 17:00
Venue: B1F, YMCA Asia Youth Center
2-5-5 Sarugaku-cho, Chiyoda-ku, Tokyo, 101-0064, Japan
JR Suidobashi sta. 6min, Ochanomizu sta. 9min, Subway Jimbocho sta 7min
http://www.ymcajapan.org/ayc/jp/
Admission: 500 yen
Simultaneous translation service available (Japanese-English)
Organized by:
NGO Committee against the introduction of "Zairyu Kaado (resident card)" system
For further information:
Research-Action Institute for The Koreans in Japan (RAIK)
TEL: 03-3203-7575 raik@abox5.so-net.ne.jp
Solidarity Network with Migrants Japan (SMJ)
TEL: 03-5802-6033 fmwj@jca.apc.org
http://www.jca.apc.org/migrant-net/

Program

1. A short documentary video on a public action in front of the Ministry of Justice

against a new fingerprinting system on 20 November 2007

2. Report 1 Framework of the new Immigration Control System

By Mr. Akira Hatate(Japan Civil Liberties Union: JCLU)

3. Report 2 Overview of the 'Jumin Touroku (Residents Registration System)'

By Mr. Tohru Nishimura (HanJukinet Renrakukai)

4. Report 3 Problems and concerns over 'Zairyu Kaado (resident card)'

By Mr. Mitsuru Namba (Attorney)

5. Relay talk by foreign national citizens

6. Relay appeals by NGOs:

7. NGO joint statement against the "Zairyu Kaado (resident card)" system
******************************
The Ministry of Justice is currently pressing forward measures aiming at integrating personal information of foreign residents in Japan. A revised bill of the Immigration Control and Refugee Recognition Act is expected to be discussed during the ordinary diet session in 2009 to abolish the current 'Gaikokujin Torokusho' (alien registration card)' and introduce a new 'Zairyu Kaado' (resident card), which will be issued directly from the Ministry of Justice. However, we, NGOs are concerned that once a 'Zairyu Kaado' is introduced, control over foreigners would be more tightened. We particularly fear that foreign residents without VISA status such as overstayers would be excluded from the new resident registration system ("Gaikokujin Daicho Seido") and lose access to most of public services including education and medical care. Thus the system would make these people socially invisible.
In this public gathering, we, NGOs and foreign national citizens, will discuss the framework of the bill (abolishing the 'Gaikokujin Torokusho'and introducing a 'Zairyu Kaado') and the issues that might occur when the new system is introduced. We will also propose a new system toward a true Multi-Ethnic, Multi-Cultural Society in Japan.
*****************************************************
川上園子
社団法人アムネスティ・インターナショナル日本
ホームページ:http://www.amnesty.or.jp/
101-0054 東京都千代田区神田錦町2-2 共同(新錦町)ビル4F
TEL. 03-3518-6777 FAX. 03-3518-6778
E-mail:ksonoko@amnesty.or.jp
★アムネスティ・メールマガジンのお申し込みはこちらから!
http://secure.amnesty.or.jp/campaign/
ENDS