mytest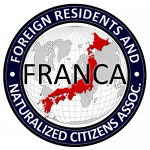 UPDATES ON TWITTER: arudoudebito
DEBITO.ORG PODCASTS on iTunes, subscribe free
Hi Blog. An interesting media roundup of how people are viewing Africans in Japan. I've been hearing from several quarters about a recent series of articles on them in the Asahi (was on the road, slow on the uptake)… Here's a taste. Debito in Sapporo
======================================
'Africans in Japan'…not from the quill of Ishihara, thank God
Jinichi Matsumoto's series of articles about Africans in Japan transcends stereotypes often perpetuated by the Japanese media, says Philip Brasor
The Japan Times
Sunday, February 18, 2007
By Philip Brasor
Courtesy Asia Media http://www.asiamedia.ucla.edu/article.asp?parentid=64040
Last week, The Japan Times ran a Bloomberg interview with Shintaro Ishihara in which the proudly provocative Tokyo governor followed up his contention that foreigners were behind the city's rising crime rate. He challenged his interviewers to go to Roppongi and see for themselves. "Africans — and I don't mean African-Americans — who don't speak English are there doing who knows what," he said.
You expect such careless bluster from Ishihara, but his statement deserves scrutiny. One explanation for the governor's popularity is the way he is seen to reflect what his supporters think is common sense. What are non-American black people doing in Japan? It must be something bad.
It wouldn't be difficult to believe that Japanese people have a negative image of Africans, given what they see and hear through the media. As far as Roppongi goes, newspapers and magazines often run articles about how Africans, especially Nigerians, have become increasingly involved in Tokyo's bar and nightclub business and use credit-card fraud and bill-padding practices to milk customers.
Tarento Bobby Ologun, who's from Nigeria, may represent the only favorable image many people have of Africans living in Japan. Having emerged in 2001 on the variety show "Karakuri Terebi," earning laughs as he learned Japanese, Bobby's childlike appeal remains the same, despite his being blackballed from TV for a while over an alleged assault last year. With his sweet, deep voice and awkward command of the language he comes across as an innocent.
Bobby is not the first or only African tarento — in the 1990s, Guinea Embassy employee Osuman Sankhon was everywhere — but he appears on TV much more than either John Muwete Muruaka, the former secretary of politician Muneo Suzuki, or the multilingual Baudouin Adogony, two Africa-born tarento who have a more worldly image (and who belong to the same talent agency as Bobby).
Though university-educated, Bobby comes across as someone who doesn't understand the world and doesn't realize it when comedians poke fun at his skin color or lack of sophistication. He represents the perceived backwardness of Africa, which makes him the perfect topical tarento. By my count, at least seven feature films about Africa are opening in Japan this spring, but, except for South Africa's "Tsotsi," whose viewpoint is African, these films were made by white people who acknowledge the tragedy of the continent and even the West's hand in creating that tragedy, but nevertheless approach it as outsiders. Regardless of the filmmakers' intentions, these movies erect a wall, a feeling that the region's problems are so huge that nothing can be done about them. As film critic Manohla Dargis recently wrote in the New York Times, "Watching Leonardo DiCaprio share the screen with genuine handless black Africans . . . doesn't rouse me to action; it stirs horror, pity, sometimes repulsion, sentiments that linger uneasily until the action starts up again."
Without the proper context, Africans become objects of fear or pity. One of the saddest developments of the last two decades is the diminishment of history as a scholastic pursuit. In America, history has become an option in compulsory education, and in Japan it is a tool for inculcating nationalism.
History provides the context with which we make judgments, but now we rely on the kind of "common sense" that Shintaro Ishihara prizes so highly, and which is shaped by the narrow parameters set by the media: What will get your attention? What will evoke fear and pity the best?
Jinichi Matsumoto's ongoing series of articles in the Asahi Shimbun, "The Africans of Kabukicho," provides this context. Using statistics and interviews, and then providing history as background, Matsumoto answers Ishihara's question and explains exactly what those Africans are doing in Japan.
He focuses on a Nigerian named Austin who was recently released from jail. Austin came to Japan in 2001 on a tourist visa, hoping to buy used auto parts for export back to Nigeria. It was more difficult than he thought, and he eventually started working for Nigerian-owned bars in Roppongi as a street solicitor.
During the 2002 police crackdown of illegal immigrants, many of the Chinese and Korean-owned drinking establishments in Kabukicho closed, and rents plummeted. Nigerians who fled Roppongi's crackdown opened their own bars in the ensuing vacuum, including Austin, who had married a Japanese woman. He was eventually arrested for fraud. He denies cheating anyone and never confessed to anything, but in Matsumoto's retelling he does not come off as an innocent. "I think we should try to cultivate regular customers," Austin's wife says about the bar, "but he wants to make as much money as he can right now." It's this sort of detail that makes Austin a real person, and his situation comprehensible.
The series elaborates on Austin's upbringing in the city of Port Harcourt, and in turn describes the history of Biafra, the southeastern region that tried to break away from Nigeria in the early 1960s and failed. Nigeria is controlled by the Muslim Hausa, but Biafra is populated by the Ibo, who are Christian and discriminated against by the government. It is on Ibo land where most of Nigeria's oil is being drilled, though the Ibo don't benefit at all.
Matsumoto estimates that 70 percent of the 2,400 legally registered Nigerians in Japan are Ibo (Bobby belongs to a third major ethnic group, Yoruba), and describes how Japan became a last hope for those who had the grit and money to make the long journey. It's an amazing story, and while it doesn't pardon any crimes that may have been committed by people who made that journey, it should at least make readers understand them better. As human beings, they deserve more than fear and pity.
Date Posted: 2/18/2007
ENDS