mytest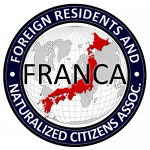 Hi Blog.  On the heels of yesterday's post, depicting Japan's latest wheeze to cover up it's failed Nikkei import labor policy, here's a bit of good news:  Somebody trying to do their bit to help keep unemployed NJs' heads above water.  Lawson convenience stores.
I smiled until I saw how small the numbers being employed full time were, despite the "quadrupling" claimed in the first paragraph.  But every little bit helps.  So does Lawson's offer for scholarships for Vietnamese exchange students (see Japanese below).  
Many times when I go into convenience stores in the Tokyo area, I'm surprised how many Chinese staff I see.  Anyway, patronize Lawson if they're trying to do good by the stricken NJ community.  Arudou Debito in Sapporo
=================================
Lawson boosts number of foreign fulltime employees
(Mainichi Japan) April 2, 2009, courtesy of Jeff K.
http://mdn.mainichi.jp/mdnnews/news/20090402p2a00m0na003000c.html

Japanese convenience store chain Lawson almost quadrupled the number of fulltime foreign employees it hired this spring as it searches for a new growth path amid stagnant consumption and fierce competition in the industry.
"Let's create innovative ideas by fusing diverse views and different cultures," said Takeshi Niinami, the president of Lawson, Inc. The company started hiring foreigners as regular employees last spring.
Compared to last year's 10 new foreign employees, the convenience store giant hired 39 new workers, who studied in Japan, among a total of 122 regular employees this spring, made up of 28 Chinese, four South Koreans, three Taiwanese, two Vietnamese and one each from Indonesia and Bangladesh.
According to the company, like their Japanese counterparts, the foreign employees will work at directly-managed stores across Japan for about three years.
ENDS
==================================
ローソン新入社員:3割超はアジアの外国人…多彩な価値観
毎日新聞 2009年4月1日
http://mainichi.jp/select/biz/news/20090402k0000m040057000c.html

 大手コンビニエンスストア、ローソンに1日入社した122人の新入社員のうち、日本に留学した中国などアジア出身の外国人が3割超の39人を占めた。消費低迷と競争激化で国内市場が頭打ちとなる中、異なった価値観を持つ人材をそろえ、新たな成長の糸口をつかむのが狙いだ。
 39人の出身地は中国28、韓国4、台湾3、ベトナム2、インドネシア、バングラデシュの各1人。初の外国人採用となった昨春の10人から、一気に3倍以上に増えた。
 新浪剛史社長は東京都内で行った入社式で「多様な考え、異なる文化を持った新入社員が交ざり合い、わくわくするような新しい発想を生み出していこう」と激励した。
 同社によると入社後は外国人社員も日本人と同様、3年前後、全国の直営店で接客業務をこなす。08年の新入社員では、おせち料理の予約数で日本人以上の好成績を上げた人材もいたという。
ENDS
============================
ローソン、ベトナムの留学生向け奨学金制度を設立
平成21年3月25日 毎日オンライン
http://mainichi.jp/select/biz/release/01/news/20090325p0400a021017000c.html
 ローソン(東京品川区:代表取締役社長CEO 新浪剛史)は、2009年4月より、日本に留学を希望するベトナムの学生のための奨学金制度を設立し、人材育成に民間レベルで貢献いたします。
 一期生2名が3月に来日し、4月より日本の学校に入学いたします。
 ローソンは商品の原材料調達の縁を発端に、ベトナムとの関係を築いてまいりました。
 ベトナムの学生は勤勉で、多くの学生が日本への留学を希望していると知り、今回の制度を設立致しました。この制度がベトナムの発展に寄与し、日本との友好がさらに深まることを期待しています。
<年間募集人員>
 2009年度を初年度とし、毎年新たに25名を募集致します。
 特待生:5名
 一般生:20名
 (4月入学の2名を含み、今年度合計25名となります。)
◎給付内容
▼対象者
 日本の大学に留学を希望するベトナムの25才以下の男女
▼給付期間
 日本に在留し学校で学んでいる期間(最大6年:一年毎に更新面談)
▼給付金額
 特待生(20才以下):年間120万円 住宅補助月3万円
 一般生(25才以下):年間30万円 住宅補助なし
◎選考フロー
▼10月入学
 4月ベトナム国内にて説明会 → 5月・7月に選考 → 合否通知
▼4月入学
 10月ベトナム国内にて説明会 → 11月・12月に選考 → 合否発表
 (募集に関する説明会をハノイ市とホーチミン市にて実施)
◎その他
 奨学金の返済は不要です。但し、中途退学および成績不良の場合は返済義務が発生します。
■問い合わせ先■ローソン[2651.T]
※発表日 2009年3月24日
以 上