mytest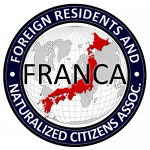 Hi Blog. Turning the keyboard over to JK. Comments? Debito
======================================
Hi Debito:
Looks like your handbook has some competition:
Guide to Living in Shinjuku
http://mdn.mainichi.jp/mdnnews/news/20090411p2a00m0na015000c.html
新宿生活スタートブック:4カ国語で生活ガイド本--区が発行 /東京
http://mainichi.jp/area/tokyo/archive/news/2009/04/07/20090407ddlk13040344000c.html
I don't suppose Shinjuku-ku would be kind enough to release a "Guide to Living with Foreigners," in Japanese aimed at the existing residents of the Ward….
IMO「新宿生活スタートブック」 = 'Read This Book, Become A Good Gaijin, And Don't Cause Us Any Trouble". –JK
======================================
Debito here again:  Page down below articles to see sample scans of book.  I contacted Shinjuku-ku for copies, which they very kindly sent at their own expense.  Thanks.
Personally, I think it's a good college try, and every local govt should issue one of these to its NJ residents.  Better than not having a book at all.  And I appreciate that it's quadralingual.  I assume they took the four top nationalities in their district and extrapolated languages (no Spanish or Portuguese, however.  Ah well.)  Get yourself a copy from Shinjuku.  Way cool.
=====================================
Shinjuku Ward issues daily living guide in four languages
The municipal government of Tokyo's Shinjuku Ward has released the "Guide to Living in Shinjuku," a daily life manual in four languages aimed at new foreign residents.
The illustrated guide is in English, Chinese, Korean and Japanese with furigana phonetic readings above the kanji characters for easy reading. The guide covers details of moving into an apartment, such as the deposit and so-called "key money," as well as etiquette such as polite greetings to neighbors after moving in, not playing music too loudly at night, and making sure to check with the landlord before getting a pet.
The 74-page manual also covers practicalities of everyday living in the ward, such as separating garbage, procedures to follow in case of a natural disaster, bicycle manners and making it clear that smoking is prohibited on the streets.
The manual is available at the foreigner registration desk at the ward office, and at the Shinjuku Multicultural Plaza in Kabukicho.
The ward has also issued a new version of its English language ward map. The previous map was printed on a single large sheet of paper. The new version, however, comes as an easy to carry 58-page booklet of highly detailed maps.
Both the map booklet and the living guide are available for free. Copies of either can be obtained by contacting the Shinjuku Ward Culture, Tourism and International Affairs Division at 03-5273-3504.
(Mainichi Japan) April 12, 2009
===================================
新宿生活スタートブック:4カ国語で生活ガイド本--区が発行 /東京
新宿区は今年度から、新規の外国人登録者向けに、4カ国語で日常生活のマナーなどをまとめた「新宿生活スタートブック」を発行した。
ブックはイラスト入りで、韓国語、中国語、英語、ふり仮名付き日本語の4カ国語で記載。賃貸住宅入居者向けに、引っ越しのあいさつの仕方や敷金、礼金の仕組みを紹介し、「勝手にリフォームしない」「夜間は大きな音で音楽を聴かない」「ペット飼育は大家に確認する」など、外国人にとっては文化の違いで分かりにくい生活マナーも説明している。
また、路上喫煙の禁止やゴミの分別方法、自転車の乗り方、防災対策もまとめられている。A5判74ページ。区の外国人登録窓口の他、しんじゅく多文化共生プラザ(歌舞伎町2)でも手に入る。
また、区の全域を紹介した英語版の地図も作成。これまでは、大きな一枚紙の地図のみだったが、今回はA5判58ページの冊子タイプで持ちやすく、番地まで細かく記載した。
いずれも無料。問い合わせは、区文化観光国際課(電話03・5273・3504)。【松谷譲二】
毎日新聞 2009年4月7日 地方版
ENDS
ENDS