mytest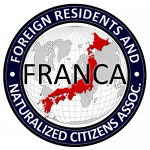 Hi Blog.  David McNeill of the Japan Times makes an interesting point about the Calderon Noriko Case, where the parents of a Japan-born Philippine adolescent were forcibly repatriated for overstaying, but the adolescent is allowed to remain in Japan without her parents on a tenuous one-year visa.  It's become an ideological tug-of-war between liberals (who want more humanistic immigration policies) and conservatives (who don't want to encourage illegal-alien copycatting, and, yes, do resort to "purity of Japan" invective), in an inevitable and very necessary debate about Japan's future.
The question that hasn't been asked yet is, would these conservative protesters (see YouTube video of their nasty demonstration here, courtesy of Japan Probe) have the balls to do this to a 13-year-old girl if she were Japanese?  Somehow I doubt it.  I think they're expecting to get away with their (in my view heartless) invective just because Noriko's foreign.
Anyway, an excerpt of the JT article follows.  More on this issue from FG:
http://www.fuckedgaijin.com/forums/showthread.php?t=22775 
Arudou Debito in Sapporo
=======================================
Tuesday, April 14, 2009
THE ZEIT GIST
'A battle for Japan's future'
Calderon case fallout will linger long after parents' departure, writes David McNeill
Despite being Japan's most densely populated area, Warabi rarely causes a blip on the national media radar.
Fiery rhetoric: Makoto Sakurai tells nationalists in Warabi, Saitama Prefecture, on Sunday to send Noriko Calderon "back to the Philippines." DAVID MCNEILL PHOTOS
Set in a rusting corner of Saitama Prefecture, the city has two minor recent claims to fame: a communist mayor and the 13-year-old daughter of illegal Filipino immigrants.
An odd place perhaps for two groups with radically different visions of Japan to take to the streets, but this is where neo-nationalists and liberal opponents could be found slugging it out last weekend.
On one side, a party of nationalists crammed into a small park and listened to ringleader Makoto Sakurai, a rising new-right star who turns out for protests in a three-piece suit and watch chain.
"People in other countries are looking at this case very carefully," Sakurai told the crowd to cheers of "Send illegal foreigners home!" "They see that we are a soft touch. If we allow this girl to stay, many more will come. It's totally unacceptable."…
Walking behind a van blasting out high-decibel venom at the local government, the Hinomaru-waving protesters filed noisily past Noriko's junior high school. "Shame on Filipinos," shouted one middle-aged man who held a sign saying: "Kick out the Calderons." Takehiro Tanaka said they would be back every month until Noriko was put on a plane to Manila. "We can't allow her to stay or foreigners will exploit our softness. It sends the wrong message to other countries."…
Last month, the family's six-month legal battle ended when Justice Minister Eisuke Mori gave Noriko a one-year special residence permit, allowing her to live with her aunt and continue school in this city. Her parents, Arlan and Sarah, who came to Japan in the early 1990s on false passports, were sent back to the Philippines on Monday…
Read the rest of the article at: 
http://search.japantimes.co.jp/cgi-bin/fl20090414zg.html
See the protest for yourself on YouTube at:
http://www.japanprobe.com/?p=9757
ENDS