mytest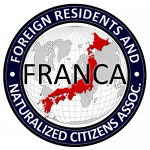 Hi Blog.  Happy Saturday.  Word from Kirk Masden at The Community, regarding a dead but not forgotten controversial TV show called "Koko Ga Hen Da Yo, Nihonjin".  Keyboard's his:
/////////////////////////////////////
Hi Community!
I posted a critique of Koko ga hen da yo (particularly one of the opening sequences they used) on YouTube:
http://www.youtube.com/watch?v=-jhAc4-OtCU
It's getting a stronger response than anything I've posted to YouTube thus far.  Much of the commentary is negative but the first three ratings it received were five stars.  Since then somebody who hates my  view of the show gave it a low rating so now the average is four  stars.  People seem to either love my critique or hate it — not much middle ground so far.
At any rate, if you're interested in this show, please have a look —  and feel free to tell others with an interest in media critique about  it. Kirk
/////////////////////////////////////
DEBITO ANSWERED:
Thanks Kirk.  I watched the YouTube entry last night and was very intrigued by it, especially given our own experience being on the show, re the Otaru Onsens Lawsuit:
Transcript of the show at:
https://www.debito.org/KokoGaHen1.html
and my positive critique of the show in retrospect:
https://www.debito.org/japantodaycolumns7-9.html
(page down to essay 8 )
I was also impressed with Kirk's flawless accentless spoken Japanese, as always.  Gnash.
//////////////////////////////////////
FOLLOW-UP BY KIRK:
Hi everyone!
In regard to the timing of my post . . .
Actually, I'm posting to YouTube now because I didn't have the
technical know-how to do so when I first recorded the show and started
showing parts of it in my comparative culture class.  I was
particularly bothered by the opening but lacked the ability to slow it
down appropriately to give people a chance to think about it.  Since
then, I've learned a bit more about video editing and so when I was
going through some old VHS tapes and found the Koko ga hen da yo
video, I could resist the temptation to make that kind of critique I
had been meaning to make for years.
What was interesting to me was the immediacy of the response.  There
must be a significant number of people who periodically search for
segments of that show on YouTube because my little video was found
immediately by a significant number of people.  Those who have rated
my critique on the five-star scale have, for the most part, been quite
generous but those who first found it and wrote comments were
decidedly negative.  I guess that had been searching for more videos
of their favorite show and didn't appreciate negative comments about it.
So, in short, the show has been off the air for a long time but there
still seem to be a lot of people want to watch it on the web.  Kirk
//////////////////////////////////////////////
What do others think?  Debito
ENDS