mytest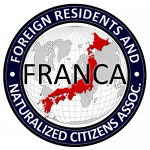 Hi Blog. Just a few thoughts on tonight's TV Asahi program "TV Tackle".
It was, in a word, disappointing.
Maybe that's par for the course in a 55-minute (minus commercials) show edited for content, and it did try to take on some serious issues.
Eight commentators participated: three academics — a Korean, a Brazilian, and a Chinese — plus two media pundits and three politicians — LDP's Kouno Taro, plus Koumeito, and DPJ. All people of Asian background (save an overlong and as incomprehensible as ever commentary from Koko Ga Hen TV show bomb-thrower Zomahoun Rufin), all reasonably informed, but all clipped for airtime before much of substance came out.
The show had four segments: 1) the new Gaijin Cards with IC Chips, 2) The historical issue of the Zainichis and other Permanent Residents and their right to vote in local elections, 3) the Nikkei Repatriation Bribe, and 4) the new Tourism Agency and the new tightening of Immigration controls (fingerprinting etc.)
The show gave good backgrounds on the issues (lots of data, historical facts), but what the panelists did with the show was what disappointed.
1) The IC Gaijin Cards was far too short, and fumbled the issue when talking about why NJ have to carry cards 24/7 or face arrest and criminal charges. Nikkei Brazilian Angelo Ishi showed his card for the cameras (thanks; surprisingly few Japanese know NJ have to carry them, or even have them), but there was not enough reportage on why these cards are so controversial (heavy fines and jail time, for example), and why the new cards are even more so (potential remote tracking of IC Chips and and heavier penalties for delayed reporting of changes of status). Even the DPJ rep there admitted he had no problems with the Cards, despite the official party line of opposing them. So much for the debate. Where's Tanaka Hiroshi when we need him?
There was a decent bit on the Calderon Noriko Case, fortunately, but the hardliners held sway: If her parents hadn't come in on someone else's passport, then maybe they could have stayed here together as a family. End of debate.
2) We then got bogged down in the historical issues of the Zainichi Koreans, and how historically they've been here for generations yet have no right to vote. Kouno Taro disappointed by saying that if you want the right to vote, naturalize. Even though, as we've said time and time again (and I have to him directly), the process is not all that easy and is quite arbitrary. It is not a kirifuda. This segment wound up a waste of time with the Korean academic getting hot under the collar and appearing to talk too much.
3) The best bit was on the Nikkei Repatriation Bribe, where just about everyone there agreed that bribing workers to go home was a national disgrace. Kouno again took a hard line and said that we shouldn't have imported people because they were Nikkei, but rather because they speak Japanese well (as if people working this hard in factories could have done much about it; you want perfection before entry?). Angelo Ishi got in good points that Japanese companies actually went overseas to RECRUIT Nikkei, with all sorts of false promises about income and conditions, and others pointed out that Japan's special ties with Nikkei overseas actually did choose people based upon blood and little else. It was portrayed rightfully as a failed policy, but hands were wrung about how to keep the NJ here, sigh.
4) Last bit was on tourism and the fingerprinting issue. Much fearmongering about the Koreans in particular and their ability to come over without visas, and one case of falsified fingerprints was portrayed as the evils of Koreans, not as flaws in the system. No mention at all was made of how it's NOT MERELY TOURISTS being fingerprinted, but EVERY NJ WHO IS NOT A ZAINICHI.  And that includes Regular Permanent Residents, who too have to suffer the humiliation of being treated like tourists and suspected terrorists.
Therein was the great flaw in the program. Nobody was there who could represent the "Newcomers". No naturalized Japanese. No non-Asian Permanent Residents. Nobody who could give a perspective (except Angelo, and he did well, but he's halfway in The Club anyway) of somebody that has been a pure outsider both by race and by face, and show the cameras that Japan is in fact changing with these new kinds of people who are here to stay as immigrants.
Pity. The show meant well. But it fell back into old hackneyed paradigms with few eyes opened.
This synopsis has been written over the 20 minutes since the show ended, all from memory. If people find segments of this show on YouTube, please send this blog entry a link. Keeps me honest. Thanks.
Arudou Debito in Sapporo