mytest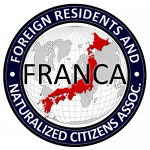 AITEN SPECIAL MAILING May 2009
Amnesty International Tokyo English Network
By Chris Pitts
Subject: [AITEN] Rally against increased surveillance of NJ this Sunday May 24th
Date: May 18, 2009 3:16:47 PM JST
We have a special reason to send this special mailing about Sunday's
action against the legal amendments currently proposed – the reason is
that they will affect YOU.
As the details become clearer, more and more people, both Japanese and
non-Japanese, are voicing opposition and organizing against the
proposals. We have a rare chance to influence government policy in the
few weeks ahead. Please support us:
• Pass this on to others in the next few days;
• Attend the assembly and rally this Sunday;
• If you can't attend, find out about the proposed changes and alert
your friends and colleagues;
• The Japan Times tomorrow, Tuesday 19th, (Wednesday 20th in the
provinces) will carry a Zeit Gist article on the New IC "Gaijin Cards"
by Arudou Debito:
My article will be on the proposed legislation to make things more
"convenient" and "protected" for NJ residents: New Zairyuu Kaado with
biometric data stored on IC Chips.
Convenient? Yeah, for the police, not NJ. I make the case that, if
the legislation is passed, policing and punishments will only get
stricter, and the chipped cards will act as "bugs" encouraging further
police checkpoints and racial profiling…
• Read it!
• See you at Shimbashi on Sunday!
STOP! PROPOSALS TO CRACK DOWN ON FOREIGN RESIDENTS!
Rally Against Reforms to the Immigration Law
The "NGO Committee against the Introduction of the 'Zai-ryu' Residence
Card" calls on people living in Japan, both citizens and foreign
residents, to join together to oppose discriminatory reforms to
immigration law.
Date: May 24 (Sun) 14:00-15:30 Assembly
16:00-17:00 Rally
Location: Koutsu Biru in Shimbashi (Minato-ku, Shimbashi 5-15-5)
(6 minutes walk from JR Shimbashi Station, Karasumori Exit)
For leaflet and map:
http://www.repacp.org/aacp/pdf/MultiLang/20090420LeafENv01.pdf
Interpreters: English, Spanish
The assembly will include an overview of the proposed reforms to the
Immigration Law, and speeches by the affected parties. Participants
are encouraged to bring their own banners and signs to carry in the
demonstration.
BACKGROUND
A new registration card with IC chip will replace the current foreign
resident registration card.
Some people are saying that the proposed new "gaijin card" system is
just the same as the old system, but administered centrally. If only
it was that simple…
Under the new system, the Immigration Bureau will collect and control
personal information on foreign residents. A new foreign resident
registration card with an IC chip will be issued to replace the
current registration card.
The new registration card must be carried at all times…anyone not
carrying their card can be detained.
The new registration card must be up-to-date…if it isn't you can be
fined up to 200,000 yen, and in some cases have your visa revoked!
The kind of IC chip to be used on the card can be read remotely –
meaning police can scan a crowd or line of people and snatch those
apparently not carrying one. This kind of IC chip is also readable by
criminals – making you more likely to be a victim of identity theft.
Documented foreigners will be subject to heightened surveillance,
while undocumented foreign residents will "disappear" from the record
and be excluded from social services entirely.
Find out how the proposals will affect you. Join the campaign to
oppose surveillance of foreign residents. AITEN says: Integrate, don't
discriminate!
** PLEASE CHECK the following links to the leaflet in several
languages.**
– Japanese
http://www.repacp.org/aacp/pdf/MultiLang/20090420LeafJPv01.pdf
– Japanese with Furigana
http://www.repacp.org/aacp/pdf/MultiLang/20090420LeafJPrubyv01.pdf
– English
http://www.repacp.org/aacp/pdf/MultiLang/20090420LeafENv01.pdf
– Spanish/Espanol
http://www.repacp.org/aacp/pdf/MultiLang/20090420LeafSPv01.pdf
– Portuguese
http://www.repacp.org/aacp/pdf/MultiLang/20090512LeafPTv01.pdf
– Chinese
http://www.repacp.org/aacp/pdf/MultiLang/20090501LeafCHv01.pdf
Organized by:
Executive Committee for the May 24 Assembly Against Immigration Law
Reform (Solidarity Network with Migrants Japan,
Network for Human Rights Legislation for Foreigners)
Contact:
Solidarity Network with Migrants Japan,
Tel: 03-5802-6033 E-mail: fmwj@jca.apc.org
Research Action Institute for Koreans in Japan (RAIK)
raik@abox5.so-net.ne.jp
ENDS