mytest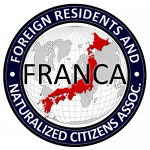 Hi Blog. Turning the keyboard over to Joseph Tame. Thanks Joseph! Debito
============================
Hi Debito,
It was a pleasure to meet you recently. 🙂
Your interview is now live online.
http://pokya.jp/japanpodshow/guests/arudou-debito/
I've made it available in a couple of formats, as:
– in its entirety as an MP3
– In its entirety as a streaming video on Vimeo.com
– In 6 parts as You Tube videos
– In six parts as downloadable mp4 video files.
In this interview Debito talks about:
The first few years of his life in Japan
The Otaru Onsen Case
The new Gaijin cards and associated human rights issues, and what you can do to stop their introduction
Foreigners who defend discrimination against other foreigners claiming that 'We are guests in Japan'
Has the situation improved for foreigners in Japan in recent years?
His public image, and new beard, Arthur.
I have also created a page just for you on my site, which should help get the interview to the first page when people do Google searches on you.
The page can be found at
http://pokya.jp/japanpodshow/guests/arudou-debito/
Joseph
ENDS