mytest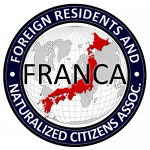 Hi Blog. Here it comes. Arudou Debito in Sapporo
=============================
ALIEN RESIDENCY REVISION ADVANCES
Lower House passes bill revising foreign residency rules
The Japan Times, Saturday, June 20, 2009
By MINORU MATSUTANI
(excerpt)
…Foreign residents will be listed on the Juki Net resident registry network, a computer network linking municipalities that contains demographic information of Japanese residents.
Visas, typically good for three years, will be extended to five. Also, foreign residents will no longer be required to obtain re-entry permits if they return to Japan within a year.
On the other hand, the punishments for failing to report one's address and other personal information will become harsher. In order to curb fake marriages, the bills give the justice minister the authority to revoke the spousal visas of those who fail to conduct "activities spouses normally do" for six months. Special consideration would be given to spouses who live separately because of mitigating circumstances, including abuse.
According to the bills, the government must review the new immigration law and make necessary changes within three years of enforcement. If enacted, the new law will be enforced within three years of its announcement to the public.
=============================
Full article at
http://search.japantimes.co.jp/cgi-bin/nn20090620a3.html
ENDS