mytest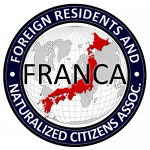 Hi Blog. Anyone seen an NHK show called "Cool Japan"? It's a 45-minute show on late Tuesdays and Saturdays. Here's the writeup from its website, courtesy of JB:

COOL JAPAN – Discovering what makes Japan cool! COOL JAPAN is a term that describes the growing international interest in Japan. From the worlds of fashion, anime, architecture to cuisine, the cultural aspects of Japanese society that have long been left undiscovered are starting to make a strong impact on global trends. COOL JAPAN is a television show that illustrates the quickly changing Japanese culture and how it is perceived by the international community that have recently made Japan their home.
http://www.nhk.or.jp/cooljapan/en/index.html
What gets my goat is:
We are looking for participants who have lived in Japan for less than one year to appear on the television show COOL JAPAN.
(「COOL JAPAN」では出演してくれる来日して1年未満の外国人の方を募集しています。)
And why pray tell is there a limitation on their NJ guests like this? I say they're getting impressions from people who don't know their ketsu from a doukutsu yet. Which means their guests about Japan don't speak much, or any, Japanese. How throughly can you know Japan in less than a year, for crissakes? And their guests are mostly late-teens/early-twenties on top of that — with little to go on to comment about much at all. And they're acting as cultural emissaries for "their own countries" and giving cross-cultural comparisons running on fumes? Sorry, that's 3-Blind-Mice Ignorance. And it's all by design. Through that one-year cap on experiences.
Why not issue a public call for commentators, who actually have some deeper experience living in Japan, to contribute to the debate? Because "cool" is as deep as we want to go. Great social science, NHK. And I believe it adds to the lore within the Japanese viewership (that is who will mostly be watching this program, natch) that our society is impenetrable to the unfortunate hapless foreigners. But that's still not their fault — they're starry-eyed newcomers who'll say something positive about Japan because they still feel like they're guests. Feel-good broadcast pap TV funded by Japan's most entrusted TV network.
But then again I'm probably being a bit harsh. What do others who have seen the show think?
Arudou Debito in Sapporo