mytest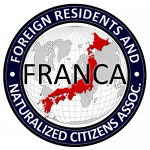 Hi Blog. The Japan Times is following the story of the new deluxe Gaijin Cards, complete with IC Chip and more punitive policing of most foreigners. And it is now clear from the articles below that the bills were actually drafted by the Ministry of Justice. Meaning it's all been created in favor of policing, not assimilating, NJ — and under the all-consuming need to keep track of potential "illegal foreign overstayers" by policing everyone (anyone else smell a kind of a witch hunt?).
Got a call from the author Mr Matsutani this evening. He notes that there will be a series of articles on this over the next few days (below are the two camps within the LDP and the DPJ, then on successive days an opponent from the left, and then an opponent from the extreme right). So keep reading the Japan Times — the only paper that cares to give you the straight poop, and do some investigative journalism on topics that matter to its NJ readers.
Excerpts follow:
////////////////////////////////////////////
CONTROLS ON FOREIGNERS
LDP's point man on immigration bills
Shiozaki says despite opposition, clampdown on illegals still intact
By MINORU MATSUTANI
Excerpt follows, full article at http://search.japantimes.co.jp/cgi-bin/nn20090626f1.html
First in a series
The legislative package, now in the Upper House, is the fruit of time-consuming negotiations between Shiozaki and Ritsuo Hosokawa of the Democratic Party of Japan, the two key members of the judicial committee.
"I accepted some of the DPJ's requests as long as they did not change the main idea of the bills," Shiozaki told The Japan Times.
The contentious bills that Shiozaki, a former chief Cabinet secretary, was steering through the Lower House actually had been drafted by the Justice Ministry's Immigration Bureau…
One of Hosokawa's proposals that Shiozaki did not agree to was eliminating a clause requiring foreigners to carry residence ("zairyu") cards.
"We can't give in on that," Shiozaki said. "Carrying green cards is mandatory in the United States as well."
Another proposal he rejected was not print the holder's identification number on the card. Hosokawa argued that an embedded chip would be sufficient, but Shiozaki said he couldn't accept this because police and immigration officers should be able to write down the number without having to carry around an IC chip reader.
"Basically, I was squeezed by LDP conservatives and Mr. Hosokawa was squeezed by DPJ liberals. In the end, we came up with something that doesn't change the basic philosophy," which is to get a comprehensive picture on illegal foreigners, he said.

EXCERPT OF FIRST ARTICLE ENDS
////////////////////////////////////
CONTROLS ON FOREIGNERS
With some concessions, DPJ backs crackdown
The Japan Times, Friday, June 26, 2009
By MINORU MATSUTANI, Staff writer
Excerpt follows, full article at http://search.japantimes.co.jp/cgi-bin/nn20090626f2.html
Second in a series
Ritsuo Hosokawa, justice minister in the Democratic Party of Japan's shadow Cabinet, says he succeeded in softening the tone of the government's immigration reform package.
"When I saw the original bills for the first time, my impression was that they allowed the government to control foreigners too much," said Hosokawa, a ranking DPJ member of the Lower House Judicial Affairs Committee…
Among the biggest concerns Hosokawa had was that the proposed legislation was too harsh on people overstaying their visa for legitimate reasons and the possibility that foreign residents' personal information could be misused…
While Hosokawa had to give up other revisions, including scrapping the requirement to always carry the zairyu card, he "pretty much incorporated in the final version the opinion of people who had concerns," he said.
Hosokawa stressed his belief that the bills are necessary. "The government needs to know where foreigners live and how many there are," he said.
"But we should not tighten our control too much. We don't want to make 'good foreigners,' including overstaying foreigners, feel uncomfortable by micromanaging them," he said. "We want to establish a society where Japanese and foreigners can live together."
EXCERPT OF SECOND ARTICLE ENDS
//////////////////////////////////////////
Alert Debito.org reader MMT comments thusly:
================================
Two comments regarding this quote with the articles:

"Also, there is concern that residence ("zairyu") card numbers could be leaked outside the Justice Ministry," he said, explaining why the final version would enable foreign residents to change residence card numbers whenever they want."
Me: Really? I haven't read the bill yet, but can NJ actually go to immigration any time they feel like it to change their registration number? Would that actually be a worthwhile thing?
"While Hosokawa had to give up other revisions, including scrapping the requirement to always carry the zairyu card, he "pretty much incorporated in the final version the opinion of people who had concerns," he said."
I'd love to hear the "concerns" of the people who insisted on retaining this clause. Other than for the convenience for police (acting as agents for the Ministry of Justice) to be able to randomly harass "foreign-looking" individuals, why the need for this?
===========================
ENDS