mytest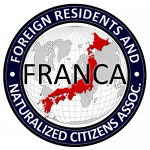 UPDATES ON TWITTER: arudoudebito
Hi Blog. One thing I've noticed in this modern day is how the Internet can get around the press and show you things that editors would rather you not see, as the modus operandi of certain elements within Japan's debate arena is embarrassing and hypocritical (especially when you expect the image of perpetual calm and civility in Japan's "safe society").
Not when you take it to the streets. Demonstrators here are pretty nasty when they're expressing xenophobic views.
For example, this demo against giving the Zainichis the vote in local elections.

All one person on the sidewalk had to do is hold up an A4-sized piece of paper offering a mild counter opinion, and the crowd attacked. And the police took their time intervening, to be sure.
Same thing happened in a scene in the movie YASUKUNI, which featured people (including Tokyo Gov) singing patriotic songs at Yasukuni Jinja about things that could be interpreted as wartime atrocities. When one demonstrator appeared and voiced his opinion (disruptively), the footage showed him being near-strangled and quite bloodied. The police intervened to take the demonstrator away, but not to arrest, detain, or even question the assailants. It's as if the police considered demonstrator to be in the wrong for spoiling the party, and deserved to be bloodied for it. Briefly alluded to in the trailer:

Back to street demonstrations. Enjoy the invective in this one:

That invective stretches all the way up to the top levels of government, where Tokyo Gov Ishihara tries to deligitimize a point being made by saying it came from a foreigner. And more.

These things might not make headlines. But they continue to bubble under the surface in this society. It's amazing how these people who use their right of free speech to express xenophobic views are all to eager to silence the other side — with violence if necessary. Arudou Debito in Sapporo
PS: Because this is getting overwhelmingly grim these days, here's some humor. FLIGHT OF THE CONCHORDS (I've been told I look like one of the members of this comedy team; no comment) on racism:

ENDS