mytest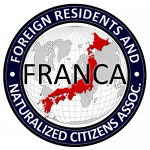 UPDATES ON TWITTER: arudoudebito
Hi Blog. Just noticed this July 8 on my way to work outside two Police Boxes:
Murder suspect Ichihashi Tatsuya, who escaped from the police some months ago, leaving behind the murdered and mutilated corpse of English teacher Lindsay Ann Hawker in a tub of sand on his apartment balcony, is still on the loose.
That's not news. What is news is how the reward has now been multiplied by 10. It once was, as you can see on the old poster of other fellow murder suspects, 100 man.
Now (love those golden JACKPOT! numbers) it's 1000 man!


Pachinko-parlor-style bonanza for anyone who decides to turn him in at last. Gotta love those horrible mugshots too of him, two of him sticking out his tongue.
Photos taken outside Odori Police Box just below the Sapporo TV Tower July 8, 2009.
Oh, and slight correction. Ichihashi, unlike his other fellow murder suspects, is still not wanted for "murder". Only for the "abandonment of a corpse". A charge that seems to pop up quite a bit, I argued in a Japan Times article last March, in cases involving murders of foreigners. Ah well. At least he's ten times more wanted than the others by value.
Anyway, somebody find this guy and collect your reward. Get this creep off the streets. Arudou Debito in Sapporo