mytest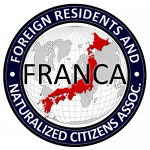 UPDATES ON TWITTER: arudoudebito
Hi Blog. Here's a rum punch. From Debito.org Reader JT. Debito
======================
Hello Mr. Debito
I found an article on TIME Magazine's website this morning reporting the quarantine of some college exchange students in Kyoto. The text is below:
/////////////////////////////////////////
U.S. Students Quarantined in Japan
By AP TIME Magazine, July 8, 2009
http://www.time.com/time/nation/article/0,8599,1909386,00.html
(DAVIS, Calif.) — A group of 20 students studying in Japan through the University of California Davis have been quarantined after two of their Japanese tutors were diagnosed with swine flu.
UC Davis summer abroad coordinator Kathy Cunningham said Wednesday the students arrived in Kyoto, Japan, on June 27 and were quarantined to a dormitory on July 3.
She says Japanese health officials are monitoring the group for symptoms and that no students have shown any sign of the disease so far. She also says the quarantine is set to end Friday.
/////////////////////////////////////////
ENDS
[That's the entire article.] I find it somewhat disturbing that the students had no symptoms, yet were still quarantined, as well as no mention about the treatment of the tutors who were diagnosed. Does anyone know the full story? I haven't heard anything from the Asahi, Yomiuri, or Japan Times english pages yet. Thanks. JT.
ENDS