mytest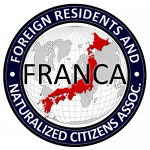 UPDATES ON TWITTER: arudoudebito
Registered foreign population in Japan hits record-high 2.21 million
Japan Today/Kyodo Saturday 11th July, 06:50 AM JST
http://www.japantoday.com/category/national/view/registered-foreign-population-in-japan-hits-record-high-221-million
TOKYO —
The number of registered foreign residents in Japan hit a record high of 2,217,000 at the end of 2008, marking an increase of around 50% in the last decade, a report released by the Justice Ministry said Friday. The registered foreign population accounts for 1.74% of Japan's total population, it said.
Chinese nationals accounted for the largest group of foreign residents at around 30%, or 655,000 people, followed by Koreans at 589,000, Brazilians at 313,000, Filipinos at 211,000 and Peruvians at 60,000. The number of permanent residents increased to 492,000, up 11.9%, and that of nonpermanent residents with skilled labor visas rose by 21.6%. Most foreign nationals resided in Tokyo, with 402,000 registered, followed by Aichi and Osaka prefectures.

ENDS
Source: Ministry of Justice home page
http://www.moj.go.jp/PRESS/090710-1/090710-1.html
COMMENT FROM DEBITO: Quite honestly, I've been in a funk these past few months, starting with the Nikkei Repatriation Bribe, adopted April 1 of this year. Given that I've come to the conclusion that the GOJ deliberately keeps on instituting a formal revolving-door labor policy towards NJ (keep them here temporarily, suck them dry of the best years of their working lives, take their taxes and pension monies, and then send them back as soon as they become inconvenient regardless of how much contribution they make), the study of Japan's internationalization (and the looming demographic nightmare) has become a dismal science. I've got a pile of books I'm supposed to be reading, most of which come to the conclusion that Japan's internationalization and multiculturalization is inevitable (an argument I too have made constantly this decade), and it's now become winceworthy reading. Again, quite honestly, I'm just not sure the elites who govern Japan will allow people like us to save Japan from itself.
Then I see statistics like the above. NJ are still coming here, to stay, to live. More NJ Permanent Residents than ever before, and the numbers have only slowed from an average of 15% (2002-2006) to 12%.
I have a feeling that the numbers of registered NJ residents may actually drop for the first time in nearly five decades in 2009. But if even then, with all the GOJ's disincentives towards immigration, numbers keep rising, then I'll snap out of my funk and resume my arguments about the multicultural inevitability. It's a shame that without tabulations in real time, we have to wait another year to find out.
Arudou Debito in Sapporo
ENDS