mytest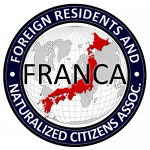 UPDATES ON TWITTER: arudoudebito
Hi Blog. Two new networks (well, one is a relaunch) have come online for human rights. Words from their sponsors:
===========================
July 10, 2009
VISUAL VIGILANTES
LAUNCH OF JAPAN AGAINST DISCRIMINATION YOUTUBE CHANNEL
VIDEO RECORDS OF HUMAN RIGHTS ISSUES
Hi Chris and Debito, I just finished JAD's new youtube channel. JAD stands for "Japan Against Discrimination".
http://www.youtube.com/user/JADvideo77
It is the only generic name I could think of. Anyways, I put a video folder for Amnesty Japan and for you too, Debito.
I hope we can use this youtube channel to centralize any videos regarding human rights and any agendas we are trying to push through.
I welcome your comments and suggestions. I can post and put the videos that you want, just email and i will make it happen.
Pls feel free to promote JAD Video Vigilantes video folder to promote activism for human rights and equality here in Japan.
I have a lot of free time to do some videos that can help increase awareness regarding human rights and any issues about foreign residents or just any issue in japan now.
I need a front man or woman to be the presenter for my videos. I am not good at public speaking and not photogenic at the same time. Do you know anyone living in Tokyo (Kanagawa or Saitama) who might be interested to be the frontman for my videos?
All the best, Bo. (akiuramaru AT yahoo DOT com)
===========================
July 12, 2009
RELAUNCH OF CHILDREN'S RIGHTS NETWORK JAPAN WEBSITE
AS CRN JAPAN DOT NET
The CHILDREN'S RIGHTS NETWORK JAPAN website has been a comprehensive index of children abducted or otherwise denied access to one of their parents after divorce or separation. It has brought to light the very real problem in Japan of how marriages gone sour result in children growing up without a parent.
As many of you know the original CRNJapan.com was "lost" when the webmaster failed to renew the domain. There is currently a site in it's place that is trying to do what CRN Japan did so well….but they are not doing a good job.
I noticed the other day however that the webmaster has put the original CRN JAPAN site back up – Please find it at –
Please help spread the word that CRN JAPAN is back… I see he seems to be reconfiguring it and some of the links are still dead, but they have a message regarding that on the page as well.
Thank you, Eric Kalmus
===========================
Spread the word! Arudou Debito in Sapporo