mytest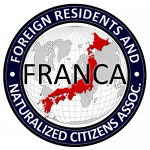 UPDATES ON TWITTER: arudoudebito
Hi Blog. It'd probably take many days of blogging to get all these articles out individually, so let me just lump them together for your reference. Thanks to Anonymous and JK. Arudou Debito
============================
Guidelines revised to allow illegals with kids to stay longer
http://www.yomiuri.co.jp/dy/national/20090711TDY02308.htm
The Yomiuri Shimbun (Jul. 11, 2009)
The Justice Ministry announced on Friday revised guidelines under which non-Japanese staying in the nation illegally with school-age children could be granted special residence permission to stay longer.
While the revision of guidelines regarding permits for people staying in Japan illegally has not officially eased residency requirements, it looks to reduce the estimated 130,000 people staying in Japan illegally by giving them an incentive to voluntarily contact the authorities.
The justice minister is authorized to issue special permits to non-Japanese who challenge deportation orders. The guidelines released in 2006 state that the permits are to be issued for humanitarian considerations.
But the guidelines' standards have been criticized for being ambiguous and for discouraging foreigners from contacting the authorities out of concern they will be deported.
The revised guidelines state that people caring for seriously sick relatives or who have children enrolled in primary to high schools in Japan may be eligible for the permits if they voluntarily contact immigration offices.
They also stipulate that the children should have lived in Japan for at least 10 years in principle.
But the revised guidelines also say that stays may be denied to those who have entered Japan on fake passports.
Tomoyuki Yamaguchi, a representative of the APFS (Asian People's Friendship Society), a Tokyo-based nonprofit organization supporting foreigners staying in Japan, said: "Many foreign families [staying illegally in Japan] live in Japan in hiding as they're afraid of being discovered by the authorities. If they realize they have a better chance of obtaining these permits by reporting themselves voluntarily, more of them are likely to cooperate."
(Jul. 11, 2009)
================================
New special residency permit guidelines established
(Mainichi Japan) July 10, 2009
http://mdn.mainichi.jp/mdnnews/news/20090710p2a00m0na004000c.html
New guidelines for special residency permits issued by the Minister of Justice to foreigners who have received deportation orders for illegal overstays have been established, the Ministry of Justice announced Friday.
Listed as having grounds for positive consideration include: those who are raising biological children in elementary, junior, or senior high school and who have lived in Japan for 10 years or more; those who have lived in Japan for 20 years and are firmly rooted in Japan; and those who turn themselves into authorities for illegally overstaying and have no records of other law violations.
Meanwhile, those who have illegally issued or received passports, or entered the country on fraudulent passports or visas are unlikely to be eligible for special residency permits. Even those who have lived in Japan for 20 years or more, will be considered for deportation if they have been convicted of illegally issuing or receiving passports.
While special residence permission is left to the justice minister's discretion, guidelines for granting permission were established by the Ministry of Justice for the first time in October 2006. The latest revision took place because of a supplementary provision written by both ruling and opposition party legislators into the amended Immigration Control and Refugee Recognition Law that passed during the current Diet session to "increase the transparency of special residence permissions."
In 2008, 8,522 foreigners were granted special residency permits, meaning that a little over 70 percent of all petitions for permission have been granted. In March 2009, Justice Minister Eisuke Mori granted special residence permission to a 14-year-old Saitama girl who was born and raised in Japan and whose parents had been deported to the Philippines for illegally entering Japan, given that she lives with her relatives.
在留特別許可:小、中、高生の親に配慮 法務省が新指針
毎日新聞 2009年7月10日 東京夕刊
http://mainichi.jp/select/seiji/archive/news/2009/07/10/20090710dde001010081000c.html
 不法滞在などで退去強制処分となった外国人の在留を法相が特別に認める在留特別許可について法務省は10日、許可判断の参考とする新たなガイドラインを策定したと発表した。許可を積極的に考慮する事情として学校に通う子を持つ親や日本への定着性のほか、自ら入管に出頭した場合も盛り込み不法滞在者へ出頭を促した。
 許可する積極要素として、日本の小中高校に在学し、10年以上の相当期間日本に在住する実子と同居▽滞在が20年程度の長期間に及び定着性が認められる▽不法滞在を申告するため自ら入管に出頭--などと列記。許可する方向で検討する例として「日本で生まれ10年以上経過して小中学校に通う実子と同居し、自ら入管に出頭して他に法令違反がない」などを挙げた。
 一方、旅券の不正受交付や偽造旅券、在留資格偽装による入国は消極要素とした。20年以上在住しても、旅券の不正受交付の刑を受けた場合は退去の方向で検討するとした。
 在留特別許可は法相の裁量によると定められているが、法務省は06年10月、ガイドラインを初めて策定。今国会で成立した改正出入国管理法の付則に、与野党の修正で「在留特別許可の透明性向上」などが盛り込まれたため見直しが決まった。
 08年、在留特別許可を受けた外国人は8522人。申し立ての7割強が許可されている。法務省は見直しで不法滞在者の出頭が増えると見込んでいる。今年3月には森英介法相が不法入国で退去強制処分を受けた埼玉県のフィリピン人一家のうち、日本で生まれ育った中学生の長女を親類との同居を条件に許可した。【石川淳一】
在留特別許可
 出入国管理法は、不法滞在などで退去強制処分となった外国人に対しても、特別な事情があると法相が認めれば在留を特別に許可できると定めている。可否は法相の裁量に委ねられるが、日本人と結婚したケースが大半を占める。
================================
U.S. warns of drink-spiking in Tokyo
(Mainichi Japan) July 11, 2009
http://mdn.mainichi.jp/mdnnews/news/20090711p2g00m0dm007000c.html
TOKYO (AP) — The U.S. Embassy on Friday advised Americans to avoid drinking in a Tokyo nightlife district, warning that some customers have fallen unconscious and been robbed after their drinks were spiked.
It was the second such alert in four months about bars in the Roppongi district.
"The U.S. Embassy continues to receive reliable reports of U.S. citizens being drugged in Roppongi-area bars," the embassy said in statement.
Tokyo is among the safest big cities in the world, but the embassy has reported a rise in incidents of American customers being rendered unconscious or extremely sleepy. Victims awake hours later to find credit cards missing or fraudulently charged for big amounts.
"These cases are very hard to investigate," said Masahito Fujita, vice head of the Azabu police station overseeing Roppongi. "It's difficult to know whether people were just drinking too much or if they were actually drugged."
Canada, Australia and Britain have also warned their citizens to beware.
Canada says in a travel report on Japan that drinks should "never be left unattended."
Roppongi became a nightspot for foreigners shortly after World War II when the U.S. military was posted nearby. It remains popular with tourists and Western expatriates drawn to its hundreds of bars, lounges and dance floors.
(Mainichi Japan) July 11, 2009
==============================
入管法改正案:「外国人監視強化だ」支援団体反発 便利だが罰則厳しく
毎日新聞 2009年6月27日 東京夕刊
http://mainichi.jp/select/wadai/news/20090627dde041010029000c.html
-recognition that immigration revision is possibly too strict
入管法改正案:「外国人監視強化だ」支援団体反発 便利だが罰則厳しく
 外国人登録制度に代わる「在留カード」による新たな在留管理制度を盛り込んだ入管法改正案が与野党3党による修正を経て衆院を通過、参院に送られた。改正案は不法滞在のあぶり出しを強める一方、外国人の利便性を向上させる「アメとムチ」の内容となっているが、支援団体などは「外国人監視を強める法律だ」と反発する。
 外国人登録者数は90年に初めて100万人を突破し、07年には215万人に増加した。現行の在留管理では適正な把握が困難で、行政サービスも提供しにくくなるとの考えから、改正が提案された。
 新制度は、90日以上日本に滞在する外国人に、入管が在留カードを発行。入管は市町村から居住地の情報提供を受け、留学先や雇用主からも報告を受ける。実態が情報と異なれば、不法と判別できる。従来は在留資格がなくても市町村の窓口で外国人登録証が発行されたが、改正後は不法滞在者に在留カードは発行されず、身分が証明できない。一方で利便性向上のため、在留期間の上限を3年から5年に延ばし、再入国許可も緩和する。
 新制度について、自由人権協会の旗手明理事は5月23日の東京都内の集会で情報の一元管理を「情報を分析し危険な外国人を浮かび上がらせるシステム。不法残留の外国人は生きていく最低限の行政サービスも受けられない」と述べた。
 また「移住労働者と連帯する全国ネットワーク」の鳥井一平事務局長は5月8日の衆院法務委員会に参考人として出席し「適正な滞在者にも非常に厳しい罰則規定がある。非正規滞在の人たちも、働いて税金も払っている」と強調した。
 こうした声を受け、修正案の付帯決議で、在留資格取り消しの弾力的運用などが盛り込まれた。また、在日韓国・朝鮮人などの特別永住者に交付する「特別永住者証明書」についても、与野党の修正で常時携帯義務は削除された。【石川淳一】
=========================
外国人参政権推進を評価 韓国大統領、公明代表と会談
Nikkei.net June 28, 2009
http://www.nikkei.co.jp/news/seiji/20090628AT3S2800B28062009.html
-promoting suffrage rights for PR
 韓国の李明博(イ・ミョンバク)大統領は28日午後、公明党の太田昭宏代表と都内で会談した。公明党がかねて推進してきた日本での永住外国人への地方参政権付与問題について、太田氏は「国民の理解も得ながら推進していきたい」と発言。大統領は「公明党には前向きに取り組んでもらっている」と高く評価した。
 両者は北朝鮮核問題の解決に向けた連携や日韓経済連携協定(EPA)の推進、気候変動問題での協力でも一致した。(00:15)
==========================
外国人労働者の労働保険 失業手当を受け取れない人も /滋賀
毎日新聞 2009年6月30日 地方版
http://mainichi.jp/area/shiga/report/news/20090630ddlk25040607000c.html
-some foreigners not getting unemployment pay
外国人労働者の労働保険 失業手当を受け取れない人も /滋賀
 ◇ほとんどが制度未加入 義務付け無視、企業の食い物に
 日系ブラジル人など南米の外国人労働者が集中する県東部で、外国人労働者から相談を受けた個人加盟の労働組合が、相談者らが所属していた外国人中心の県内の派遣会社27社の雇用条件を調べたところ、わずか1社しか労働者を労働保険(労災保険と雇用保険)に加入させていなかったことが分かった。労使双方で負担する労働保険は加入が法的に義務付けられているが、労組が各社に是正を申し入れたところ、いずれも「労働者が希望しなかった」などと弁明したという。徐々に景気回復の兆しも見え始めたが、いまだに失業手当すら受けとれない外国人もいる。【稲生陽】
 労組は非正規労働者のための「アルバイト・派遣・パート関西労働組合」(本部・大阪市)。不況が深刻化した昨年秋以降に県内の外国人労働者約130人から労働に関する相談を受け、相談者の雇用契約書を精査したり勤務先に問い合わせたりして雇用条件を調べたところ、県外に本社のある1社を除く全社が労働者を保険に加入させていなかった。「給料から保険料を天引きすると、外国人が集まらなくなる」として、日本人従業員のみ保険に加入させるケースも多かった。交渉すると、大半は雇用開始にさかのぼっての保険加入に応じたが、「保険料に回す資金がない」「健康保険や年金と一緒でないと入れず、労働者の負担も高額になる」などとして応じない社も数社あった。
 91年に来日した日系ブラジル人男性(45)は昨年9月、派遣先の同県近江八幡市内の工場で、倒れてきた約200キロのコンクリート金型の下敷きになった。大けがをしたが、翌日、長浜市内の派遣会社から「もう会社にはいらない」と告げられ解雇された。今も胸や背中に痛みが残るが、労災保険未加入のため、病院は会社負担で一度受診したのみだ。失業保険はさかのぼって適用することが可能だったが、手続きが遅れたため受け取れず、現在は生活保護を申請中だ。「私にも日本人の血が流れているのに、日本は冷たい」と唇をかんだ。
 労働基準法は労災事故での療養中の解雇を禁じているが、同社の担当者は取材に対し、「解雇は男性の無断欠勤など別の理由からで、休業補償と解雇予告手当を兼ね40万円を支払った」と説明。「外国人を専門に雇う派遣会社はどこも労働者を保険に加入させていない。違法と分かっていても、好況時なら、保険料を天引きすると労働者から不満が出る」と理解を求めた。
 同労組は「制度すら知らなかった外国人がほとんど。分からないのをいいことに企業の食い物にされてきた」と指摘する。「再び好景気になれば、また保険なしの雇用が息を吹き返す。同じことを繰り返してはいけない」と話している。
ENDS