mytest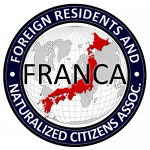 UPDATES ON TWITTER: arudoudebito
Hi Blog. As nothing more meant to this than an interesting historical diversion on a rainy Sunday, here are some screen captures sent to me by friend Martin, who recently asked me to look over a screenplay for a movie about WWII Japanese pilots and the Pacific War. Interesting stuff.
Japanese WWII propaganda, from children's textbooks explaining the purpose of the Greater East Asia Co-Prosperity Sphere (DaiTouA), and from psychological warfare leaflets to undermine the morale and sanity of the enemy.
Courtesy of http://www.2bangkok.com/wwiipropaganda.shtml
The old Japanese writing style at times makes for slow reading. And does anyone know — were contemporary Japanese school children first instructed in reading in katakana before hiragana? Or is the script designed for non-native eyes? Arudou Debito in Sapporo
Here is a line up of all the children who ware brought under the Japanese Imperial umbrella. What I find interesting is that the writing is from left to right, even though in contemporary Japanese publications I've seen if the writing was not vertical, it was rendered right to left.
(click on any image to expand in your browser)
Here we have the Western powers exploiting the East Asian lands for their own ends. Love the caricatures of the machinating Brits and Yanks.
Now here we have them at a loss as the Japanese Empire liberates the lands and receives the cheers of the inhabitants. Asia has finally "kicked out" the white race.  (Note how present-day Indonesia and Malaysia don't get independent flags of their own.)
Here are the benefits accrued to the Asian peoples at last. An independent Burma and Philippines. An expanded Thailand. An India finally rid of the British, a Nationalist China (rendered as "Chuukuo",) allied with Japan, a prosperous Manshukoku (not Manchukuo). And happy Malays and Javanese (who seem to get happiness out of this, but unlike the others not their own country).
This somehow doesn't feel like it's from the same book, because the level seems truly grade-school. We have the regular rhetoric deferential to authority (even the horse is granted an honorific), and how the "Butaichou" (squad leader) is so nice.
More of the images of walking in lockstep, with everyone with one heart. Of course, by the logic of reading from right to left, it's clear who's in charge. And note how the crowds are still separated between Japanese and colonized. One heart, two systems. Seems the natural order.
Next comes the educational opportunities. Learn Japanese, come to Japan, become fluent in the language and you will do well. Is that possibly Tokyo Imperial University (today's Toudai) in the background of the (white) Japanese and (colored) Indonesian (?) students?
Here we have the slogan of "Co-existence, Co-prosperity" (kyouzon kyouei) and the benefits therein of being freed (namely happiness). A multilingual Asia linked together, from Indonesia and Oceania to South-East Asia to beyond the Gobi Desert. Interesting how Australia, India, and Siberia (which looks submerged) mark the natural boundaries of DaiTouA.
Now it gets interesting, as the rhetoric (from a different publication) leaves the comfort zone of Japanese linguistics and tries to demoralize English readers. Themes of being surrounded, impending death, and mockery of weakness are regular tactics of psychological warfare. But the interesting logic regarding being too busy to bother with dead people is an interesting twist and tack. If you were in the jungle, particularly in the Philippines for years on end, waiting for MacArthur's uncertain return, would this affect you?
Last image for this blog entry. This may seem a bit silly until you realize that this leaflet may be all these people have to read in the jungle. When you're starving for reading material to stave off the combat mixture of terror and boredom of waiting for sudden attack, this may well get to you. You have lots of time to monitor and overthink your bodily functions.
I wonder where the English came from, too. I can scarcely imagine many Japanese educated under the current Monkashou system who can write at this level.
ENDS