mytest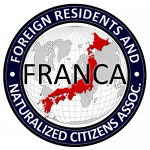 UPDATES ON TWITTER: arudoudebito
Hi Blog.  The Ibaraki Police are at it again.  JR Mito Station, July 18, 2009, courtesy of AM:
Yep, that's another one of those police posters up in a public place explicitly making the case that Japan's shores have to be defended from foreigners, and calling for public assistance to help the armed police surround and subdue them.
Again, it's the third poster in as many years.  Despite the addition of the red, it's arguably more subdued than last year's (click to expand in your browser), where they bore automatic weapons and did Normandy Beach maneuvers:
Or the original and classic from two years ago:
More on these classics at https://www.debito.org/?p=2057.
But the question still remains.  Where's the budget for these redesigns coming from?  And why does Ibaraki think it's specially prone to invasion?  It's not like it's the only prefecture with a coast (almost all prefectures have one — in fact, pop quiz:  name the landlocked prefectures; don't cheat and look at a map).  It's not even facing the usual suspects for invasion China or North Korea (I shudder to think what posters might go up in Fukui or Ishikawa; any Sea of Japan siders out there?).  Even Otaru and other Hokkaido seaports with all their Russian sailor issues didn't have officially-sponsored police posters like these (naw, they just had exclusionary signs from local-business vigilantes; way better.  /sarcasm).  So many mysteries created by our vigilant boys in blue, in this case garnished with black riot gear.
Arudou Debito in Sapporo