mytest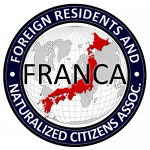 UPDATES ON TWITTER: arudoudebito
Hi Blog.  It's the weekend and the summertime, so how about a little diversion?  Here we have a case of how a naturalized citizen in South Korea has been given a significant administrative post.
Good for him, and good for Korea.  This is a country with only recently established a law against racial discrimination (at last) in 2007, and their democracy's much younger than ours.  What's holding Japan back?  The LDP's primacy?  Not for long, I bet, and there are hundreds of thousands of naturalized citizens here to choose from.  I know at least eight of them.  Let's get cracking.  Arudou Debito in Sapporo
Naturalized Korean Lee Charm named tourism head
The Korea Herald, July 29, 2009, Courtesy of MS

http://www.koreaherald.co.kr/NEWKHSITE/data/html_dir/2009/07/29/200907290099.asp
Media personality Lee Charm was named chief of the Korea National Tourism Organization Wednesday, the first naturalized Korean to take a top government post in Korea, according to Yonhap News.
Lee, 55, is the first German male ever to become a naturalized Korean citizen, and his appointment is anticipated to pave the way for others like him to assume government positions, a pledge by President Lee Myung-bak during the 2007 election.
"I became a Korean citizen to help the country in some way,"
Lee said in an earlier interview with Yonhap after it was known he had been nominated. "I hope this new role will bring me closer to that goal."
Lee will hold the post for three years from Thursday, when he will officially be appointed to the post by Culture Minister Yu In-chon.
"The ministry had requested the president to consider Lee for the post, considering his global experiences which will help boost the domestic tourism sector," the culture ministry said in a press release.
Having come to Korea in 1978 as Bernhard Quandt, the catalyst for Lee's move was a post with a European cultural foundation, where he helped with academic seminars on international issues.
Over time, Lee has played many different roles in Korean society, including a German teacher, English teacher, consultant, actor and broadcaster.
Lee became one of only a few dozen Caucasian citizens of South Korea in 1986. He has since become a prominent figure in Korean media and politics, and worked for President Lee's campaign during the 2007 elections.
Lee Charm currently hosts a Korean culture and food show on KTV, a government channel, and is member of the state-run Korean food promotion body.
2009.07.29