mytest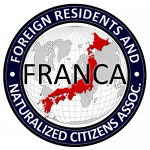 UPDATES ON TWITTER: arudoudebito
Hi Blog.  My last night in Nagoya (as in last night) I had an immensely enjoyable interview with JapanTechTalk's Robert Sanzalone over tebasaki.
Have a listen! http://twaud.io/tg
Amazing how six hours after an interview takes place it can be all over the Net.
Thanks to an introduction by Mike and Jose at Mondo Books Nagoya. http://www.mondo-books.com/
on Facebook
http://www.facebook.com/pages/Nagoya-Japan/Mondo-Books-/218012530513
Two autographed signed copies of HANDBOOK FOR NEWCOMERS, MIGRANTS, AND IMMIGRANTS available at Mondo. First come, first purchased!  How to get there at above links!
Arudou Debito in Nagoya, off to Tokyo for a movie screening of SOUR STRAWBERRIES with Amnesty International tonight.