mytest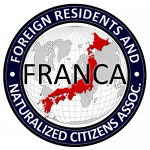 UPDATES ON TWITTER: arudoudebito
Hi Blog. Turning the keyboard over to James Corbett, with whom I interviewed on August 30, 2009.  Comment follows embedded video.  Arudou Debito in Sapporo
===============================
September 19, 2009 1:15:41 PM JST
Debito, thank you once again for taking time out of your day in Okayama to talk with me about the fingerprinting and IC card issues. The documentary itself is of course still in production, but I have extracted a few minutes from our interview and put it on YouTube. You can watch the video directly here:
http://www.youtube.com/watch?v=sybH5MrjmoQ

Also, I've written an article that incorporates that video and some of your comments on the IC chip-enabled ID issue. That article is available from the "Articles" tab of the corbettreport.com homepage and the direct link is:
http://www.corbettreport.com/articles/20090918_debito_electronic_surveillance.htm

Thank you again for sharing your insights on these issues. As far as the documentary goes, I have been trying to get an interview with someone from the Immigration Bureau regarding this practice, but have had no luck whatsoever getting anyone from the Ministry. If you could be of any assistance at all in this regard it would be very much appreciated, whether you can help to set up an interview or even provide some contacts or suggestions for getting in touch with someone who might be able to arrange something like that.
Regards,
James Corbett
corbettreport.com
corbett AT corbettreport DOT com
(NB follows embedded video below:)

NB:  I'm not as articulate about the issue in this interview as I would have liked to have been; I wasn't sufficiently aware in advance what we would be talking about, so my facts and figures are coming off the top of my head.  For my points articulated more clearly, see:
The Japan Times May 19, 2009, Zeit Gist column:
"IC you: bugging the alien"
https://www.debito.org/?p=3334

Updates as RFID technology develops and police avail themselves of it. Debito.org, July 30, 2009
https://www.debito.org/?p=4008
ENDS