mytest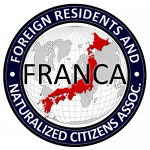 UPDATES ON TWITTER: arudoudebito
Hi Blog.  Something coming up next week of surprising interest to Debito.org:  Guv Ishihara's pet project to bring the 2016 Olympic Games to Tokyo.  We'll hear the decision on October 2.  Here's where Debito.org stands:
While understandable a sentiment (what booster wouldn't want to bring such a probable economic boon home?), Debito.org has been unflinching in its criticism both of Ishihara (for his xenophobic rantings over the years, start here) and of the Tokyo Police (keishicho), who will no doubt be given charge of the security at the event.  As history has shown repeatedly (G8 Summits, overt and unapologetic racial profiling — even public scapegoating of NJ, border fingerprinting justified on bigoted grounds, deliberate misconstruing of crime data to whip up public fear, even spoiling one of the last Beatles concerts!), you don't want to hand over matters of public security to a police force without proper checks and balances — because as even Edward Seidensticker noted, Keishicho will convert Tokyo into a police city if the event is big enough.   The Olympics is just that, and it really complicates things by bringing in foreigners, for the police get particularly carrot-arsed when they feel the outside world is watching.  As I wrote for the Japan Times some months ago:
Point is, international events bring out bad habits in Japan. And now we have Tokyo bidding for the 2016 Olympics? Cue yet another orgiastic official fear and crackdown campaign foisted on the Japanese public, with the thick blue line of the nanny state the biggest profiteer.

Conclusion: I don't think Japan as a polity is mature enough yet to host these events. Japan must develop suitable administrative checks and balances, not to mention a vetting media, to stop people scaring Japanese society about the rest of the world just because it's coming for a visit. We need to rein in Japan's mandarins converting Japan into a Police State, cracking down on its already stunted civil society. (Zeit Gist, SUMMIT WICKED THIS WAY COMES, Japan Times April 22, 2008).
Terrie below (understandably) hopes Tokyo gets the Olympics.  I, for the record, hope it doesn't.  It's not because I live in Sapporo (I would have mildly supported Fukuoka's bid, even despite the NPA, simply because Fukuoka never had the chance — unlike Sapporo — to be an Olympic host).  But the fact remains, as Terrie alludes to below, this is just a vanity project for one mean old man, working through Japan's elite society to get what he wants, who feels as though he's got one good deed to redeem all his bad works and ill-will over the years.  Other rich elites in their twilight years, such as Andrew Carnegie, have historically felt the same impetus.  But this Olympic bid certainly seems far more half-baked and far less philanthropic than, say, Carnegie's legacy attempts.
O IOC, don't fall for Ishihara's ego.  Spare Tokyo, its tourists, and its ever-more-policed international residents yet another fear and social-control media blitz.  Give the Olympics to somebody else.  Arudou Debito in Sapporo
* * * * * * * * * T E R R I E 'S T A K E * * * * * * *
A weekly roundup of news & information from Terrie Lloyd.
(http://www.terrie.com)
General Edition Sunday, September 27, 2009 Issue No. 535
+++ WHAT'S NEW
On October 2nd an important overseas decision will be made that will determine the future of Tokyo as a city of international standing. That decision will be made by the International Olympic Committee (IOC), whose members will convene in Copenhagen to decide which of Rio de Janeiro, Chicago, Tokyo, or Madrid will get to host the 2016 summer Olympic games. All the big wigs involved with trying to get the Games for Tokyo, from Tokyo Governor Shintaro Ishihara on down, flew out to Copenhagen on Saturday (Sep 26th) for their date with fate.
They won't have to wait long.
Ishihara is trying his best to swing things Tokyo's way, and reportedly has even asked newly elected PM Yukio Hatoyama and Seattle Mariners batter Ichiro Suzuki to attend the Copenhagen vote. However, he may have left his final run for the finish line too late. In its report released earlier this month (September), the IOC Evaluation Commission had some criticisms for Tokyo after their visit in April to examine the city's facilities and planning. They particularly referred to a February poll that the IOC commissioned itself and which found that Tokyoites who "Support Strongly" the Games was just 25.2% — a surprisingly low number compared to any of the other three contenders. Strong support in Madrid, for example was 57.9%.
Indeed, as a result of the poll, the IOC Evaluation Commission specifically noted that Japan's bid had the strong support of government but correspondingly lacked support by the public. Put another way, we have a classic case of those in charge of the local bid trying hard to get Japan's "establishment" on board so as to provide sufficient financial support, which was indeed forthcoming, but they somehow forgot to involve the little people — the general public.
When the results of the February poll became public, we don't know, but the Bid Committee finally "fixed" their PR problem a few days ago (in September, months too late), when a moving, talking 20-meter Gundam character robot was parked in Odaiba to pull in a reported 400,000 people who came to demonstrate their support for the Games bid. As a result, the public support in Tokyo for the Games is now supposed to be around 70%. The only trouble is that few members of the IOC can actually read Japanese newspapers or watch Japanese TV, and so these last minute efforts are unlikely to have much effect.
Indeed, this lack of reach by Japanese media to a world audience is frequently lost on Japanese politicians and governmental organizations, who think that because they can view the media, everyone can. This, in our opinion, is a good reason why Japan fails so frequently in its international bids for just about anything. A good example of this very domestic thinking can be found in the recent "Yokoso Japan" (Visit Japan) campaign. As far as we understand, almost all of the billions of yen allocated by the government to promote tourism were spent in Japan in the Japanese media.
It's true that domestic tourism was also part of the agenda but foreign tourism was the main target, as proven by setting a high target for increased foreign visitor numbers. As it happened, luckily a short-lived economic boom in China and Korea in 2005-2007 helped pulled in several extra million Asian tourists, but despite some mutual back-patting this was largely accidental, and was certainly not the result of the almost non-existent overseas PR campaign.
Back to the local Bid Committee. In our view, not only did they forget to get buy-in from the man-in-the-street, but they seem have also bypassed 10% of those people who will be paying extra taxes to pay for the extravaganza (Minato-ku, Shibuya-ku, Chiyoda-ku, etc.). We refer, of course, to the invisible foreign community.
Yes, there is an English-language website, which from the dates of the photos and videos we presume was mainly put together for the benefit of the visiting IOC evaluation committee in April to show how cosmopolitan Tokyo is. But frankly it's embarrassing to look at. Take the the section that carefully provides one and one-only restaurant (well, OK, there are two French establishments) representing 12 different national cuisines. Why couldn't they make a proper effort to garner support of those hundreds of English-speaking venues that will actually be called upon to look after tens of thousands of non-Japanese speaking guests if we actually win the games?
You can see the Olympic bid English site at http://www.tokyo2016.or.jp/en/. You can see the IOC Evaluation Commission's report, which includes the Tokyo bid at: http://multimedia.olympic.org/pdf/en_report_1469.pdf
As a further comment to the Bid Committee's lack of awareness that the Olympics might actually be an international affair, if you go to the site's organization chart, you will quickly notice that of the 19 officials named on the site, not one is a non-Japanese, and of the 56 "advisors" not one is a non-Japanese either. So we can only assume that foreigners will be asked to keep a low profile while Japan hosts the Games… and to pay their taxes on time.
OK, enough of the sour grapes. It's not like Tokyo has no chance of winning, although with the Beijing Olympics only just done here in Asia, and there never having been a Games in South America before, the odds are apparently on Rio taking the honors for 2016. You won't read that fact in the Japanese press, since they're all saying Tokyo will win.
But it's not a shoe-in for Rio. In their review, the IOC evaluation commission was concerned about the fact that Rio's games facilities are spread out over hilly terrain, and the city will need an overhaul of its public transport systems to get guests around. There was also concern about violent crime.
Chicago also has a strong chance according to observers, but it has the problem of whether or not it can really afford the expense of the Games, given the poor shape the local economy after the meltdown of the U.S. auto industry. Also some of the Chicago venues are apparently a long way out of the city and not currently well serviced by public transport.
The other contender, Madrid, got a reasonably negative response that they may not fully appreciate the complexity of management required to host the Games.
Thinking positively, though, if we do win the right to host the Games, it will give the Tokyo metropolitan government a worthy project to focus on, and will cause them to finally do something with those ugly vacant lots built during the bubble era, that they are stuck with out at Odaiba. The venue plan for Tokyo calls for substantial planting of greenery in the area, as well as making the entire athlete's village ecologically sound — with the latest solar, waste processing, and transport technologies being employed to give Japan a showcase to the world.
To wrap up, we do in fact hope that by some miracle Tokyo wins the 2016 Olympic Games. It would be a blast to be in the middle of all the buzz that will come with such an event. It will also significantly ramp up the world's awareness of what a great place Tokyo is to live and visit — doing wonders for tourism.
But, in our heart of hearts, we fear that those handling the city's bid may not have realized that to play a global game, you need to have a world-class team, not just money and government support. We're not sure that such a team was brought to bear, and so we're betting that Rio will probably win the hearts of IOC members — especially since South America is long overdue to host what should be a global event.
**************
SUBSCRIBE to, UNSUBSCRIBE from Terrie's Take at:
http://mailman.japaninc.com/mailman/listinfo/terrie
BACK ISSUES
http://www.japaninc.com/terries_take, or,
http://mailman.japaninc.com/pipermail/terrie/
ENDS