mytest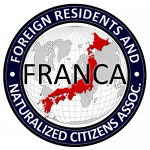 UPDATES ON TWITTER: arudoudebito
Courtesy Paul Toland.  Emphases in original.  Arudou Debito
FOR IMMEDIATE RELEASE Contact: Jeff Sagnip (609) 585-7878
Sept. 29, 2009                                                                             http://chrissmith.house.gov
Smith Legislation Sanctions Countries that Refuse to Help Left-Behind Parents
Father Arrested in Japan Underscores Need for Reforms
WASHINGTON, D.C. – The case of an American father who has been arrested in Japan for attempting to regain access to his children, taken to Japan by his ex-wife in violation of a U.S. court order, is helping to raise awareness of the increasing problem of international parental child abduction and the heartbreak and frustration suffered by the parents left behind.
"International child abduction violates the rights of the left behind parent and the rights of the child to know both parents," said Rep. Chris Smith (NJ-04), a senior Member of the House Foreign Affairs Committee and a Congressional Representative to the United Nations.  "Sadly, international child abductions are on the increase.  In the last three years, reported international child abductions have increased 60 percent."
Christopher Savoie of Tennessee was arrested earlier this week in Japan after he attempted to reclaim his two children who were taken to Japan by his ex-wife a month ago in direct violation of a U.S. court order. Savoie was taken into custody and is facing criminal charges.
Historically, parents left behind when their children are abducted to Japan have little hope and little recourse for justice because the Japanese government ignores U.S. family court rulings and will not honor the rights of American parents.  Even in "extreme cases" such as when the abducting parent passes away, the Japanese government has not returned the child to the left behind parent. In fact, there is no known case of Japan ever returning an abducted  Japanese-American child to the left behind parent.
"There is an opportunity here to turn a new page," Smith said. "There is a glimmer of hope, and some encouraging signs that the new administration under the leadership of Prime Minister Yukio Hatoyama will approach the issue of international parental child abduction in a way that recognizes the right of the adult parent.  The case of Chris Savoie sheds light on the more than 100 open cases  of American parents who have been blocked from their rightful access to their children in Japan.
"I urge the Prime Minister to see this incident as a catalyst," Smith said. He should form a task force and deal expeditiously, compassionately and judiciously to bring reconciliation and reunification to children abducted to Japan and their parents left behind."
Smith has been working to push the U.S. Congress and the Obama Administration to better address international child abductions in Japan and elsewhere around the world. In July, he introduced the "International Child Abduction Prevention Act of 2009", H.R. 3240, at a press conference alongside left behind parents from across the country whose children have been abducted to Japan and Brazil (bill summary). One case has garnered significant attention: David Goldman the father of abducted American-born Sean Goldman, now 9, has been fighting to bring Sean home from Brazil for more than five years. There are currently over 2,800 American children being held in foreign countries against the wishes of a left behind parent.
"My legislation, HR 3240 empowers the United States to more aggressively pursue the resolution of abduction cases," Smith said.  "Our current system is not providing justice for left behind parents or for children whisked away from their mom or dad. Congress must act so that more children are not further traumatized by parental abduction."
Key provisions of the Smith legislation include:
Requires the President to respond with a range of mutually reinforcing penalties, including sanctions against a country, when that country has shown a pattern of non-cooperation in resolving child abduction cases
Creates the position of Ambassador at Large for International Child Abduction within the State Department to advise the Secretary of State and raise the profile of the more than 2,800 children who have been abducted.
Empowers the Ambassador at Large to pursue additional legal frameworks abroad, including bilateral agreements with countries that have not yet acceded to the Hague Convention on the Civil Aspects of International Child Abduction.
Authorizes greater resources for a new office within the State Department to better assist left behind parents and expand the State Department's ability to collect detailed information on abductions.
"Child abduction is child abuse," Smith said. "The kidnapped child is at risk for serious emotional and psychological problems. As adults, they may struggle with identity issues, their own personal relationships and parenting.
"We can and must do better to help children abducted by a parent and to assist the parents left behind."
ENDS