mytest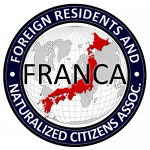 UPDATES ON TWITTER: arudoudebito
Hi Blog.  I heard word from Plaintiff Valentine last week that the latest hearing on his lawsuit against the Japanese police (which has lasted four years now) for police brutality will be happening next Tuesday.  Do attend if you can.  Here's why:
You may not remember, but I wrote about the Valentine Case for the Japan Times:
"ABUSE, RACISM, LOST EVIDENCE DENY JUSTICE IN VALENTINE CASE: Nigerian's ordeal shows that different standards apply for foreigners in court" (Japan Times Zeit Gist August 14, 2007).
where I did a bit of sleuthing and described how the police's claim that Nigerian citizen Valentine smashed his knee on a sign while running from them is pretty much impossible.  Then their denying him medical treatment during interrogation has left him crippled for life.  This is one major case of how a man (who has not been convicted to this day of any crime) can be abused due to the lack of accountability in the police system of criminal investigation, and have it covered up by negligent Japanese courts.  The outcome of this case will speak volumes.
More background from his supporters group follows.  Arudou Debito in Sapporo
============================
WHO MAY BE THE NEXT VICTIM?   Mr. Valentine   who was beaten up  with a broken knee by the uncovered police officers  4 years ago,  is calling on the foreign  community living in Japan to  attend his next  high  court  trial on 6th. tuesday 2009.  By  2:30pm.  Venue: Tokyo  High court. Kasumigaseki.   8th  floor. Room   808.
Why?  This  Case is very  important   to attend is because some  thing strange is  going on with this case.  On 6th. tuesday,  a  DNA professor.   Prof  Ishiyama.  is coming to  give  his expert opinion   about   the  cause of the broken knee. on behalf of the  Tokyo Govt.
We need  Justice  to be done.   Your presence is highly needed.  This  matter has  being going on for 4 years  now.
APPEAL BACKGROUND:
1st appeal hearing (July 17th,2007) A statement of reasons for appeal. Requests the court to provide order to submit a document(s) ( the Shinjuku ward police would have some inhouse documents that recorded how his injury was). Also requested a record(s) of monitoring video camera at the scene at Shinjuku.
2nd appeal hearing(Sep.25th,2007) Metropolitan Government (the Police) says these two evidences that he requested have never existed. Conversely, they asked the appellant to submit a ground(s) why he asks so. Also asked to order to let a new doctor(s) give an expert opinion.(This was to withdraw by the appellant himself after that and re-submit a doctor's expert opinion).
3rd appeal hearing(Nov.20th,2007) The court requests more detailed statement of eyewitness and the appellant to be prepared again. Also the court asked the appellant to appeal against his original doctor's expert opinion(already submitted)
4th appeal hearing(Feb.12th, 2008) Every orders to submit documents sorted out. Reply of Metropolitan Gov.:1)Detention name list->exist, but no need to submit 2) A report(s) from a chief investigator to a chief of detention-> no exist 3) a detentions' medical report->exist, but no need to submit. For 3), the chief judge urged the Metropolitan Gov. to submit "with painting in black at the non related ", and Gov. under examination.
5th appeal hearing(May.22nd, 2008)The court didn't make any approval or decision for testimony of new eyewitness & 2nd doctor. A detention name list and a detentions' medical report have submitted before this time. The appellant pursuited to release internal regulations to the court, that concerning a report(s) when the Tokyo Metropolitan Police Department arrested him. However, Metropolitan Gov. refused it and requested "in-camera" proceeding*1).
*1)"In-Camera" proceeding:"It is not submitted to court where opens to the public, and no chance to read it is given even to the person concerned, only the judge receives the presentation of the document. "
6th appeal hearing(Jul.8th, 2008)The chief justice instruct to conclude the appeal. The most point is the reason of his injury whether it is advantageous accident or others disadvantageous accident. This time an inhouse documents has submitted by the Shinjuku police station that might concern about it. The court wait for counterarguement from Tokyo gov. side (if any), then the chief justice to judge.
7th appeal hearing(Oct.28th, 2008)At last hearing, Mr.Tsuzuki instructed to conclude new proofs and new states during last 6 hearings, and the appallant submitted concerned documents, then Tokyo Gov. side submitted counterarguements following after that. This time the court confirmed these documents again, and also no other request has confirmed. Also the court confirmed no other documents to be submitted, and a witness and a docter witness accepted after consultation at the backyard of the court. Two witness to be stand at next hearing.
8th appeal hearing(Jan.27th, 2009)From appalent side, a witness who stayed close at scene of the accident and, a doctor who declare the cause of his fracture and also explained 10 day detention affection, stood for the court.
9th appeal hearing(Apr.21st, 2009)Most of people believed that conclusion of the hearings to be announced. However, Tokyo Gov. side submit a "Ishiyama Opinion" more than after one week of the closing date. Appallent side pursuit not to accept it because it is clealy expired, however the chief justice Mr Tsuzuki accepted it (as document No. Otsu-18) by the reason he want to compete the expert opinions, and also he called Prof.Ishiyama to the witness stand.
10th appeal hearing(Jul.21st, 2009)The plaintiff side submit Ishiyama's second opinion and pre-documents, and the chief justice decided to call Prof.Ishiyama as a witness. FYI: Mr.Ikuo ISHIYAMA, a honorary professor to the Teikyo University, is a famous expert opinion. The 6th professor to a legal medicine class of the Tokyo University. He is a suceeder of Professor Furuhata who generate a lot of false charge by his attempt judge. Mr.Ishiyama also close to Police side.
Copyright (c) Valentine Trial Support Group/バレンタイン裁判支援会 All Rights Reserved.
Again, background on the case at https://www.debito.org/japantimes081407.html