mytest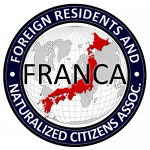 UPDATES ON TWITTER: arudoudebito
Passing on this info.  (日本語のアナウンスメントは英語の下です。)Arudou Debito in Sapporo
Dear Ladies and Gentlemen,
We are happy to announce that the critically acclaimed documentary "SOUR STRAWBERRIES – Japan's hidden »guest workers«" will have its premier in a cinema in Japan at Osaka's Ciné Nouveau in Kujo.
The first screening will be on Saturday, 10th October 2009 at 10:30 am. Director Tilman König will be present and happy to answer questions from 11:30 onwards.
The discussion will be held in Japanese. Questions in English and German will be answered as well.
"SOUR STRAWBERRIES – Japan's hidden »Guest Workers«", a movie by Tilman König and Daniel Kremers, G/J 2008, 56 min, color, 16:9. Original in German, Japanese, Chinese, English with English and Japanese Subtitles.
Everyday from October 10th to October 30th 2009
The film was supported by Stiftung "Menschenwürde und Arbeitswelt", Berlin and CinemAbstruso, Leipzig.
Trailer: http://www.vimeo.com/2276295
http://www.cinemabstruso.de/strawberries/main.html
"'Sour Strawberries' spotlights the plight of non-Japanese 'trainees'" — Japan Times Online
"A must see!" –– Kansai Scene
>>>>>>>>>>>>>>>>>>>>>>>>>>>>>>>>>>>>>>>>>>>>>>>>>>>>>>>>>>>>>>>>>>>>>>>
『サワー・ストロベリーズ〜知られざる日本の外国人労働者〜』映画館上映のお知らせ
2009年10月10日(土)より、大阪九条のシネ・ヌーヴォXにて
『サワー・ストロベリーズ〜知られざる日本の外国人労働者〜』が
公開されることになりました。
初日の10月10日(土)は、監督のティルマン・ケーニヒによる舞台挨拶と
初回上映後にトークイベントを予定しております。
詳細は、映画館HPをご覧下さい。
http://www.cinenouveau.com/
『サワー・ストロベリーズ〜知られざる日本の外国人労働者〜』
2009年/ドイツ・日本/ドイツ語・日本語・英語・中国語(日本語/英語字幕)/58分
http://www.cinemabstruso.de/strawberries/main.html
上映期間:2009年10月10日(土)〜2009年10月30日(金)
時期によって上映時間が異なります。HPをご覧下さい。
皆さまのお越しを、お待ちいたしております。
ENDS