mytest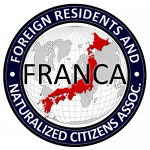 UPDATES ON TWITTER: arudoudebito
Hi Blog.  Busy day today, so let me just throw up this letter I emailed to San Francisco re a Letter to the Editor of the Japan Times.  The author of it openly claims to engage in discriminatory practices in the US.  If he is a real person, at a real company, then let's hope San Francisco's Human Rights Commission investigates and writes back.  Worth a try.  Feel free to email the HRC yourself, email address included.  Arudou Debito in Sapporo, on the road this weekend (may be slow in updating comments and blog)
================================
Human Rights Commission
25 Van Ness Avenue, Room 800
San Francisco, CA 94102-6033
Phone: 415-252-2500
TTY/TDD: 800-735-2922
Fax: 415-431-5764
Email: hrc.info@sfgov.org
From: ARUDOU Debito
Columnist, The Japan Times newspaper (Tokyo)
[address deleted]
debito@debito.org, www.debito.org
October 8, 2009
To Whom It May Concern:
I am a columnist in the Japan Times (see archive of my columns at http://search.japantimes.co.jp/cgi-bin/fl-ad-all.html), and would like to report a public statement made by a person apparently writing from your jurisdiction publicly admitting to a discriminatory act.
A Mr Andrew J Betancourt, of "Redwood Properties Real Estate" of San Francisco has said, in a letter to the Japan Times dated October 6, 2009, the following:
"As a landlord in San Francisco with over 22 units, I have rejected foreigners just because they were foreigners."
That letter in the Japan Times here (first letter in the list):
http://search.japantimes.co.jp/cgi-bin/fl20091006hs.html
I am sure you will agree that this is a discriminatory practice, and hope you see it within your mandate to investigate and, if necessary, take action against this within the letter of the law.
Thank you very much for your time and for reading this. If possible, please let me know what actions, if any, you take.
Sincerely yours, Arudou Debito, Hokkaido, Japan
Source on Mr Betancourt's company "Redwood Properties Real Estate, San Francisco":
ENDS