mytest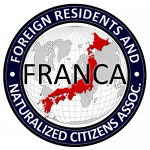 UPDATES ON TWITTER: arudoudebito
Hi Blog.  Here's the future.  You become a citizen of where you live.  It happens even to Japanese in Korea, according to this article.  As it should.  And I think all countries should allow people to take the citizenship of residency.  And allow them to keep their birth citizenship.  Because the state of international migration necessitates that.  It's the major step to true assimilation, in my view.  And it should not involve an identity sacrifice.  It doesn't seem to, in the rather rosy article below.  Arudou Debito in Monbetsu
==================================
The new face of the Korean family
One family is choosing Korean citizenship,contributing to the steady increase in immigration to Korea (excerpt)
JoongAng Daily (South Korea), October 8, 2009, courtesy of Matt D.
http://joongangdaily.joins.com/article/view.asp?aid=2910995
The Masashi family's five children are fully Japanese, but think like Koreans. They can speak their mother tongue but are more fluent in Korean. They have been to Japan but have lived in Korea all their lives. Now, the family is trying to become naturalized as Korean citizens.
Their parents, Ananose Masashi, 47, and his wife Kazuko, 46, came to Korea in 1989, a year after they got married. Like many newlywed couples before them, they started their new life in Seoul. They eventually decided to set up their own Japanese translation and interpretation company…
"Honestly, it would be nearly impossible for my kids to live in Japan now because they are more Korean than Japanese," Mrs. Masashi said. "They want to continue their lives in Korea."
Perhaps this is only natural, given the way the Masashis have educated their children. The children have attended Korean schools since elementary school, speak better Korean than Japanese and the majority of their friends are Korean…
Some have asked whether the family has felt the effects of the lingering tensions between Korea and Japan, which have flared periodically since the Japanese colonization of the country from 1910-1945.
But Mr. Masashi says the family has never experienced any anti-Japanese sentiments nor felt the threat of harm.
"Some say that Koreans still have ill feelings toward the Japanese, but actually we've never had that problem," he said.
Meanwhile, the family is making plans for their impending citizenship. When asked what they will do when the day comes, Mrs. Masashi was the first to respond, saying she is hoping to get a loan.
But Satoe, the eldest, was quick to cut in. She is looking forward to "accessing various sites with her new resident registration number."
Many foreign residents still have a hard time accessing Korean Web sites because of the real name system, which requires prospective users to enter their name and registration number before being allowed to enter a site…
By Yim Seung-hye, Cho Kang-su [estyle@joongang.co.kr]
EXCERPT ENDS